VICTORIA, Texas — Harvey wreaked havoc in this town about 30 miles from the storm-battered coast, ripping roofs off buildings, flooding highways and cutting power to thousands of homes and businesses.
The streets were drenched and nearly deserted Saturday night as millions of people along the Texas coastline took stock of the devastation — houses crushed by trees, gas stations torn to shreds, road signs blown out.
"It's messed up out there," said Richard Trevino, 51, who lives in nearby Raisin, Texas. "It's like a war zone."
At least two people have died since Harvey made landfall late Friday as a Category 4 hurricane. A person was found dead in a vehicle in Houston on Saturday night in a possible drowning amid flooding in the city, a Houston fire department spokesperson said. A man died in a house fire in Aransas County after rescuers could not get to him late Friday or early Saturday, the county judge said.
The full extent of the damage in the region between Corpus Christi and Houston was not yet clear. Heavy rain and fierce winds have kept emergency crews from reaching the hardest-hit places.
Full Coverage: The Latest on Tropical Storm Harvey
Forecasters warned that a major threat is the sheer volume of water expected to dump over the region over the next several days — including flood-prone Houston. A tornado watch has also been issued for parts of Louisiana and Texas until 2 p.m. ET Sunday, according to the National Weather Service in Houston.
The storm was centered around 75 miles east of San Antonio as of 11 p.m. ET Saturday, with 50 mph winds and "torrential rains" expected to continue, the National Hurricane Center said. As of 2 a.m. ET it had moved little, but winds had dropped to around 45 mph.
Jimmy Sanchez, who has lived in Victoria for 19 years, was one of roughly 300,000 Texans in the dark on Saturday night. Gov. Greg Abbott said it would take a few days before electricity is restored statewide.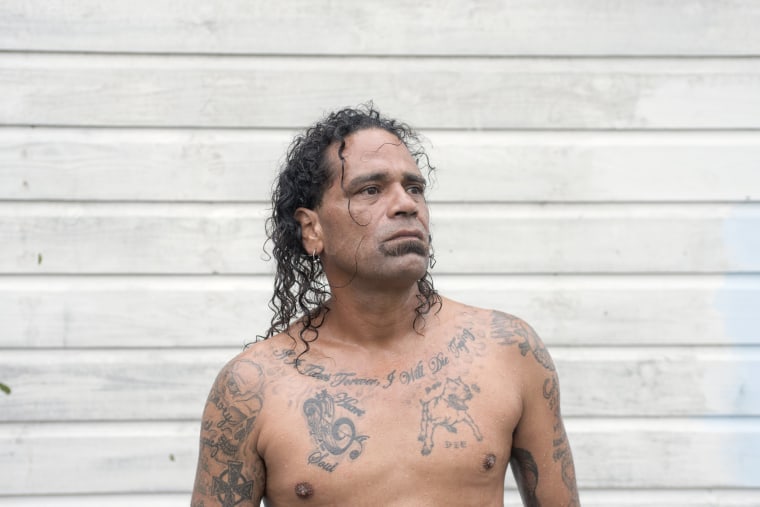 "I play music, so I'm just gonna grab my acoustic and ride it out," said Sanchez, 46. "You don't need electronics for [my drum set]."
Harvey sounded like a whistling train as it barreled through town, he said, rattling his house.
Victoria resident Leslie Warner said she and her son were bracing for the second round after a night of intense rain and "howling" winds. A huge tree branch appeared to have broken in half outside, narrowly missing her home.
"I know this sounds really quaint, or whatever, but if you do not believe in God …," she said, pointing at the tree. "I was praying and everybody was praying and praying for you but — that could have hit my house."
The coastal city of Rockport in Aransas County was severely damaged when the storm made landfall, and the mayor emphasized Saturday was not safe for residents to return.
"This is only step one: This hurricane has hit our community squarely on our front porch," Mayor C.J. Wax said in a phone interview Saturday. "There are life-threatening floods that are arriving at our back porch."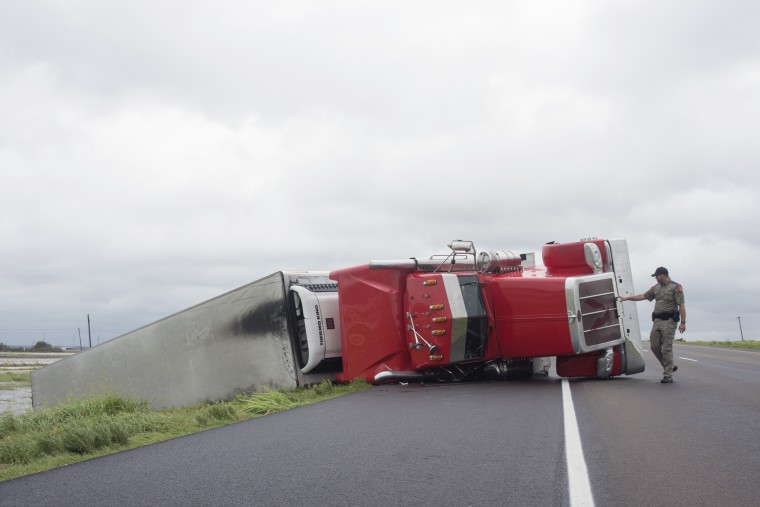 Harvey is expected to dump even more rain over Texas in the next few days, potentially triggering catastrophic flooding.
"A lot of the damage is yet to come," FEMA Administrator Brock Long told MSNBC. "Rainfall is going to be tremendous inland."
And the slow-moving storm was expected to stick around: In four days, Harvey is only forecast to move 60 miles, lingering over coastal Texas.
Related: In Harvey's Wake, Texas Neighbors Band Together for Help
For cities like Victoria, that could mean a rain dump of up to 3-and-a-half-feet by Wednesday, said NBC News meteorologist Bill Karins. Surrounding areas were anticipated to receive 2 to 3 feet, according to the National Weather Service.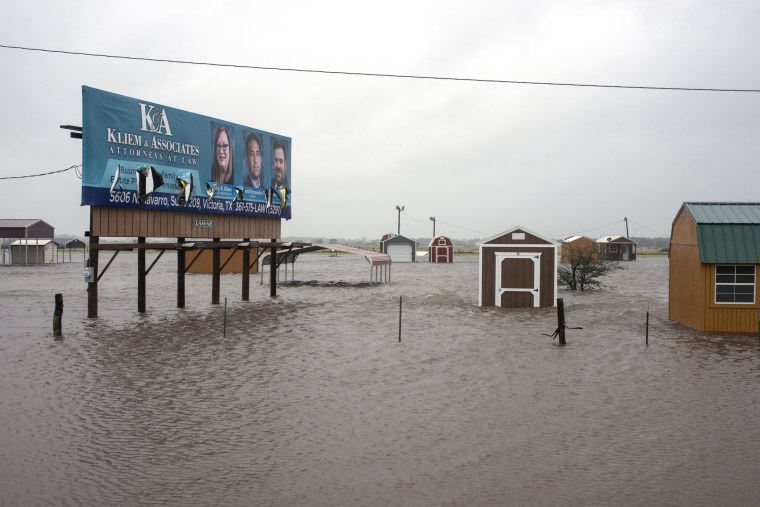 The "target triangle" of Houston, San Antonio and Corpus Christi was also expected to be hit hard in the coming days.
"Some residents in the target triangle will see water levels higher than at any time in their lives. It is almost guaranteed that we will see more evacuations, rescues and destruction of property in the days ahead," Karins said.
Officials in Houston reported widespread flooding in the city Saturday night, and the Harris County Sheriff's Office said it was performing multiple rescues due to high water. Houston's police chief said Saturday night that most areas of the city were being impacted by flooding.
"Do not think it's safe to be driving anywhere in the city," Houston Police Chief Art Acevedo warned on Twitter.
Houston police said they were called shortly after 9 p.m. about the presumed drowning, and officers at first could not make it to the scene because of floodwater. A Red Cross shelter, which was empty, was forced to close due to high water, and the city's emergency operations center was activated, the Houston Office of Emergency Management said.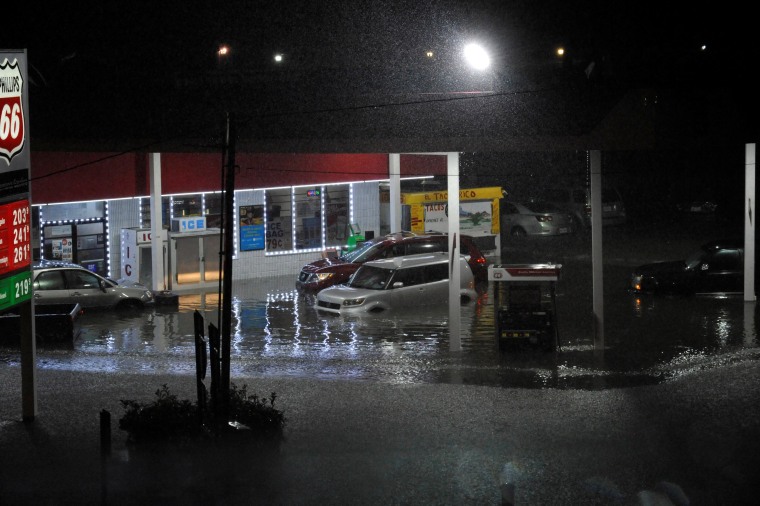 The coast guard rescued a family of six who were reportedly "in distress" at their home near Aransas Pass, Texas, Saturday.
A MH-60 Jayhawk helicopter was scrambled to airlift the parents, three children and an elderly woman to hospital in Corpus Christi. The elderly woman was reportedly in need of oxygen, but was described as being in a stable condition. The children and their parents had no reported injuries.
A tornado reportedly hit Missouri City but there were no reports of injuries or fatalities and the extent of the damage was unclear, a spokesperson for the city said Sunday.
A specialist urban search and rescue task force from the Miami-Dade fire service was deployed to assist in search and rescue efforts in Texas.
Texas Gov. Greg Abbott said at a news conference Saturday that around 20 inches of rain has fallen in Corpus Christi, and around 16 inches fell in the Houston area — and the biggest concern was the possibility of 20 to 30 more inches.
President Donald Trump signed a disaster declaration late Friday "which unleashes the full force of government help," he tweeted. The declaration allows federal funding to help stricken areas.
Trump on Saturday said he was closely monitoring the situation from Camp David, and "we are leaving nothing to chance."
The last time a major hurricane struck Texas was in 2008, when Hurricane Ike hit Galveston as a Category 2 hurricane. Ike caused an estimated $22 billion in damage.
Phil McCausland reported from Victoria, Texas. Daniel Arkin reported from New York.