Lurking inside the floods inundating southeast Texas could be the state's next health challenge: waterborne illnesses.
With historic levels of rain from Hurricane Harvey still pounding Texas, the focus is on rescuing victims from floodwaters. But the dangers don't end once the storm has passed. Experts say the water it leaves behind can easily become a breeding ground for dangerous organisms.
Related: Flooded Houston Braces for More Rain as Harvey Rescues Continue
"Any time you have water, particularly water that is standing, you can have any number of bacteria or viruses," said Jonathan Yoder, deputy chief of Centers for Disease Control and Prevention (CDC) waterborne disease prevention branch. "As a general rule, people should anticipate that that water is likely to be, at some level, contaminated."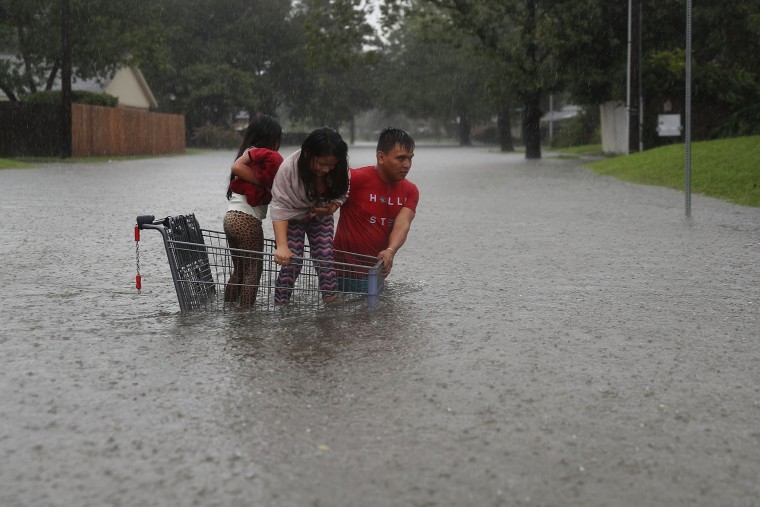 What it might be contaminated with ranges from unpleasant but relatively harmless gastrointestinal hazards, such as norovirus, to rarer, more serious bacteria — including Vibrio, a potentially deadly micro-organism naturally found along the Gulf Coast.
What is Vibrio?
Better known as the reason why it's not safe to consume raw or undercooked oysters, Vibrio could pose a unique danger after Harvey. The bacteria thrive in warm temperatures and can be transmitted through both food and water as well as through open wounds, which Texans fleeing from floods may get without even realizing, experts say.
"As a general rule, people should anticipate that that water is likely to be, at some level, contaminated."
Patients infected with Vibrio can experience diarrhea and fever, skin infection, and, in severe untreated cases — particularly among immune-system-compromised individuals or people with diabetes — limb loss or death.
A hurricane, which is fed by warm water and then leaves standing water in its wake, creates a literal perfect storm for Vibrio to thrive, said Dr. Rachel Noble, professor for the University of North Carolina at Chapel Hill's institute of marine sciences.
PHOTOS: Hurricane Harvey: Life-Threatening Rain Hammers Houston
"It's one of the few bacteria that can make you sick both by ingesting it, but also through wound infections," Noble said. "That's what we saw in Hurricane Katrina and we have seen that in floodwaters around the world."
The CDC reported 22 cases, including five fatal, of Vibrio after Katrina. While the CDC said it didn't have insight yet on what exactly might be in the floodwater left behind by Harvey, officials have already been monitoring high levels of Vibrio in the area.
"A typical pattern is during the warmer months in the Gulf Coast, you have higher levels of Vibrio that are detected," Yoder said.
Other waterborne concerns include adenovirus, which causes a wide range of symptoms including lung and stomach issues; diarrhea-inducing campylobacter and salmonella poisoning; and enterovirus, which typically causes cold-like symptoms.
"The noroviruses and enteroviruses, those are high-probability and low-risk," Noble said. "Vibrio is low-probability and high-risk. That's why we don't hear a lot about them. But they cluster in incidents like this."
Vibrio infections progress quickly, she added. If a flood survivor notices an open wound getting red, raised, and puffy, or has a fever, it's important to get checked out as soon as possible.
How to stay safe
Regardless of which bacteria are being transmitted, most of the illnesses happen as a result of sewage treatment systems and septic systems becoming flooded with water, ruining their ability to filter out animal or human fecal pathogens.
And the advice for avoiding illness is the same across the board.
"If you have an open wound, you should avoid contact with floodwater if at all possible, because those wounds are susceptible to becoming contaminated," Yoder said. "If you can't avoid it, as soon as possible, make sure you clean and disinfect that wound."
Related: How You Can Help Victims of Hurricane Harvey
Wounds can be cleaned with soap and hot water or with hydrogen peroxide, expert say. Surfaces, such as ones inside flooded homes, should be cleaned with bleach.
The experts urged those affected by Harvey to take every precaution, even once the floodwaters start to recede.
"This is just not what people are thinking of if they have a bag in their hand with all of their possessions," Noble said. "People are dealing with much larger issues at the moment, but if we were able to save just a few people from becoming infected, it's worth it."