CORPUS CHRISTI, Texas — Harvey strengthened to a major Category 4 hurricane Friday evening, roaring toward Texas in what was predicted to be the most powerful storm to hit the United States in more than a decade.
Thousands of residents had fled parts of coastal Texas and homeowners, businesses and government officials were scrambling ahead of what officials warned could be a life-threatening storm.
The National Weather Service said Harvey had the potential to batter the state with significant rain, 125-mph winds, 12-foot storm surges, and "catastrophic" flooding. President Donald Trump said on Twitter Friday night that he has signed a disaster proclamation.
Gov. Greg Abbott requested a presidential major disaster declaration, which would make federal funding available to assist the state with response costs, and he activated about 700 members of the state National Guard on Friday. Abbott pleaded with Texans to obey evacuation orders.
"If you are in low-lying areas, if you are in zones where evacuations have been in place, there may still be time for you to get out. If you don't get out, you could be in the area without power, without water, without necessities for at least a week, if not longer," Abbott said on MSNBC Friday.
Related: Tracking Hurricane Harvey — Everything You Need to Know
Harvey, driven by the Gulf of Mexico's warm waters, was expected to make landfall as a major storm just east of Corpus Christi between 10 p.m. and 2 a.m. ET Saturday.
Dozens of inches of rain and widespread flooding will likely be what makes Harvey historic, said NBC News meteorologist Bill Karins.
"It's hard to imagine just how horrific and destructive this amount of water will be. But it goes without saying that anyone who has decided to stay in a low-lying area is risking their lives," he said.
The last Category 3 storm to pummel the U.S. was Hurricane Wilma, which struck Florida in 2005. It killed six people and caused $20 billion in damage to the Sunshine State.
Related: Gas Prices Rise as Hurricane Harvey Catches Oil Companies by Surprise
A national security adviser said Trump had been briefed on the hurricane's progress and the preparations for its landing. Trump tweeted on Friday that he had spoken with Abbott and Louisiana Gov. John Bel Edwards and was "closely monitoring" the situation.
White House spokeswoman Sarah Huckabee Sanders said the president "will try to make plans to go to Texas early next week."
Multiple counties and cities were under mandatory and voluntary evacuation orders. In Corpus Christi, where a voluntary evacuation order had been issued, dozens of homes and storefronts were boarded up.
The city's mayor, Joe McComb, urged residents to be proactive before it was too late.
"We are going to, in the strongest possible terms, encourage residents in the low-lying areas, as they say, to get out of Dodge," McComb said at a news conference Thursday.
Related: 'Please Heed Warnings' on Evacuations, Texas Gov. Cautions
But Corpus Christi resident Aaron Castro, 28, who works for the Schlotzsky's sandwich chain, said there were "a lot of people sticking around."
"Some people just can't go out," Castro said. "They don't have no money to go out."
Gina McGinnis, 60, another Schlotzsky's employee, said she was going to "ride out the storm."
"I'm ready. I just gotta go get other people ready," McGinnis told NBC News on Friday. "It's just T.C.O.B. — taking care of business.
"I have faith in God. If he decides it's my time to go," she said, "I'm ready. I'm ready to go no matter what."
Dyandra Ysassi, 28, said she was staying put in order to work her first day on the job at the Aloft Hotel, about a mile from the coast.
"I don't know what to expect. I'm just going to stay calm," she told NBC News. Ysassi did not want to abandon her co-workers while her whole family had evacuated to San Antonio.
"They told me they loved me, be careful, just always have your phone on you. Stay safe, stay here, don't drive," she said.
In Victoria, about 90 miles north of Corpus Christi, Dayelynn Ybaro, 52, told NBC News she wasn't heeding the voluntary evacuation order there, either.
"I think I'm safer staying here than going out on the roads. It's so congested and raining and you can't find places to get gas right now," she said.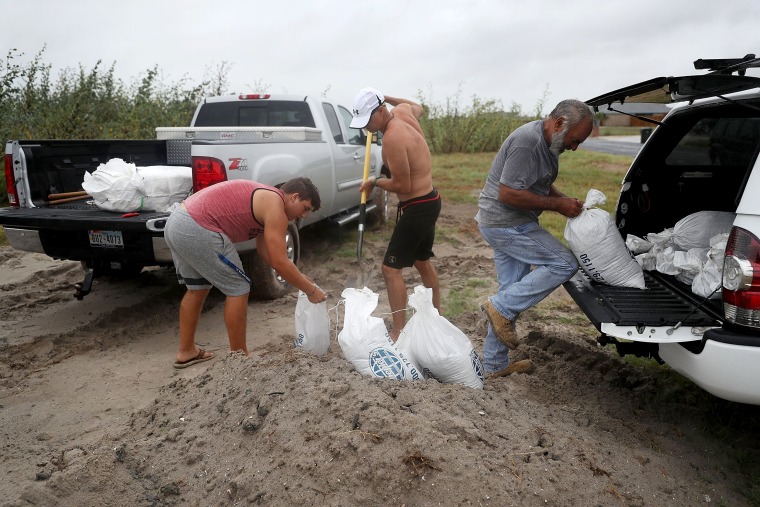 Meanwhile, in Galveston, which was also under a voluntary evacuation order, residents were also briefly under a tornado warning Friday afternoon — adding to the misery.
Bracing for an onslaught of rain, the Galveston Independent School District announced Friday that school would be closed through next Wednesday.
Downtown streets are expected to be flooded, Galveston Mayor James Yarbrough said in a news conference.
"We are prepared; we are not panicking," he said.
Phil McCausland reported from Corpus Christi, Texas. Daniel Arkin and Elizabeth Chuck reported from New York.