Celebrity televangelist Joel Osteen said Wednesday that social media created a "false narrative" over the apparent decision to not open the doors of his megachurch to Hurricane Harvey victims.
"I think sometimes social media can be very powerful and it can create this false narrative, but if you're sitting in another state and you're not here — I mean, my niece was stranded right across the street from this building with nowhere to go," Osteen said on TODAY. "This building was one foot from flooding. If we didn't have our floodgates, it would have flooded."
Osteen said that as floodwaters hit the Houston area, Lakewood Church was not initially asked by the city to open as a shelter.
"If we needed to be a shelter, we would have certainly been a shelter when [the city] first asked, but once they filled up — never dreamed we'd have this many displaced people — they asked us to become a shelter and we said, 'Hey, we'd love to be a shelter.' That's what Lakewood is all about. I think this notion that we would somehow turn people away or that we weren't here for the city is as false as can be."
He added that the megachurch — which seats approximately 16,000 people and was once home to the Houston Rockets — was waiting to open its doors as a precaution.
"I don't know if it's unfounded but I think if people were here they'd realize there were safety issues, this building had flooded before, and so we were just being precautious but the main thing is the city didn't ask us to become a shelter then," Osteen said.
Related: Joel Osteen Defends Not Opening Lakewood Church in Houston to Harvey Victims
About 300 people are now taking shelter in the church, and truckloads of supplies have been collected at Lakewood for those in need.
In an initial statement, Osteen said late Monday that he never shut his doors to those in need and shared pictures that appeared to show the church had experienced flooding.
After several people posted videos on Twitter appearing to show Lakewood Church relatively unscathed, a swarm of Twitter users began questioning why it was staying vacant.
"Houston's Joel Osteen has a net worth over $50m and a church that holds 16,800 but this is all he's offering," Mark Elliott of the Economic Mobility Corporation tweeted in reference to Osteen's tweet extending prayers.
Singer Travis Garland tweeted that he was "deeply disappointed" by Osteen's actions.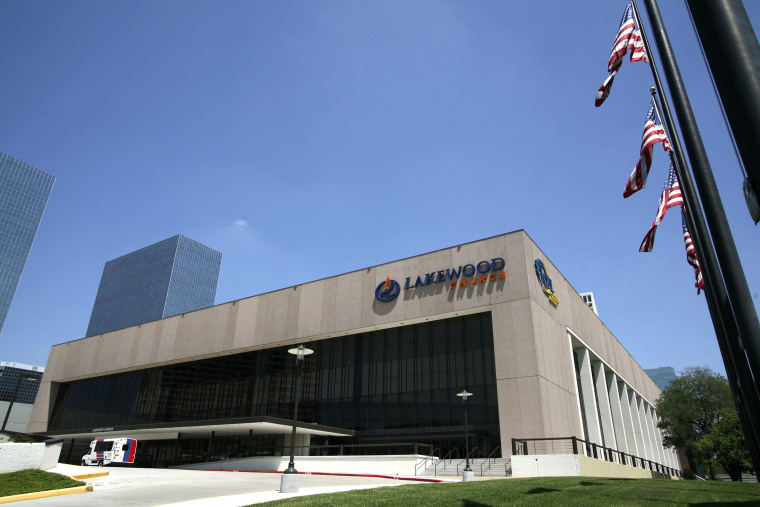 But Osteen said he never saw any of the criticism, and implied that those outside of Texas might not realize exactly what's going on in Houston.
"The main thing is social media doesn't run our lives. We run our ministry, we do what we were called to do, and, hey, everybody that's making a difference is going to have critics," Osteen said.
He added that if given a "re-do," he probably wouldn't have been able to open Lakewood's doors any sooner.
"I mean, think of the story if we housed a whole bunch of evacuees and the building flooded," Osteen said. "That wouldn't have been a good story."
Hurricane Harvey dumped as much as 20 inches of rain on parts of Houston, leading to "catastrophic and life-threatening flooding," according to the National Weather Service.
"This may end up being one of the worst flood disasters in U.S. history," the Weather Channel warned.
Thousands of rescues have been carried out in Texas since the storm hit and thousands more were without power in southeastern parts of the state.