Celebrities including country star Chris Young and comedian Kevin Hart have announced plans to make substantial donations to relief efforts following the devastation caused by Hurricane Harvey and are calling on others to do the same.
Young said in a post on Twitter Sunday that he would be donating $100,000 to benefit the Red Cross and called on others to join him.
Young, who is from Murfreesboro, Tennessee, said he had friends and family in the affected areas and even owned a home where Texas was the hardest hit.
"I'm worried about the people there like I said my friends, family neighbors and I want to help," he said in a video posted to his Twitter account.
"In times like these you turn to your friends to help those in need and that's' exactly what I'm doing," he said. "And Texas, we love you."
And Hart has challenged his fellow celebrity friends to step up and donate to relief efforts.
"I think we've participated in a lot of challenges on the internet — some meaningful, some meaningless, but we've all done them," Hart said in a video posted to his Instagram account on Sunday night. "At this point, I'm going to start a real challenge."
Related: How You Can Help Victims of Hurricane Harvey
"I'm challenging a lot of my celebrity friends to follow my lead in donating $25,000 to Hurricane Harvey to the Red Cross — at this point, this is a serious matter I think that people are in bad shape and need help," Hart added.
Hart said he was donating $25,000 to hurricane relief efforts and name checked some of the country's biggest A-listers — including Beyoncé, Jay Z, Dwayne "The Rock" Johnson, Chris Rock and Jerry Seinfeld — asking them to do the same.
Hart, who was born and raised in Philadelphia encouraged celebrities that do take up the challenge to tag others and push them to do likewise.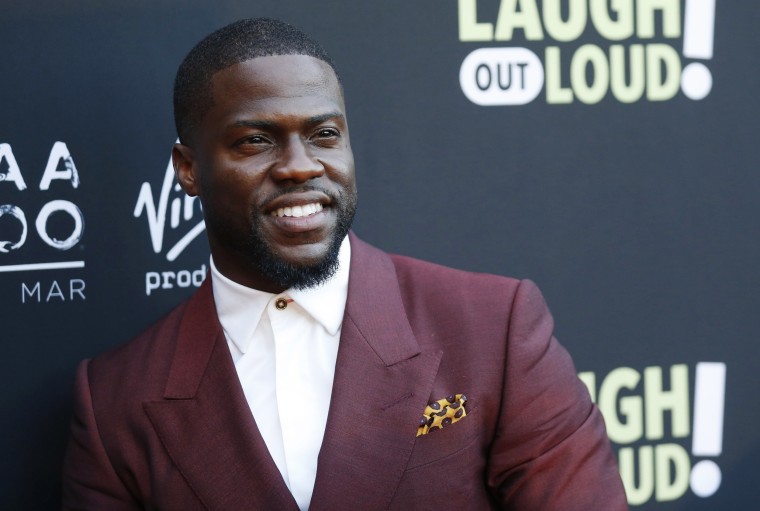 Later Monday evening, Hart in another post said he was donating $50,000 instead of $25,000 and had set up a fundraising page online for others to donate as well.
He then called on additional celebrities to participate.
"Simply anybody right now who is in a powerful position where we can impact this issue through social media ... Let's help, let's really, really try to save some lives," he said in the post.
More than 30,000 people are expected to seek temporary shelter and 450,000 are expected to file for disaster aid, the Federal Emergency Management Agency said.
Heavy rain continued to pound southeast Texas on Monday, with as much as 20 more inches forecast hit the region after a weekend of widespread flooding and thousands of rescues. At least two deaths have been blamed on the storm.
President Donald Trump is scheduled to head to Texas on Tuesday, according to the White House.
And Canadian rapper Drake said separately on Instagram on Sunday that he was working with local relief groups "to aid and assist the people of Texas in anyway we can and in the most immediate way possible."