NEW ORLEANS — Residents here grimly marked the 12-year anniversary of Hurricane Katrina by witnessing Hurricane Harvey wreck immense damage in nearby Texas. All the while, they have kept their fingers crossed, hoping the storm wouldn't turn toward the Crescent City.
As the remains of what was once a Category 4 hurricane headed north and east, New Orleanians warily tracked its movement and wondered if the city's pumping system would hold up. It had failed only three weeks ago after a heavy rain, leaving some neighborhoods with significant flooding.
While the city previously believed it might be hit by a potentially debilitating amount of rain from the storm, it was able to fix portions of its pump system and received an updated weather forecast that looked encouraging.
By Wednesday, city officials believed the pump system was up to 93 percent functional — a major upgrade from only a week previous.
In light of the good news, Mayor Mitch Landrieu promised New Orleans' help to affected Texans and southwestern Louisianans, including search and rescue crews and the reactivation of the NOLA Pay it Forward Fund.
"If that storm had come our way we would likely be experiencing what Houston went through — if not worse," he said during a press conference on Tuesday. "This is about as bad as it gets."
Houston reportedly took in approximately 250,000 New Orleanians after 2005's Hurricane Katrina and, according to the Houston Chronicle, 40,000 became permanent residents of the Texas city. Houston is even known by some as "New Orleans West."
Related: A Ragtag Crew, Cajun Navy Searches for Houston Flood Victims by Any Means Necessary
Already, private citizens have taken it upon themselves to help the flooded Louisiana and Texas coast. Many of the roads and highways between Houston and New Orleans were flooded and impassable, making trips east and west arduous, but trucks and SUVs towing boats headed toward the danger via whatever routes they could find.
Yet New Orleans residents knew their good luck could run out.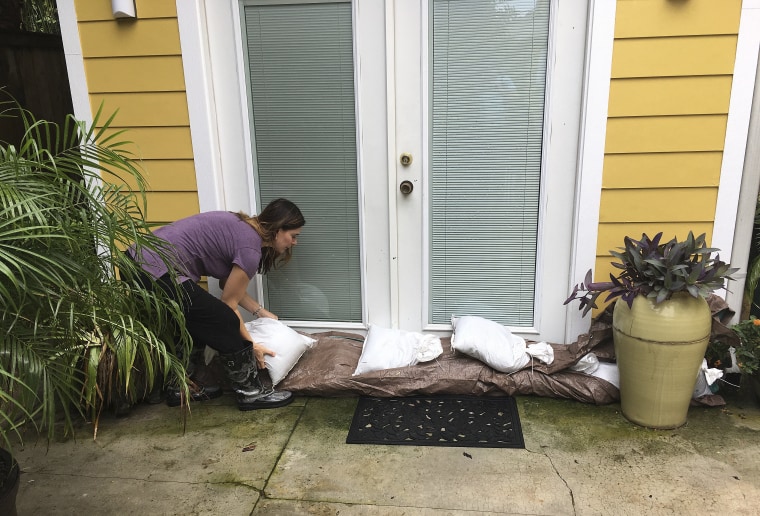 Flash flood watches for sections of the city are in effect until Thursday evening — meaning storm waters could still be a serious threat.
That's why Shantell Williams decided to pick up sandbags on Wednesday from Fire Station 27 on the edge of the Treme neighborhood.
"I live in New Orleans East and it's pretty much a swamp back there," Williams said after a few firefighters helped her fill the trunk of her sedan. "The house hasn't flooded, the area hasn't flooded, but just taking the precaution."
In preparation for the storm, the city of New Orleans handed out more than 63,000 sandbags to concerned citizens at various fire stations.
The city also cleaned catch basins — many filled with dirt and trash or even overgrown — to aid water flow.
In addition, it was able to restore two critical pumps, which would help push water out of the low-lying city. The antiquated system is so crucial to the welfare of the city that its failure just three weeks ago led to the resignation of a handful of city officials.
An anonymous person placed a blue banner on one Central City pumping station as the city's Sewerage & Water Board struggled ahead of Harvey to make swift repairs to its power supply and pumping system.
"I think I can, I think I can," it read.
The city closed schools and public buildings as a precaution on Tuesday, but Landrieu said the most recent weather forecast seemed promising enough to reopen public buildings. Schools in Orleans Parish were also open on Wednesday, though St. James, Lafourche and St. John the Baptist Parish schools remained closed.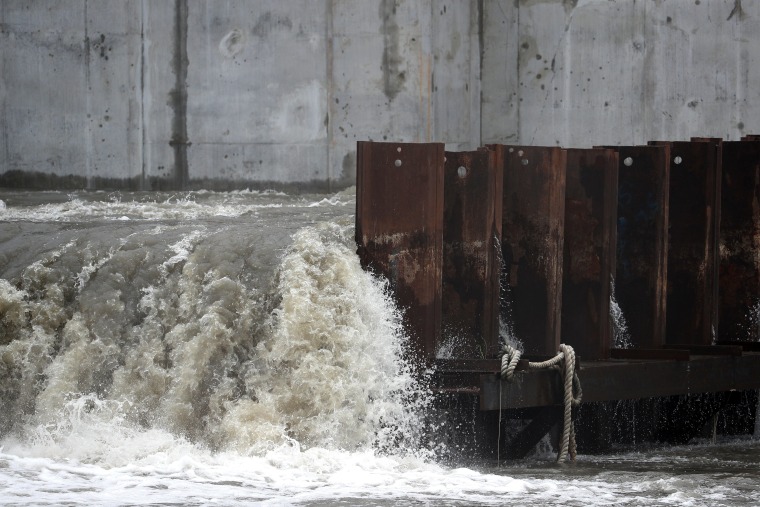 Despite the good news, the stories coming out of Houston resurfaced the 12-year-old scars left by Hurricane Katrina.
"[Houston] is very reminiscent of Katrina," Williams said. "I was very fortunate to leave before the storm, but it's exactly what I saw. We were lucky, but it hurts to see a city like that — especially now."
At a press conference Tuesday, the 12-year anniversary of Hurricane Katrina, Landrieu called for a moment of silence to remember the storm that ravaged his city — and to memorialize the more than 1,800 people who died in the flooding.
"Everybody remembers all too well, especially in light of what's going in Houston, that 12 years ago Katrina changed New Orleans forever," the mayor said. "We lost 1,800 of our fellow Americans, a million people were displaced, one million homes were damaged, and another 250,000 homes were absolutely destroyed."
Related: For Survivors of Last Epic Hurricane, a Case of 'Katrina Brain'
The levees in New Orleans broke during Hurricane Katrina, which flooded 80 percent of the Gulf Coast city and destroyed lives. Landrieu said the images and survivor stories "were seared into our souls forever."
"We unfortunately have to watch our friends [in Houston] and other parts of Texas experience a similar hardship," he added. "We will never forget the incredible compassion that the people of Houston particularly and the people of Texas, as well ... showed us when we needed them most."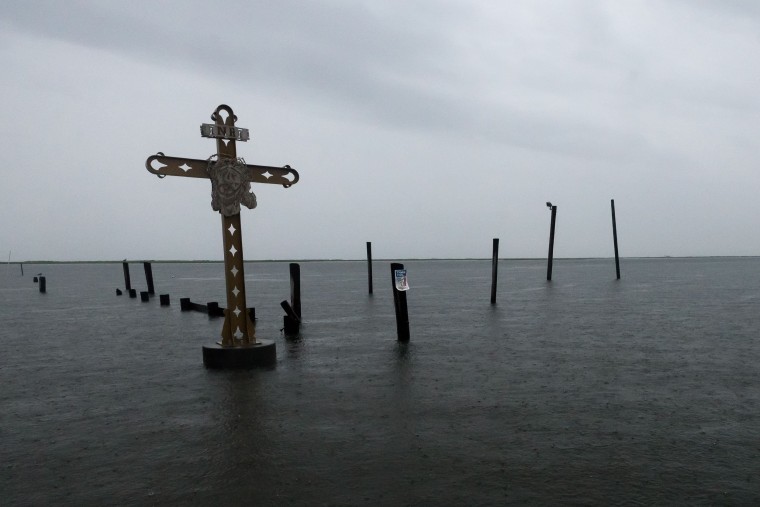 Some in New Orleans also hoped that their city's slow recuperation after Hurricane Katrina could inform the Harvey recovery.
Tulane School of Architecture Professor Richard Campanella, who has written extensively about New Orleans and studied its recovery after the storm, said there were "multitudes of lessons" learned from Hurricane Katrina and the immense infrastructure damage it wrought — destruction New Orleans is still recovering from even today.
"All of this water affects all the infrastructure and urbanism beneath it," Campanella explained. "It will affect roadways, it will affect underground infrastructure, it will affect pipelines, electrical systems, not to mention building structures … so expect that this water will have multitudes of repercussions of urban infrastructure writ large."