HOUSTON — Houston-area infrastructure is proving to be no match for Harvey's record rainfall, which overpowered a dam, a bridge and a levee within hours of one another.
First came the Addicks Dam, a major dam in the nation's fourth-largest city. It spilled over for the first time in history after rains inundated its reservoir just before 8 a.m. CT when the water level rose to 108.1 feet, exceeding the reservoir's capacity of 108 feet, officials said Tuesday morning.
About 90 minutes later, a levee at Columbia Lakes on the Brazos River in Brazoria County, just south of Houston, was breached. Officials sent a dire warning to any residents who hadn't evacuated. "GET OUT NOW!!" the county posted on Twitter.
Then the Woodforest Bridge over Greens Bayou in east Houston collapsed, the Harris County, Texas, Sheriff's Office said. There was no immediate word on whether there were any injuries from the bridge, which is on a residential street.
Related: Harvey, Already a 'Landmark Event,' Threatens Round Two
And the rain is still falling. The National Weather Service in Houston announced Tuesday that 49.2 inches of total rainfall had been recorded, a new record in the continental United States for total rainfall from a tropical system. The Weather Channel warned: "This may end up being one of the worst flood disasters in U.S. history."
Jay Townsend, a spokesman for the Army Corps of Engineers, said water will now flow into uncontrolled runoff areas around Houston's Addicks Dam. From there, it will spread into already rain-swollen streets and eventually into the Buffalo Bayou, a narrow body of water that runs through downtown Houston.
Officials had been anticipating the Addicks Dam and another nearby Houston reservoir, the Barker Reservoir, would be topped. On Monday, as water levels were climbing at a rate of more than 6 inches per hour, the Army Corps of Engineers released water from both into Buffalo Bayou to try to prevent an uncontrolled gush.
Photo Gallery: Eerie Aerials Show Houston Drenched in Floodwater
The Addicks Dam is still releasing the maximum planned amount of nearly 4,000 cubic feet per second downstream, the Corps of Engineers said. Barker Reservoir is expected to reach capacity by Thursday.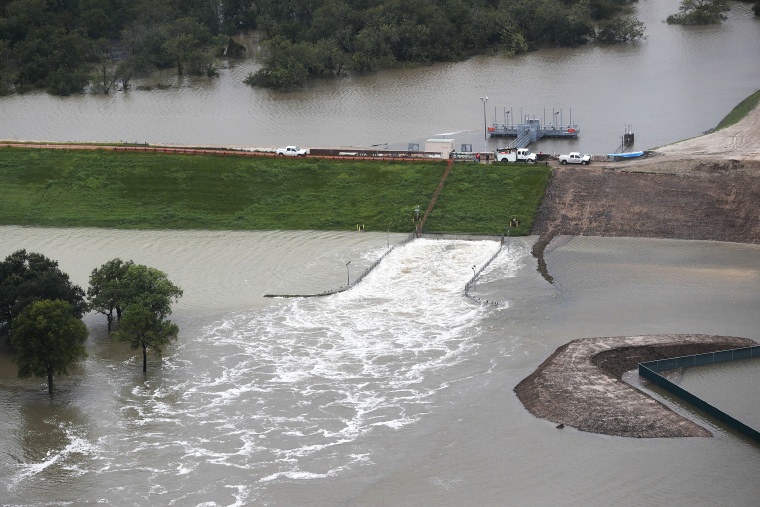 "Both dams continue to perform as designed. We have monitors on both structures 24 hours a day looking for concerns with the structure and we've had no issues or concerns to date," said Col. Lars Zetterstrom, Commander for the Army Corps of Engineers Galveston District, which includes Harris County.
Related: Hurricane Harvey May Leave Behind Health Hazards in Water
The reservoirs were built after catastrophic floods in 1929 and 1935 and were designed to contain water until it could be released downstream at a controlled rate, according to the Associated Press.
They don't contain drinking water: their sole purpose is to prevent floods from impacting nearby homes and businesses, according to Jim Blackburn, an environmental lawyer and professor of civil and environmental engineering at Rice University.
Blackburn has sounded the alarm in the past about the dams being unable to handle any more runoff.
"On the one hand, we have an unprecedented rainfall, but on the other hand, we haven't been protecting this asset," he said, adding that officials "just wanted to ignore it."
Houston Mayor Sylvester Turner said officials were "monitoring very carefully" areas that would be impacted by the release of water from the dams and would be setting up an additional shelter on the west side of Houston as a precaution.
"If we think there will be additional flooding in these areas, we will quickly advise you and recommend a course of action," he said at a press conference.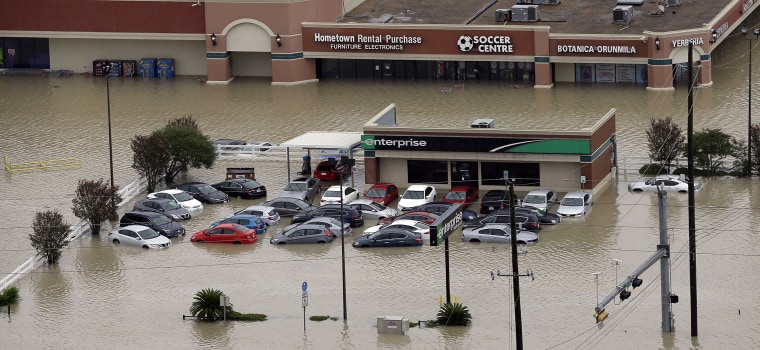 In Brazoria County, emergency personnel were looking for any holdouts after the levee was breached.
Water has "just breached the top of the levee and is now spilling over," county spokeswoman Sharon Trower said. "We have resources going to that area to see if there are any residents left."
Judge Matt Sebesta told NBC affiliate KPRC that there was an evacuation order in place.
"There should not be people there. They were ordered to evacuate several days ago," he said.
The National Weather Service in Houston issued a flash flood warning that included Brazoria County until 5:45 p.m. CT.
Blackburn said the other levees along the Brazos River were the next area of concern.
"I am extremely worried about the levees along the Brazos River. We have a tremendous amount of housing behind the levees," he said. "Any time you have a levee and unprecedented rainfall, it's a horrible mix. They've all been designed based on statistics from the past."
Aaron Franco reported from Houston, Asher Klein and Elizabeth Chuck reported from New York.