HOUSTON — Some coastal Texas residents were torn between evacuating or staying put in sharp defiance of the elements as Hurricane Harvey barreled toward the Texas coastline on Friday morning.
Shortly before 10 a.m., when Corpus Christi grocery stores announced they would be shutting down until the storm passed, residents rushed to pick up last-minute supplies or cover their businesses or homes with plywood. People were told that if they planned to evacuate they should hit the road well before noon.
But longtime Corpus Christi resident Frank Veltri, 82, didn't plan on moving too far or too quickly. He only lives six blocks from the coastline and didn't have the patience to travel 150 miles inland to escape the storm. He rolled down the shutters on his home and decided to stay at a hotel a mile from his house with his wife, believing it would stand a reduced chance of losing power.
"I'm not worried about this storm," said Veltri, who has lived in Corpus Christi for 40 years and lost a business to Hurricane Celia in 1970. "I'm an optimist. I'm never really worried about it."
But Dyandra Ysassi, who was checking in room-seekers at the hotel, which had just opened a day before, was not as confident.
Ysassi, 28, a 20-year Corpus Christi resident, said her entire family — parents, a sister and aunt — had been evacuated that morning to San Antonio. Ysassi had stayed behind to work her shift at the front desk of the hotel and said she wasn't sure what the next few days would bring.
"I expect it to rain, to stay busy kind of, be a little hectic," she said, adding that she would stay at the hotel until her family returned. "I hope the power doesn't go out because that would not be cool, but for the most part I'm scared."
Though she had a few fellow employees she was friendly with, Ysassi didn't feel comfortable so far away from her loved ones.
"I'm here by myself: my mom and family are gone," she explained, beginning to tear up. "But I'm going to try and stay calm."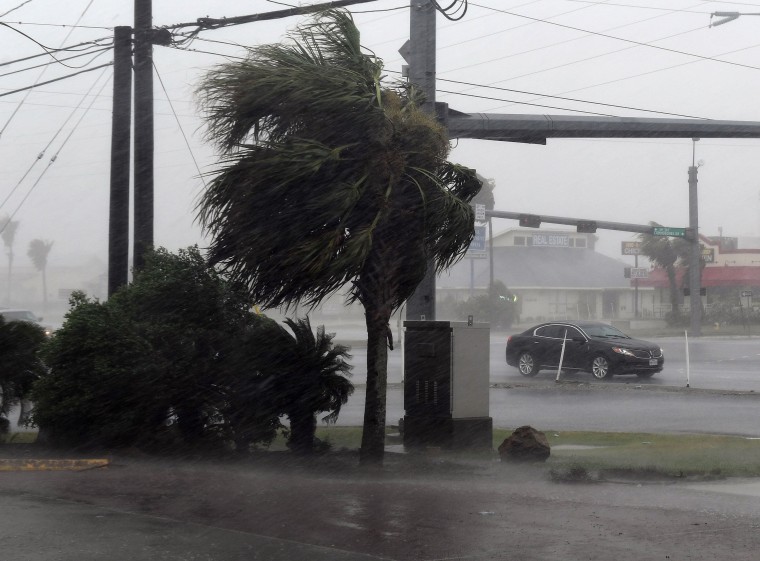 By noon, the highway out of Corpus Christi was largely empty of cars, homes were boarded up and the popular Hurricane Alley Water Park lay dormant — a once-bustling city silent ahead of the predicted landfall of the Category 4 hurricane.
About 40 miles to the north, in Refugio, home and store owners had already boarded their windows and doors for the most part, and the few people on the street were headed to gas stations to fuel their cars before the storm hit. Signs in many gas station windows explained that while the store was closed, the pumps were still usable.
The Golden Chicken, a fast-food restaurant in Refugio, was also boarded up tight in the early afternoon. The words "CLOSED" and "GO AWAY HARVEY!" were spray-painted across the boards.
Further inland, residents of Victoria also prepared for the storm, knowing that they would likely be at the center of the tempest once Harvey made its way ashore. While the town was under a mandatory evacuation, some planned to ignore the order.
Jesse Rodriguez, 56, and his wife Dayelynn Ybaro, 52, decided to visit Rodriguez's mother at the Citizens Medical Center, a hospital in town, one last time before hunkering down in their apartment prior to Harvey.
"We bought water and food," Ybaro said, as she made her way to her car. "I think [we're] safer staying here than going out on the roads. It's so congested and raining, and you can't find places to get gas right now. It's a hard time here getting gas."
Eight people, including friends who lived in low-lying areas nearby, were planning to stay in the couple's apartment.
"It's gonna be harder if we go out," Rodriguez said. "There's tornadoes out there — you don't know what's out there."
Citizens Medical Center, meanwhile, had only removed its most critical patients because they did not have time to fully evacuate. According to two hospital officials, they were keeping all of their patients to the second floor or above because of potential flooding.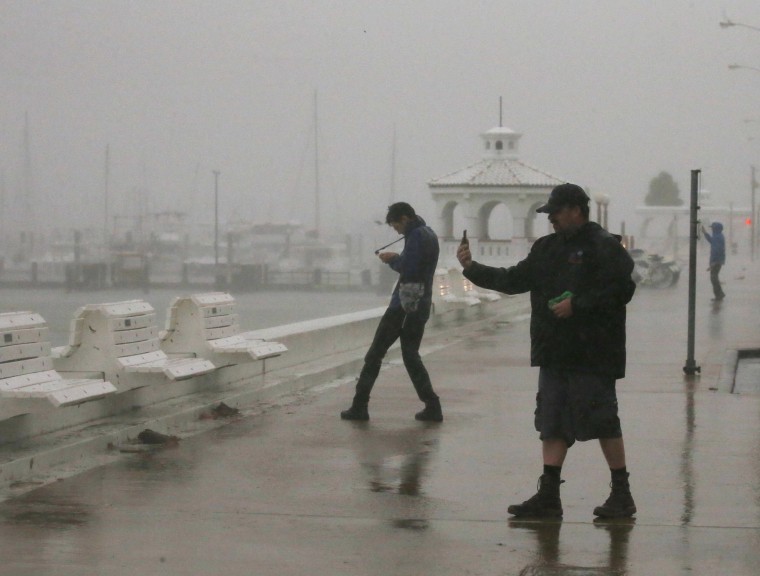 A sign in the hospital's lobby also announced that an "End of Life" seminar planned by a local Baptist church for Saturday had been canceled.
The rain became heavier as early afternoon faded into early evening. But just 30 miles south of Houston, the precipitation lifted and a calm struck. The situation was less tranquil at a Kroger grocery store in Richmond, Texas.
Still open — and with plans to remain so until "the power goes out" — the store was filled with frantic customers frustrated by a "two cases of water per customer" rule made by the grocery store chain. Starting at 6 a.m. on Friday, lines of cars spilled into the street and a string of people wrapped around the giant store.
"For three days we've had a ton of traffic going in and out of the store," explained Kroger kitchen lead Reyna Diaz-Deleon, 22. "There's a lot of people coming in looking for water, looking for bread, looking for batteries and lights."
The trick was keeping the shelves stocked.
"We have had a lot of employees who've been working a lot of overtime just to get everything done," she said.
But while many made last minute preparations for a storm expected to bring historic flooding to parts of Texas, some closer to Houston were expected to treat the day as perfectly normal.
Nancy Morong, 63, and Sonya Maknojia, 23, manned the counter at a jewelry store inside the Richmond, Texas, Kroger. They were told to close up shop at 8 p.m. and return to work at 10 a.m.
"Somebody might want to come in and buy a diamond — you never know," Morong joked.
"And we have a 30-percent sale going on," Maknojia added, "so you won't want to miss that."