WASHINGTON — The White House Friday sent Congress a $44 billion disaster aid request that's already under attack from lawmakers from hurricane-hit regions as way too small.
The request, President Donald Trump's third since hurricanes Harvey, Irma and Maria slammed the Gulf Coast and Caribbean, would bring the total appropriated for disaster relief this fall close to $100 billion — and that's before most of the money to rebuild Puerto Rico's devastated housing stock and electric grid is added in.
The new installment would add $24 billion to the government's chief disaster account and establish a new $12 billion grant program for flood risk mitigation projects. Smaller amounts would go to small business loans and to aid farmers suffering crop losses.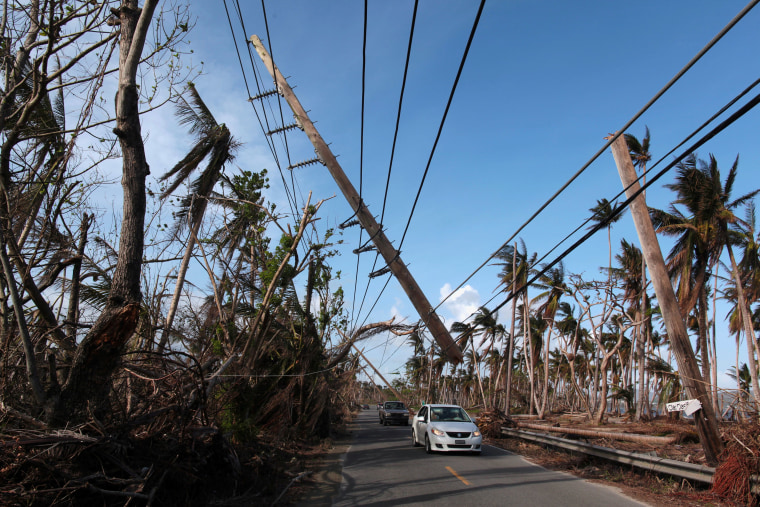 The request followed lobbying by Texas Gov. Greg Abbott and Puerto Rico Gov. Ricardo Rosselló, who pressed the White House for far more. There are sure to be attempts to add to the measure as it advances through the House and Senate.
"This request does not come close to what local officials say is needed," said New York Rep. Nita Lowey, top Democrat on the House Appropriations Committee.
Even before the measure was delivered, Sen. John Cornyn, R-Texas, called it "wholly inadequate." Cornyn worked in September to nearly double Trump's initial request for Harvey aid and has been battling with the White House behind the scenes.
Related: Home Prices in Disaster-Prone Parts of the Country Are Rising
The measure arrives as lawmakers and the White House face numerous budget-related issues by year's end, including a deadline of Dec. 8 to avert a government shutdown. Top Capitol Hill leaders are also negotiating bipartisan spending increases for the Pentagon and domestic agencies in hopes of passing a catchall government funding bill. They are also seeking to renew a popular program that provides health care to children from low-income families.
And there's a tax bill that is Republicans' top priority. GOP leaders have appeared wary of tackling other budget-related issues while the tax legislation was taking shape but time is running low and coming weeks are likely to bring a burst of activity. Talks on increasing tight "caps" on agency budgets have centered on a GOP plan for a two-year, $182 billion increase that still falls short of demands by both defense hawks and Democrats seeking more for domestic programs.
Rossello has requested $94 billion, including $18 billion to rebuild the island's power grid and $31 billion for housing. The White House anticipates sending another request focused on the needs of the island territory but hasn't indicated when that would be.
"Because Hurricane Maria occurred more recently, damage assessments are ongoing," said White House budget director Mick Mulvaney.
Related: The New Danger for California Fire Victims: Disaster Relief Fraud
Mulvaney also asked lawmakers to consider $59 billion in spending cuts to pay for the aid, including $44 billion from benefit programs by extending automatic cuts known as sequestration over the 2025-2027 budget window.
Texas and Florida are also sure to be disappointed. Texas Gov. Greg Abbott submitted a $61 billion request to Trump last month for Harvey-related damages, including ambitious requests for flood control and navigation projects. The Florida congressional delegation has asked for $27 billion.
Florida Sen. Bill Nelson, a Democrat, said in a statement that the request "doesn't come close to providing what is needed. People are hurting and they desperately need our help, yet this request has no money to provide housing for evacuees and barely any money for Florida's citrus growers. That's unacceptable."
"Congress needs to pass a more robust disaster bill that actually provides the funding needed to help people recover," Nelson said.
House Speaker Paul Ryan, R-Wis., said Congress had "proven its commitment to aid those suffering from the natural disasters of the fall." Ryan said the House would "review the request and work with the administration and members from affected states to help the victims get the resources they need to recover and rebuild."