EAST NAPLES, Fla. — Most of the businesses along U.S. 41, a stretch of highway connecting Southeast and Southwest Florida known as the Tamiami Trail, have closed their doors as Hurricane Irma looms ominous in the Atlantic.
But not Gator's Crossroads, a colorful dive bar in the mandatory evacuation zone of Collier County.
The bar, built in the 1950s, according to its owners Kurt Stephens and Linda Pauly, is a haven for locals. And it will try to remain that way throughout Hurricane Irma.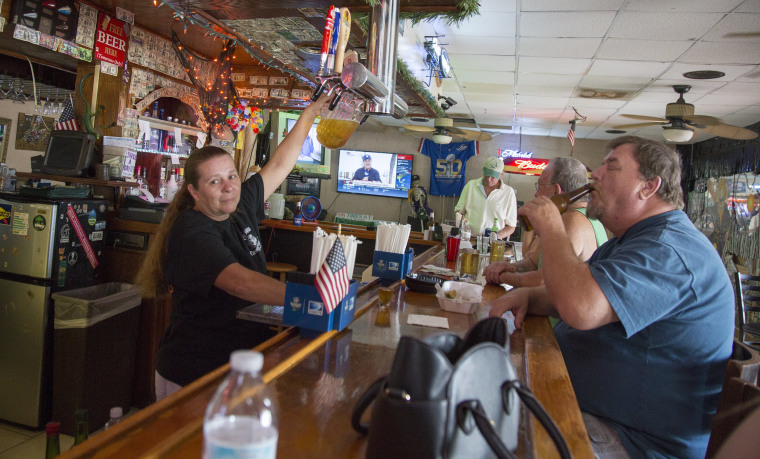 On Friday afternoon, a handful of regulars pulled up to the bar of the otherwise vacant restaurant to swig beer and fill the interior with thick plumes of cigarette smoke.
If not for the swirling red weather forecasts on the two televisions on opposite ends of the wooden bar, it would be nearly impossible to tell that one of the strongest Atlantic storms on record was headed directly for them.
Pauly, 53, worked diligently to serve beer from a tap above her head while, behind her, dollar bills plastered the walls with scribbled notes of "OBAMA SUCKS" and "SCREW HILLARY."
As she paced between a beer cooler and the counter, Pauly's regulars, some wearing big red life vests, erupted with laughter as they joked with one another. Others chatted on cellphones.
Many of the people seated at the bar Friday afternoon planned to weather the storm together inside Gator's.
Related: Florida Zoos, Wildlife Centers Hunker Down as Hurricane Irma Takes Aim
"Being alone would be awful. But I think everybody else feels the same way, and there's a lot of people who are coming live in mobile homes — low-lying mobile homes," Pauly told NBC News. "They think that's going to be the most devastating part — is going back to see if there's anything left."
Irma will be Pauly's first hurricane. She moved to Florida eight years ago from Wisconsin, where she'd weathered tornadoes.
Now, she's hoping her bar — despite its lack of hurricane shutters or plywood on the windows — will be a makeshift shelter for those who have nowhere else to go.
"They're all staying. They all have their own places, but we have probably four or five people coming, and it could grow — we don't know — by tomorrow night," she said. "If need be, [we'll] use the bar as bed. We have benches we can put together. We can bring in mattresses and cots. Pool tables. We'll sleep anywhere."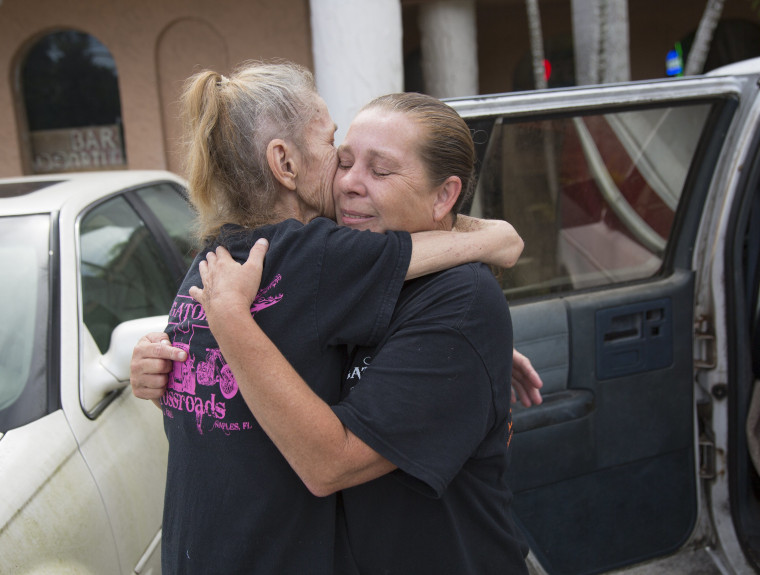 Stephens, her partner, said Gator's is the third restaurant he's owned in Southwest Florida. He came down to Naples 12 years ago from Minnesota during Hurricane Wilma. He said that storm didn't scare him away from Florida's shores — and this one won't either.
"I flew in when I was checking out to see if I wanted to move here during Wilma. I've been through tropical storms, but since Wilma, there has not been a hurricane," Stephens, 53, said. "I flew in, and they said, 'There's a mandatory evacuation for Naples,' and that's where I was headed."
Stephens and Pauly are just two of the many who have added to the state's expanding population, which has the potential to increase to approximately 26 million by 2030, surpassing the population of Australia, according to the Florida Chamber of Commerce.
Historically, Florida's population growth has been fueled by Americans in other states migrating south, in addition to foreign immigrants and births, but a report by The Miami Herald suggests that the current principal growth in Florida is due to immigrants from South America and other countries.
Like Pauly and Stephens, most of the regulars ay Gator's have also come from other states.
Lon Clay, 60, a former swamp buggy announcer, said that in the 30 years ago he left Ohio to get away from the snow, he has ridden out some of the most devastating storms in Florida's history.
"I've lived through it before," he said. "I was here for Andrew. Here for Charlie. Here for Wilma."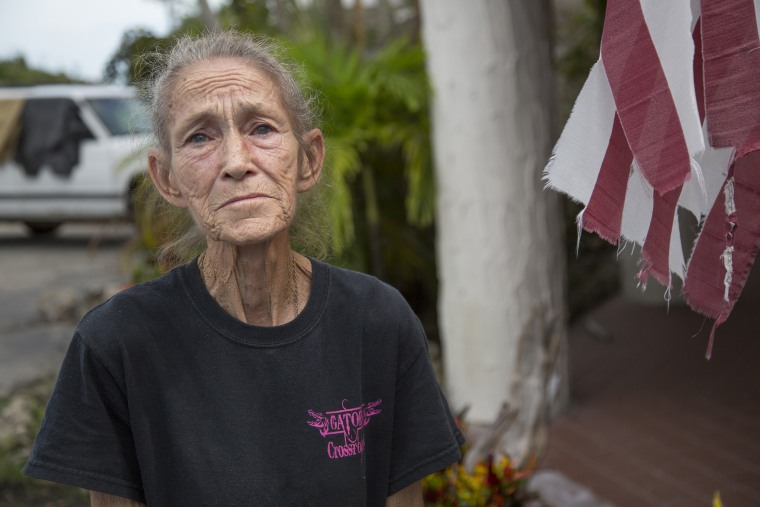 Clay and his wife, Janis, 51, said they planned to ride out Irma at the bar.
"Hopefully, it'll go right over Cuba. It's got that northern track to it," he said while looking at a weather map showing Irma's path on his phone. "But who knows. It might just hit us. If it does, it does. Nothing we can do about it."
Janis Clay, who works at Gator's, added: "We're staying here. But our house won't be OK."
She has lived in Florida for nearly two decades and missed every previous hurricane. Like Pauly, Irma will be her first live hurricane.
"I consider myself a hurricane good-luck charm," she joked.
Pauly has warned those coming that they need to bring their own emergency kits. That's one thing she said she can't provide. Gator's also doesn't have a backup generator.
"We don't have one yet," Pauly said. "So we could lose everything here. We could lose all our food, I mean, up to $10,000 worth of food," she said. "We could lose a lot."
But Pauly and Stephens are optimistic. If the power goes out, they're ready to cook using propane.
"We'll have a big party on Tuesday," Pauly said. "It's supposed to be sunny."