Furious officials launched investigations of a blazing hot Florida nursing home where eight people were found dead Wednesday after Hurricane Irma left the building without air conditioning.
Democratic U.S. Sen. Bill Nelson called the disaster at the Rehabilitation Center at Hollywood Hills, in the town of Hollywood, about 20 miles north of Miami, "an emerging scandal of gargantuan proportions."
He said it was "inexcusable" that no one appeared to have called 911 as residents in their 70s, 80s and 90s sweltered without air conditioning in the summer Florida heat overnight.
A nursing home employee told NBC Miami that the building was cool on Tuesday but that he returned Wednesday morning to an overheated facility.
Florida Gov. Rick Scott called the situation "unfathomable," promising to "aggressively demand answers on how this tragic event took place."
Hollywood police launched a criminal investigation, and agents from the state attorney general's office and the state Agency for Health Care Administration were on the scene, authorities said. State officials closed the facility Wednesday night and barred it from admitting new patients.
"This was a terrible incident. The scene was chaotic when I arrived," said Dr. Randy Katz, medical director for emergency services at Memorial Healthcare System, where about a dozen of the 158 people who were evacuated from the facility were admitted for respiratory distress, dehydration and heat-related issues.
Katz said so many patients needed assistance that his hospital, which is just down the street, called in more than 50 doctors, nurses and other staffers under a mass casualty protocol.
"I've definitely seen mass casualties and things to that extent, but this is something unique, something extremely sad and unfortunate for these patients and their families," Katz said.
The Broward County medical examiner identified the victims as: Carolyn Eatherly, 78; Miguel Antonio Franco, 92; Estella Hendricks, 71; Betty Hibbard, 84; Manuel Mario Medieta, 96; Gail Nova, 71; Bobby Owens, 84; and Albertina Vega, 99.
No official cause of death was given, but authorities described the deaths as heat-related.
Hollywood police conducted welfare checks on 42 other nursing homes and similar critical care facilities across the city throughout the day, said Raelin Storey, a spokeswoman for the city government. The checks led fire rescue crews to transport four patients in their 70s to a hospital from an Amazing Care Inc. assisted living home as a precaution, she said. No further details were immediately available.
Storey said fire crews were first called to the Hollywood Hills facility at 3 a.m. ET for a report of a cardiac arrest. More fire and emergency response crews were sent when a second call came in at 4 a.m. for a patient having breathing issues, she said. Three people were found dead on the second floor, Storey said, and by 6:15 a.m., a full-scale evacuation of the facility was under way.
In a statement, Jorge Carballo, the nursing home's administrator, said the facility and its staff "diligently prepared for the impact of Hurricane Irma" and were cooperating fully with authorities.
Carballo said the nursing home had a working generator and never lost all of its power. But he said that a transformer powering the site's air conditioning "went down" and that management immediately contacted Florida Power & Light, the local electric utility, along with local emergency officials.
Temperatures in South Florida have been in the 80s this week, and the low in Hollywood on Tuesday was 79 degrees.
Broward County Mayor Barbara Sharief said Wednesday that she had asked Florida Power & Light to make it a priority to get power back for assisted living, nursing home and senior care centers.
The utility said in a statement Wednesday that it was limited in what it could reveal because of the investigations. But it said that "other critical facilities" — notably hospitals and 911 centers — were identified as higher priorities and that the nursing home was very close to a hospital that did have power.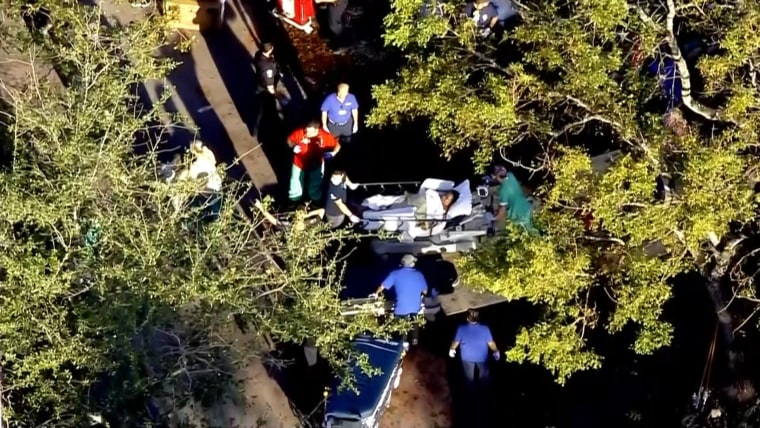 Storey, meanwhile, told reporters that fire rescue crews have responded to the facility 127 times over the last 12 months, a rate she called "far above average for what we would expect for this kind of facility."
Medicare records show that the nursing home, owned by Larkin Health Systems Inc., was fined $5,500 in February 2016 for unspecified violations. In its most recent review, the federal Centers for Medicare and Medicaid Services, which regulates nursing homes, gave the facility a "below-average" overall rating of two stars out of five; the health inspection was rated one star, or "much below average."
Larkin's president is listed as Dr. Jack Jacobo Michel, who couldn't be reached for comment Wednesday.
In 2004, Michel was listed among numerous co-respondents in a federal lawsuit alleging a broad conspiracy to send patients to hospitals and outpatient facilities for unnecessary treatment in return for kickbacks from Medicare and Medicaid reimbursements during the late 1990s, according to court documents obtained Wednesday night by NBC News.
No dollar amount was put on the losses to the alleged fraud. In 2006, Larkin and the other defendants settled the case for $15.4 million without admitting any wrongdoing.
Related: Floridians Take Stock and Begin Recovery as Irma Exits
Irma cut power to millions of Floridians and killed at least 59 other people across the Caribbean and the Southeastern United States as it rampaged across the Atlantic basin. Power had been restored to nearly 60 percent of customers, Florida Power & Light said.
Later Wednesday, a second south Florida nursing home, Krystal Bay Nursing and Rehabilitation Center in North Miami Beach, was evacuated. Officials didn't say what prompted the decision.