A Virginia man is suing a Florida sheriff over his tough-on-crime approach to Hurricane Irma, claiming in a lawsuit filed Sunday that forcing shelter-seekers to undergo background checks was unconstitutional.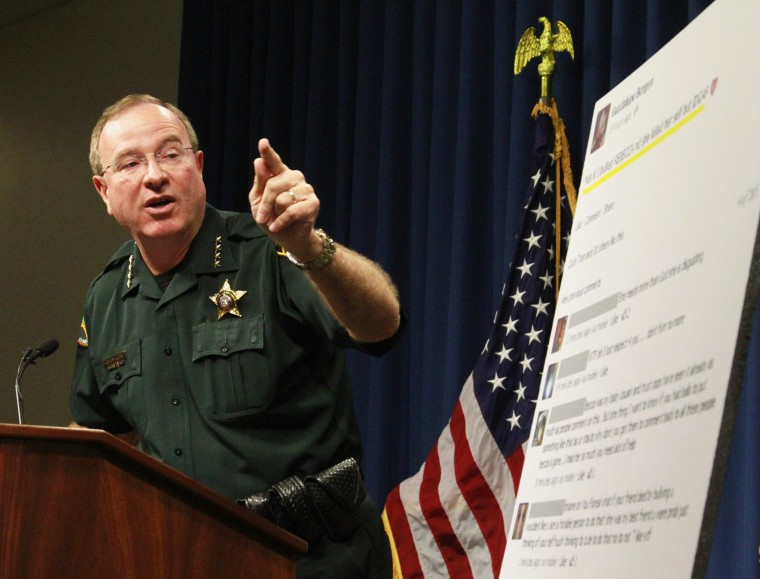 In the suit, filed in Polk County Circuit Court, Andres Borreno argued that Sheriff Grady Judd "misused emergency shelters as unlawful pedestrian checkpoints to conduct suspicionless warrant/criminal background checks on human beings desperate for shelter."
Carrie Horstman, a sheriff's spokeswoman, said Monday that Judd was in hurricane recovery mode and hadn't read Borreno's lawsuit.
"We are only responding to breaking news media inquiries and focusing on getting emergency information out to the public," she said.
In a series of messages posted on Twitter last week, the sheriff said law enforcement officers would be at every shelter in the county checking identification.
"Sex offenders/predators will not be allowed," he wrote.
"If you go to a shelter for #Irma and you have a warrant," he wrote in another, "we'll gladly escort you to the safe and secure shelter called the Polk County Jail."
Borreno, 31, a risk manager with Nexus Services, a Virginia legal services organization, was in Florida on Saturday helping to ferry undocumented immigrants to shelters, said Mike Donovan, Nexus' chief executive. The group, which was working with 125 families in the state, also funds the pro bono law firm that filed the suit for Borreno.
Borreno had gone to Chain of Lakes, an elementary school east of Tampa Bay that was being used as a shelter, to ensure that it had space for the families Nexus was working with, Donovan said.
Nexis had heard of Judd's policy, Donovan added, "but we weren't certain it was something they'd be doing."
The lawsuit says that when Borreno arrived at Chain of Lakes, he was told that he'd have to provide an ID card and submit to warrant and background checks — checks that were unnecessary, Donovan added, because Florida driver's licenses already say whether someone is a convicted sex offender.
So Borreno decided to send the families to Osceola County, instead, Donovan said.
"That was his feeling," Donovan said. "He didn't want to subject them to an unwarranted, unconstitutional check.
"There are places for aggressive policing," Donovan added. "This is not the time to score political points. This is the time to make sure your people are safe."
Even though Borreno was not planning on staying at the shelter, Donovan believed he had the legal standing to sue. "Since we were organizing and assisting in evacuation efforts, the sheriff's policy would have been enforced upon us," he said.
Borreno's lawsuit lists three federal claims, including unlawful search and seizure. No damages are cited.
CORRECTION (Sept. 12, 9:40 a.m.): An earlier version of this article misstated the name of the legal organization helping undocumented immigrants. It is Nexus Services, not Nexis Services.