DELRAY BEACH, Fla. — On the day after Hurricane Irma roared through their state, many Floridians emerged blinking from boarded-up homes and shelters on Monday to survey the damage — and they were surprised it wasn't a whole lot worse.
There were plenty of downed trees and long lines at gas stations. More than 7 million residents were without power, and officials said it'll take weeks to restore electricity to everyone. And as the flood waters began to recede, search-and-rescue teams began the grim task of looking for potential storm victims.
Authorities in Orange County, in the Orlando area, confirmed that the weather was a factor in the death of an unidentified person in a single-vehicle traffic accident, bringing the number of U.S. deaths so far to 10, including three in Puerto Rico and four in the U.S. Virgin Islands last week. No further information was immediately available.
In northern Florida, downtown Jacksonville was contending with record flooding as Irma, now a tropical storm, pushed farther north and — in a parting shot — hammered the area with high winds and driving rain.
Irma weakened to tropical depression status late Monday, but Gov. Rick Scott warned that it could still cause rivers to flood, especially in northern Florida. He said that he saw the damage in the Florida Keys, where Irma made landfall on Sunday, and that there were lots of destroyed homes and boats, as well as general "devastation." It could take weeks to restore power, water and sewage service, he said.
But, Scott added, "I didn't see the damage I thought I would see."
Robert Tishkevich, who rode out the storm at his home in the Huntington Pointe retirement community, said he had a similar reaction as looked around his neighborhood in Delray Beach, 150 miles east of where Irma made landfall Sunday at Cudjoe Key. And he was counting his blessings.
Photos: After Irma: Floridians Awake to Damage and Darkness
"It was really scary, but we have far less trees down on the property than I thought," Tishkevich said. "It's far less worse than I thought."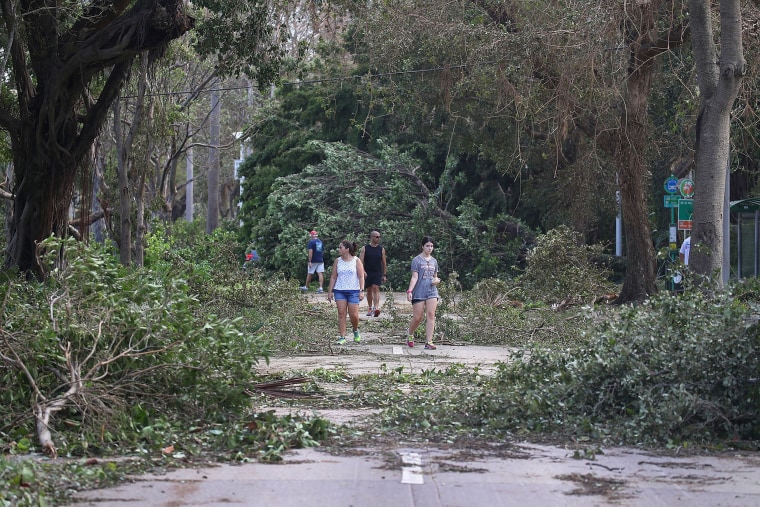 His neighbor Melissa Baer, 68, agreed that they were "very lucky." She said her sister survived Hurricane Andrew, a Category 5 storm that devastated South Florida in 1992 and flattened the city of Homestead.
"I have all these pictures in my head," she said of the damage from Andrew. "I was worried the eye was going to hit Delray like it did Homestead."
Related: 'Once in a Lifetime': Why Irma Drained Shorelines
But when Baer came out on Monday, the sun was shining, the remaining palm trees were gently swaying, and all the buildings in her development were still standing.
"No flooding in the homes," she said. "And we're lucky trees didn't fall on any of the houses."
Baer, who is from Jersey City, New Jersey, said all of her praying appeared to have paid off.
"I'm Jewish. I go to services every Saturday," she said. "Maybe that helped. Finally, that helped."
But she and other residents were relying on Florida Power and Light to restore power, because it was getting humid again as the temperature approached the 90s. When they saw the FPL trucks, Baer and the other residents began waving their arms in joy.
Tanker trucks were also sent to replenish supplies at gas stations across the state. At a Shell station near Pompano Beach, nearly 100 people waited to fill up.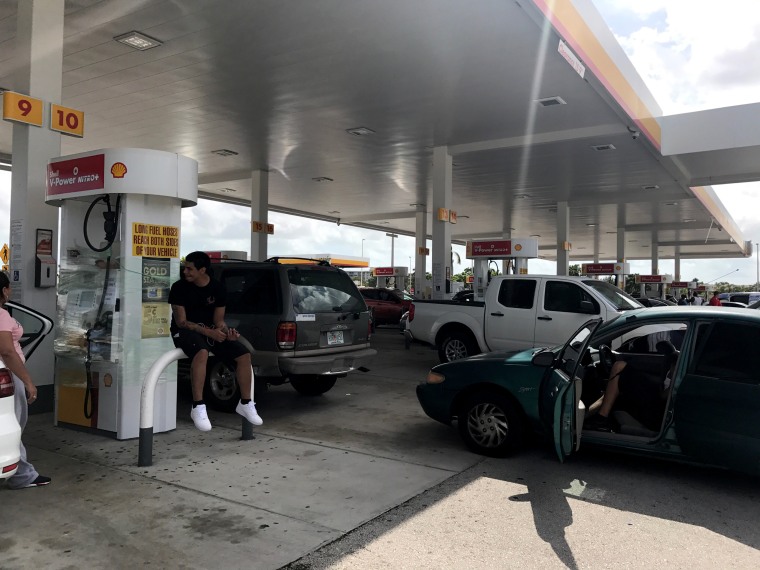 "I have half a tank, but that's not why I'm here," said Frank Benvenuto, who lives in Coral Springs. "I'm here to get gas for my generator. It's almost out. We're more than 48 hours without power, and the generator is about to run out."
Benvenuto, 59, said he lost power on Saturday. "The worst part is having no A/C," he said.
Debbie Deblaker, 31, said her generator was about to run out of gas, "and I have three little ones at home who will be really unhappy if it does."
Deblaker said she didn't know when the gas would be delivered, but she wasn't budging. "I don't have anything better to do," she said.
In Tampa, the city's entire police force was in Raymond James Stadium, home of the NFL's Tampa Bay Buccaneers, when Irma roared past.
Many forecasters feared that Irma would make a direct hit on Tampa, but it veered east and spared the city.
At 3 a.m. Monday, when police returned to the streets, they found puddles in places, along with some downed trees and street signs, but not much in the way of visible damage.
Related: Richard Branson Wants 'Marshall Plan' for Post-Irma Caribbean
In Naples, there were downed trees everywhere, and some of the streets were flooded and impassible. And there was the buzz of city workers with chainsaws cutting them down to size.
Many people who had spent the night in shelters returned to homes that appeared to have suffered minor damage from falling tree limbs. Few appeared to have water lines — the tell-tale markings of flooding.
But officials have warned that it will take days, if not weeks, before they know the full extent of the damage Irma inflicted across the state.
Miami Mayor Tomás Regalado urged people to stay off the streets so workers could repair downed power lines, clear toppled trees and search for the missing in flooded areas.
On Marco Island, there were no reports of any storm-related injuries Monday, let alone deaths, The Miami Herald reported.
There were reports of collapsed roadways in Melbourne and major damage to the water filtration systems of about a dozen cities on the Atlantic coast.
But Tampa Mayor Bob Buckhorn, who had warned residents on Sunday that the city was about to get "punched in the face," expressed relief Monday as officials prepared to reopen the Port of Tampa and the bridges to Pinellas County.
"It's looking good," Buckhorn said. "The first blush is that not only did we dodge a bullet, but we survived pretty well — not a lot of flooding. Tree removal, debris — don't want to say it's negligible, but it's manageable."
In South Florida, the mayor of Broward County, Barbara Sharief, whose constituency includes Fort Lauderdale and many Miami suburbs, said authorities there, too, were relieved.
"Broward County has made it through the worst of Hurricane Irma with undetermined impact, but much less than any of us would have imagined just a few days ago when we were in a line for a direct hit from this monstrous storm," Sharief said. "We were bracing ourselves for the worst."
Kalhan Rosenblatt reported from Delray Beach, Jim Seida from Naples and Corky Siemaszko from New York.