PLANTATION, Fla. — Hurricane Irma turned its fury on Florida's Gulf Coast after making two landfalls Sunday and raking the southern half of the state with ferocious winds and torrential rains.
The center of Irma's eye passed over Cudjoe Key at 9:10 a.m. ET, the National Hurricane Center reported, and by 3:35 p.m. it made landfall again on Marco Island, 180 miles south of Tampa.
---
The Latest on the Storm
Irma restrengthened to a Category 4 storm early Sunday as it hit the lower Florida Keys with maximum sustained winds of 130 mph just after 7 a.m. ET. It made landfall on Cudjoe Key at 9:10 a.m.
It later weakened further to a Category 2 after making landfall on Marco Island as a Category 3.
It could reach Fort Myers by Sunday night, passing the Tampa Bay area before moving to northern Florida on Monday morning.
The Florida Keys and the southwest Florida coast are in the most danger of storm surges of around 10 feet.
The Keys could get 10 to 20 inches of rain, and the peninsula could get 8 to 15 inches. Tornadoes watches are in effect.
---
Irma weakened somewhat to a Category 2 strength Sunday afternoon as it closed in on the city of Naples at 5 p.m., but with maximum winds of 110 mph, it was "expected to remain a powerful hurricane while it moves near or along the west coast of Florida," the NHC warned.
In a 6 p.m. update, the center warned that the city's water levels were rapidly rising. Yet Mayor Bill Barnett offered a sliver of good news, saying on Sunday night that he'd seen no evidence of injuries.
"I would have heard of" that, he said.
Recalling Hurricane Wilma, the powerful Category 3 storm that struck Florida in 2005, killing six and causing $20 billion in damage, he described Irma as "horrendous."
"I thought Wilma was bad until Irma showed up," he said.
From Naples north to Tallahassee, the capital, residents braced for life-threatening storm surges of up to 15 feet in some places.
In Tampa and vulnerable St. Petersburg, two cities that have not been struck by a major hurricane since 1921, 6 p.m. curfews were declared.
Classic Florida attractions like the Weeki Wachee Mermaids show were shuttered until Tuesday. And at Busch Gardens in Tampa, workers herded the flamingos and other animals to shelters.
"There is a serious threat of significant storm surge flooding along the entire west coast of Florida," Gov. Rick Scott warned at a noon news conference. "And this has increased to 15 feet of impact above ground level in southwest Florida."
Tampa Bay, which is home to about 3 million Floridians, could see surges of 5 to 8 feet, the NHC warned.
Tornado warnings were in place across the state Sunday as thousands of Floridians were hunkered down in homes and shelters and howling gales rattled shuttered windows and tore trees up by their roots.
A twister was reported at Fort Lauderdale International Airport, the National Weather Service said. There were no immediate reports of damage or injuries.
At 9:30 p.m., 3.2 million Florida Power & Light customers were without power, the utility said.
In Miami, many streets were also submerged, and there were reports of at least two construction crane collapses downtown. Just north of Miami, in Fort Lauderdale, a third crane toppled at an upscale beachfront spa on Sunday afternoon, NBC Miami reported.
"There are areas of south Florida and the Keys that have already had 12 inches of rain," Scott said.
Miami International Airport sustained significant water damage and will remain closed Monday, said Emilio Gonzalez, the airport's chief executive and director of aviation.
Photos: Hurricane Irma Faces Off With Florida
In Orlando, Mayor Teresa Jacobs announced a county-wide curfew starting at 7 p.m. and said people who live in mobile homes should leave and "seek shelter immediately."
"We're continuing our door-to-door outreach, using loudspeakers through mobile home parks, to make sure we reaching everyone that we can," she said.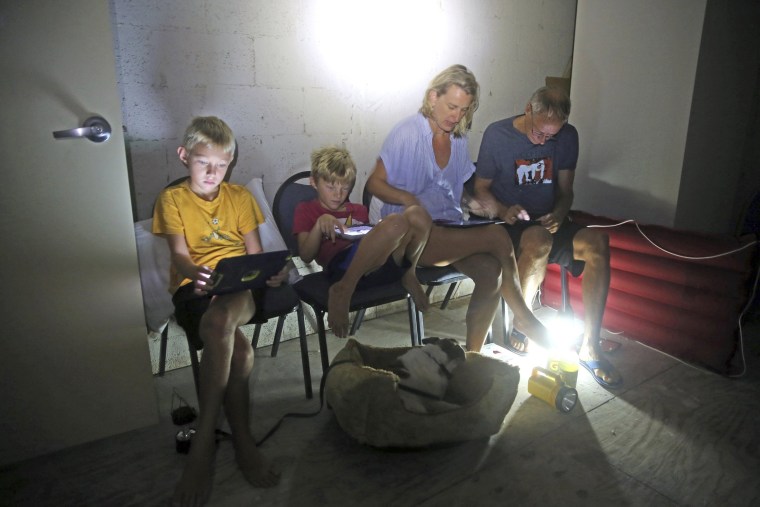 South of Tampa, Hardee County Sheriff Arnold Lanier confirmed that one of his deputies was killed in a car crash Sunday morning; a corrections officer was also killed. The deputy, Julie Bridges, 42, who had been on the force for 13 years, had spent the night working at a shelter and was heading home when the crash occurred.
"She was a very fine deputy, and we are grateful for her service," Lanier told NBC News. "It is a tremendous loss."
Related: Hurricane Irma: How to Help Storm Victims
State Attorney General Pat Bondi said Bridges' car collided with the corrections officer's vehicle. Sen. Marco Rubio of Florida identified the dead corrections officer as Sgt. Joseph Ossman.
While weather was likely a factor, the deaths were not immediately blamed on Irma.
Looting was also a concern. Nine people were arrested after breaking into a pawn shop in Fort Lauderdale, the police there said, while Broward County Sheriff Scott Israel gave them a tongue-lashing in a message posted on Facebook.
"Looters: your behavior is illegal, it's felonious and it won't be tolerated," he said, adding that he'd make sure his deputies examined every possible camera that could have captured the thieves. "It's unscrupulous and deplorable to loot at a time when we're battling one of the major storms of the century."
The stress from the hurricane appeared to be getting to some Floridians. After a "Shoot at Irma" event posting went up on Facebook, the sheriff in Pasco County tweeted, "DO NOT shoot weapons @ #irma."
The storm seemed to bring others closer together. South of Tampa Bay, in Sarasota, Irma had the disorienting effect of sucking shore water out into the Gulf of Mexico so fast that two manatees were left stranded in a mud flat. Several people came to their aid, lugging the massive creatures back to the water.
"We rolled them on the tarp and then dragged them" 100 yards, one of the rescuers, Marcelo Clavido, later wrote on Facebook. "Now back to reality of a hurricane coming."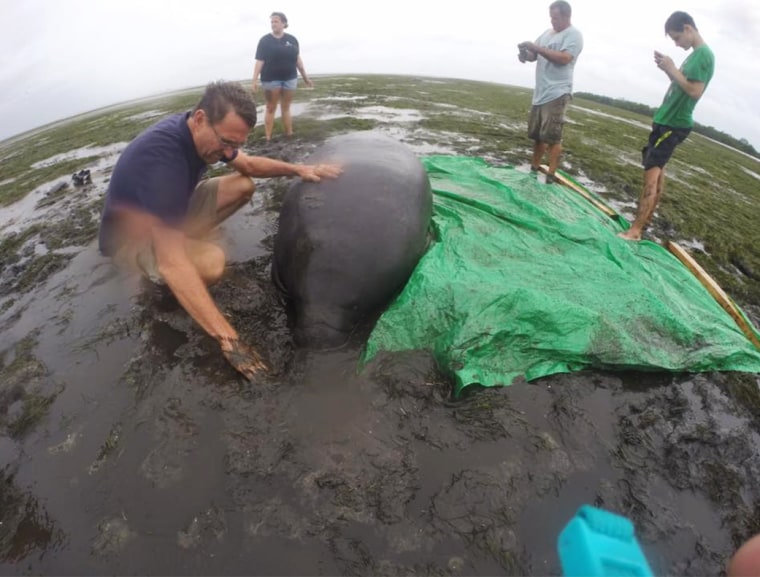 Nearly 6.3 million people were ordered to evacuate before the storm. Not everyone heeded the calls.
Brian Cone, a boat captain in Tavernier in the Florida Keys, said he was staying in his cement-built home, which which he compared to "a bunker."
"Truthfully, the whole state of Florida is in trouble. I mean, there's really nowhere safe," Cone told MSNBC in a telephone interview. He said he and his neighbors have generators, batteries, food, water and other supplies. "We feel it was more dangerous to travel all over the state, run out of fuel possibly," he said. "We're going to ride it out."
Related: Ahead of Irma, One Naples Bar Staying Open Despite Evacuation Orders
In Miami-Dade County in the southeastern part of the state, police encouraged residents to stay indoors as the storm was hitting early Sunday.
"There's a lot of trees that are being knocked over. We have live wires — it's extremely volatile out there," Miami-Dade police Maj. Hector Llevat said. "Right now, we're just urging everybody to stay indoors, to seek shelter."
Scott said his chief worry was the storm surges.
"It's hard to believe anybody will survive that," he said on TODAY.
Photos: Hurricane Irma Carves Path of Destruction in Caribbean
Scott said he would not spare on resources to protect people. "We're going to take care of everybody," he said.
Scott said Saturday that Florida had been aggressive in its preparations, with more than 385 shelters open.
President Donald Trump, who declared a major disaster in the state on Sunday, monitored progress from the presidential retreat at Camp David, Maryland. Returning to the White House, he said the response to the crisis has "been going really well."
"The bad news is this is a monster," he told reporters on the South Lawn. "I hope there aren't too many people in the path. That's a bad path to be in."
States north of Florida prepared for Irma's arrival, with Georgia telling 540,000 residents to leave the coast and South Carolina ordering nearly 45,000 people to evacuate.
A 24th death was attributed to Irmaon Sunday in the Caribbeans, including Barbuda, St. Martin, the U.S. Virgin Islands and Puerto Rico, where 1 million people were left without electricity.
Kalhan Rosenblatt reported from Plantation, Florida. Saphora Smith reported from London. Corky Siemaszko reported from New York. Tim Stelloh reported from Alameda, California.