NAPLES, Fla. — It's a little piece of Florida heaven called Holiday Manor that sits about 10 miles or so from the ritzy part of Naples and proudly calls itself "Retirement's Finest Mobile Home & RV Park."
But as the retirees who call it home sat huddled in storm shelters while Hurricane Irma raged, many wondered if anything would be left once the storm passed.
So with genuine surprise — and undisguised pleasure — they returned Monday to the unassuming mobile home park near the Tamiami Trail and saw many of their homes still standing.
"If the power was on and all that, I could move right back in here," said Mike Wright, 70, who has lived in the park for a decade. "This isn't that bad. This is all just cleanup. It's nothing, really."
Photos: After Irma: Floridians Awake to Damage and Darkness
Marcia Ashby, 64, moved down six years ago with her husband, Paul, 64, from Canton, Ohio, to be close to their grandchildren. "For our first hurricane, I think we fared well," she said.
Paul Ashby, with a snow-white beard, says he plays Santa every year at a Walmart a short walk from their mobile home. But as the subject returned to the storm that could have obliterated their world, he could not stop himself and began crying.
"You see stuff like [Hurricane] Harvey, but you never expect it to be real," he said.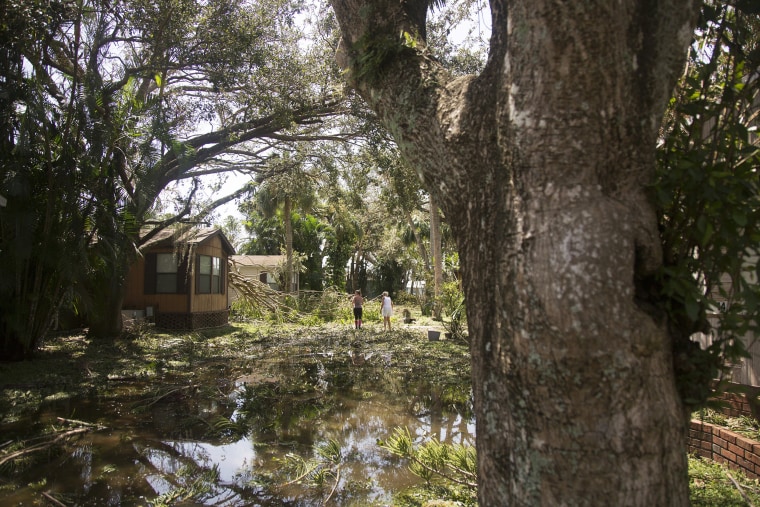 There are about 300 or so homes in the park, and several appeared to be badly damaged.
Irma peeled the roofs off a few of them like a can opener, giving a bird's-eye view of the modest lives of the hardworking people who settled have here.
"It's almost like a tornado," said Richard Nowak, 86, as he surveyed his damaged home.
Nowak said his home got through Hurricane Wilma in 2005 without a scratch.
"Wilma was bad, but it wasn't as bad as this," said Nowak, who rode out Irma at North Naples Middle School.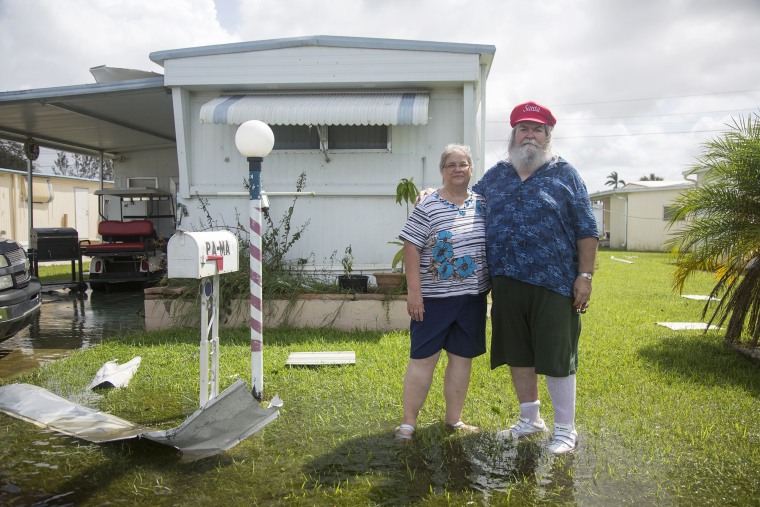 But other people had it worse, Nowak noted, nodding toward a harder-hit area of the park.
"This is nothing here," he said. "The worst is farther down."
Marilee and Bill Ryan live in New Jersey and rent out a mobile home in the park that they inherited. They were sitting in what was once a screened-in porch. The roof was blown off, the blinds were tattered, and more debris were dangling from the ceiling.
"I know we were hit by a hurricane, but it also feels like a tornado came through here because of the hit-and-miss damage to some homes and not other homes," Marilee, 65, said.
They had come down to babysit the property and wound up in a shelter with the full-time residents.
Marilee Ryan said she was impressed with how Florida authorities, in particular Gov. Rick Scott, handled the calamity.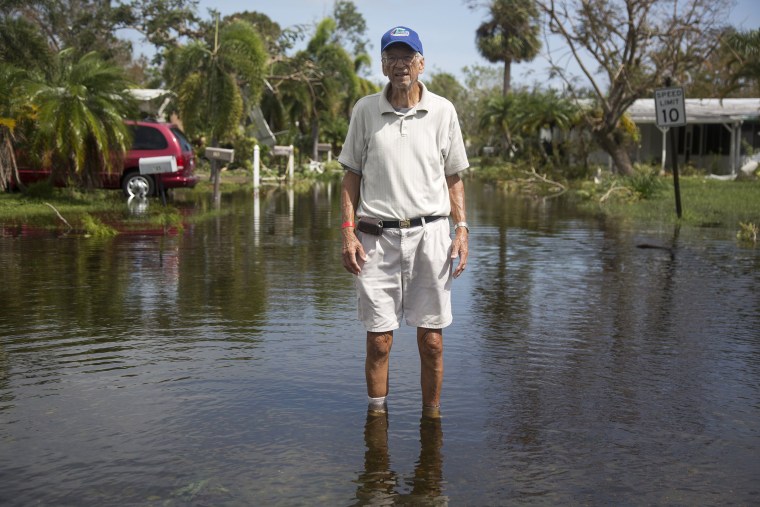 "They really know how to prepare you," she said of Florida officials. "People seem like they respect and listen to the governor. He came on TV and people heeded what he had to say."
Then she gave the deeply unpopular governor of her home state, Chris Christie, a swift kick to the shins. "They wouldn't pay attention to the governor up in New Jersey," she said.
On its web site, Holiday Manor boasts a swimming pool and hot tub. They also have shuffleboard, billiard tournaments and horseshoe competition. There is even a tranquility pond and a fishing dock.
"We've got a wonderful social committee that ensures everyone will enjoy an active life," it says.
But the only activity Shannon Hill was focused on was helping her mom, Linda Humphries, navigate through the debris-strewn road to her damaged home.
"It was pretty ferocious," said Humphries, 76. "I've been through a lot hurricanes before, but this one was different."
It was not immediately clear when residents like Humphries would be allowed to return to their homes — to their happy hours and dancing under the stars at the clubhouse.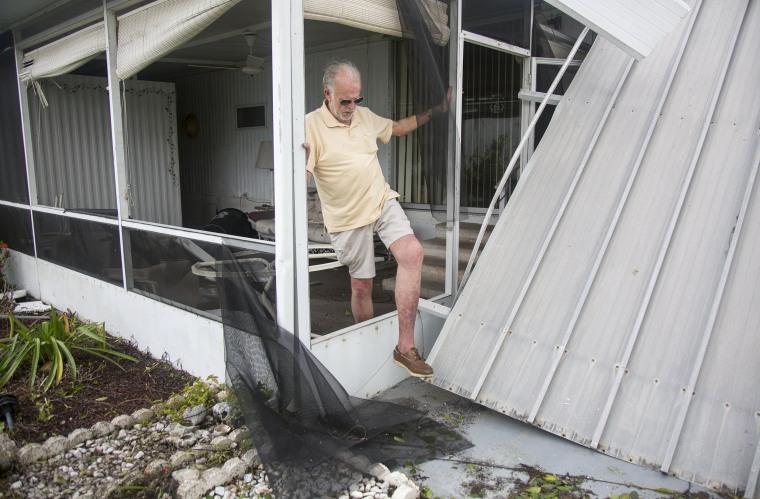 Holding back tears, Humphries said she wondered if Hurricanes Irma and Harvey, which tormented Texas, were part of the Almighty's plan.
"Maybe it's a wake-up call for all of us between Texas and here," she said. "The man upstairs knows what he's doing. He put it here and he can take it away, and I think he's showing us that. I think we should stop fussing and fighting and get together and be human beings for a change. Democrats, Republicans, who cares? We're Americans, you know."
Jim Seida reported from Naples, Fla., and Corky Siemaszko reported from New York CIty