Hurricane Irma carved a merciless path of destruction through the Caribbean, killing at least 12 people, leaving thousands of others homeless and plunging more than 1 million residents of Puerto Rico into darkness.
As the eye of the Category 5 storm passed north of Puerto Rico early Thursday, a string of Caribbean islands grappled with flattened homes, flooding and widespread devastation. Irma battered the tiny island of Barbuda and the island territories of St. Bart and St. Martin, where local officials said about 95 percent of the island was completely demolished after Wednesday's thrashing.
"It is an enormous disaster ... I am in shock," Daniel Gibbs, chairman of a council on St. Martin, told Radio Caribbean International.
---
The Latest on the Storm
Irma, still a Category 5 hurricane with 175-mph winds, will brush the Dominican Republic and Haiti on Thursday before striking the Bahamas and Turks & Caicos on Friday.
It skirted Puerto Rico Wednesday night, and left more than 1 million people without power.
At least 12 people have been killed: four in St. Martin and one in Barbuda.

Miami has been in the path of Irma's destructive eye wall with less than 60 hours until initial impact.

Landfall could occur in Georgia or South Carolina overnight Monday as a Category 2 or 3 hurricane.
---
While Irma, the most powerful Atlantic hurricane on record, skirted Puerto Rico on Wednesday night as it stayed just out to sea, it was expected to graze the Dominican Republic before targeting the Bahamas and Turks & Caicos on Friday. A hurricane watch was issued Thursday for portions of southern Florida and the Florida Keys.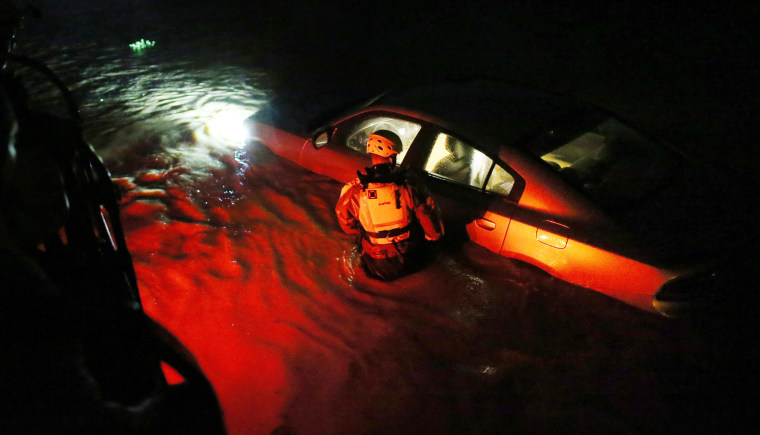 At least three people were killed in Puerto Rico, the governor's office told NBC News. Gov. Ricardo Rosselló said officials were beginning the arduous task of assessing damage to the island and bringing back electricity to its hardest-hit areas.
Rosselló also warned the potentially deadly weather wasn't over, alerting residents to flash flooding and additional rain through Saturday after much of the island was drenched with 2 to 8 inches of rain. Bent trees, downed light posts and blocked roadways were common.
"Our objective was and is to save lives," Rosselló said. "Now comes the evaluation of the damages and reconstruction."
Irma is only the latest setback for Puerto Rico, which has been ravaged by an economic crisis for the last decade. Its crumbling infrastructure means that parts of the U.S. territory could be blacked out for months, authorities warned earlier in the week.
Ricardo Ramos, chief executive of the island's electric utility, said about two-thirds of the island's electric customers — more than 1 million — were without power late Wednesday. More than 56,000 people were without potable water.
Still, because Puerto Rico was spared a direct hit, Rosselló said more than 40 percent of the island's hospitals were still operating thanks to generators. The British Virgin Islands, just east of Puerto Rico, saw extensive damage and was sending some of its injured to two Puerto Rico hospitals, the governor added.
"Puerto Rico escaped. It could have been far worse, they really escaped the brunt," President Donald Trump said from the White House later Thursday. Trump had approved an emergency declaration for the U.S. Virgin Islands and Puerto Rico, allowing the Federal Emergency Management Agency and other agencies to remove debris and give other services that will largely be paid for by the U.S. government.
Charlyn Gaztambide Janer, who lives in the San Juan suburb of Guaynabo, told NBC News that while power was out "this is a lot better than it was predicted to be."
She added: "I lived through Hurricane Hugo [in 1989] and that was far, far worse. That was horrible. This is nothing compared to that."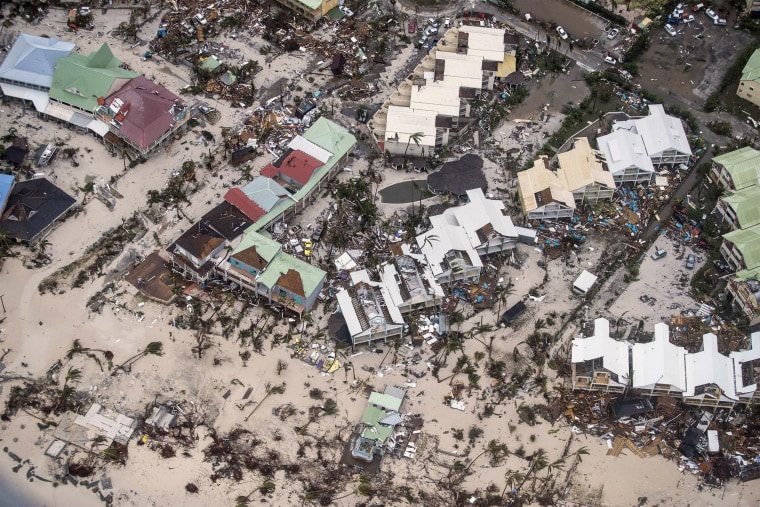 At 8 p.m. ET Thursday, Irma was about 55 miles west-southwest of Grand Turk Island, the capital of the Turks & Caicos, still producing top winds of 175 mph.
The National Hurricane Center said that swells "likely to cause life-threatening surf and rip current conditions" were expected to hit the southeast coast of the U.S. later Thursday.
Irma killed at least three people in St. Thomas and St. John in the U.S. Virgin Islands, the office of Gov. Kenneth Mapp said. In a territory-wide address Thursday night, Mapp said, "It should not be unexpected that we would find more."
Irma killed at least four people and injured 50 more in the French Caribbean island territories of St. Martin and St. Barts, said French Prime Minister Édouard Philippe. A French official previously cited the death toll at eight.
"It's a tragedy, we'll need to rebuild both islands," he told French radio France Info. "Most of the schools have been destroyed."
Early Wednesday, one person was killed on the tiny island of Barbuda. Nearly every building there was damaged when Irma's core crossed almost directly over and about 60 percent of its roughly 1,400 residents were left homeless, Antigua and Barbuda Prime Minister Gaston Browne told The Associated Press.
Irma's 185-mph maximum winds inched toward the strongest on record: the 190-mph pummeling that Hurricane Allen gave the Caribbean, northern Mexico and southern Texas in 1980. Puerto Rico hadn't seen a hurricane of Irma's magnitude since San Felipe in 1928, which killed 2,748 people in Guadeloupe, Puerto Rico and Florida.
And the next targets are lined up — the National Hurricane Center said that while fluctuation was likely, Irma was forecast to remain a Category 4 or 5 powerhouse hurricane at least into Friday as it marches through the Turks & Caicos Islands, Bahamas, the Dominican Republic, Haiti, Cuba and eventually Florida.
"This thing is expected to maintain its strength," Parker said, and that means that as Irma continues north, as much as 20 inches of rain could swamp Turks & Caicos and the southeast Bahamas with storm surges up to 20 feet beginning late Thursday.
Irma should still be a Category 4 storm when it makes landfall near Miami sometime Sunday, forecasters said. It is then expected to move north along or very near the East Coast on Sunday night into Monday, with a second landfall projected between Savannah, Georgia, and Myrtle Beach, South Carolina, late Monday or early Tuesday.
Life-threatening storm surge and destructive winds were forecast for coastal areas from South Florida to South Carolina.
Related: Irma Could Be Worse Than Devastating Hurricane Andrew
"As of tonight, South Carolina is in its path," Myrtle Beach Mayor John Rhodes said Wednesday night. "Now is the time to act."
In Puerto Rico, many streets were virtually deserted after bottled water, flashlights, batteries and other staples flew off store shelves in recent days. Long lines snaked around gas stations southeast of San Juan. Classes were canceled, and schools were stocked with supplies for refugees.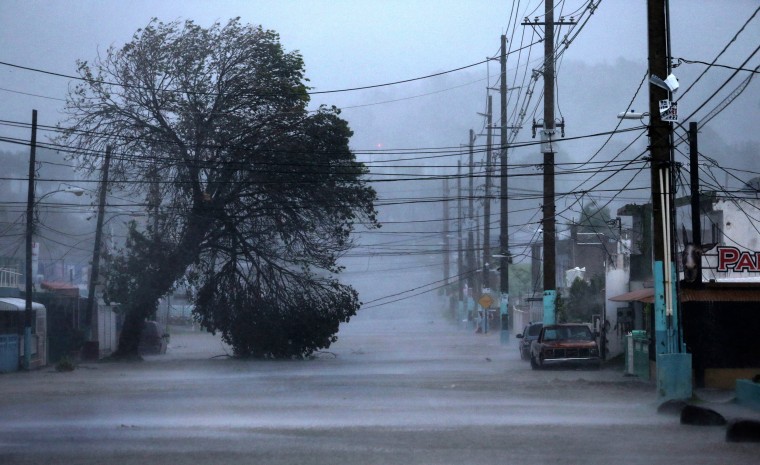 Anne OBrion, a nurse from Richmond, Virginia, knew the hurricane was coming when she booked her vacation in Puerto Rico, "but I didn't want to give up my trip for it."
So OBrion was stuck in her hotel in San Juan as Irma made its way past the island Wednesday night.
OBrion said she had told authorities that she's a nurse and was prepared to pitch in if needed.
"One doctor can't take care of all these people," she said. "I'm willing to do what's necessary to help people. That's why I do what I do."
Federico de Jesus, a political consultant and founder of FDJ Solutions in Washington, was in Puerto Rico celebrating his birthday with his parents on Wednesday, even though he also knew the hurricane was coming.
Related: Irma Has Company as Two Other Hurricanes Make Their Debuts
He was huddled with his parents in their eighth-floor San Juan condominium unit listening to the whistling winds and watching the trees bend.
"We are stocked up with food and water, and we put [up] tormentas. That's what they are called in Spanish. They are metal covers for the window," de Jesus said.
Even so, by about 5 p.m. the building had lost power, and de Jesus said most other families had taken shelter at a stadium.
CORRECTION (Sept. 7, 8:20 a.m.): An earlier version of this article misstated Hurricane Irma's projected path. It is slated to hit the Bahamas on Friday, not Bermuda.