With roofs torn off from over their heads and their streets swollen with floodwaters, islanders battered by Hurricane Irma will get little reprieve before yet another storm unleashes on them.
Hurricane Jose, the next Atlantic storm system, is not expected to make landfall, but it will bring wind and rain when it brushes by the northern Leeward Islands — the same ones just ravaged by Irma.
Now a Category 3 storm, Jose is a "major hurricane," according to the National Hurricane Center. As of 5 p.m. ET, it had maximum sustained winds of 120 mph and was moving west-northwest at 18 mph and was located about 590 miles east of the Lesser Antilles islands.
The National Hurricane Center issued a hurricane watch for the dual-island nation of Antigua and Barbuda — the first islands Irma raked through. Barbuda, the smaller of the two islands with roughly 1,800 residents, was particularly hard-hit by Irma.
"As it stands now, Barbuda is barely habitable," Prime Minister Gaston Browne told the BBC, adding that about 95 percent of properties on the tiny island had suffered damage. At least one person, a child, was killed.
Browne said the residents, at least half of whom were left homeless this week, would likely have to evacuate ahead of Jose.
In addition to the hurricane watch for Jose, a tropical storm watch is in effect for numerous other Caribbean islands, including Anguilla and Saint Kitts.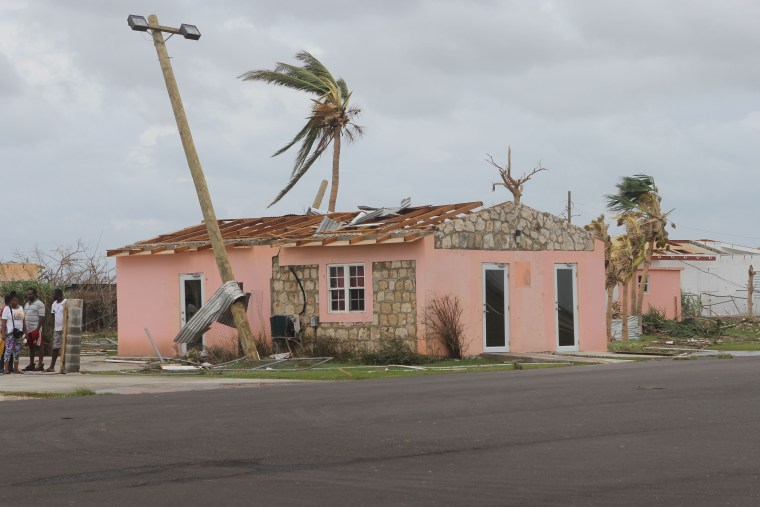 The new storm raised concern among those who were just beginning to breathe a sigh of relief after making it through Irma.
At Saint James School of Medicine on Anguilla, vice president of administration Dan Cuckovic told NBC News that the campus had sustained little damage. But he said Irma had cut communication lines for many students, making it harder to coordinate preparations for Jose.
"It's coming at a bad time," he said. "We're just waiting for it to be over."
Meanwhile, Irma, the most powerful Atlantic Ocean hurricane in recorded history, was eyeing Florida after killing at least nine people throughout the Caribbean. South Florida, including Miami, was bracing for devastating wind gusts and storm surge.
Related: Hurricane Irma Has Miami In Its Sights
At the same time, a third hurricane, Katia, was moving toward the coast of Mexico. Neither Katia nor Jose was forecast to be nearly as bad as Irma, but it's the first time since 2010 that there have been three hurricanes at one time in the Atlantic basin, according to Philip Klotzbach, a meteorologist at Colorado State University.
Katia had maximum sustained winds of 80 mph as of Thursday afternoon was expected to stay close to the coast of Mexico.
Neither Jose nor Katia is expected to be felt in the United States.