CUDJOE KEY, Fla. — Weary residents in the Florida Keys, eager to assess their hurricane-ravaged homes, may not see electricity return for at least another week — and those are the lucky ones.
About 25 percent of homes in the fragile chain of islands were completely destroyed and another 65 percent sustained major damage, federal officials estimated Tuesday. Roughly 7,000 residents who decided not to evacuate before the Category 4 storm bore down over the weekend must now contend with knocked-out water, sewer and cellphone service, possibly for weeks.
"It was like a nuclear bomb," said Keys resident Bryan Holley, who rode out the storm in Cudjoe Key, where Irma made landfall Sunday morning.
"Bad, it's real bad," Holley added, surveying snapped palm trees strewn beside cars and boats cluttering the road. "It's gonna take months, maybe years to get this cleaned up."
While the city of Key West, at the southernmost tip of the Keys, could get the lights on in seven to 10 days, officials said, other hard-hit islands in the Lower Keys are in limbo for much longer.
About 200 utility poles "are going to have to be restored," Monroe County Commissioner Heather Carruthers said on MSNBC from Orlando, where she had evacuated to. "So it could be about as long as a month before we have full electricity in the Lower Keys."
Residents and business owners in the Upper Keys communities of Key Largo, Tavernier and Islamorada were being allowed to return to their properties Tuesday morning to weigh the scope of the devastation firsthand.
Carruthers said that all 42 bridges connecting the Keys appeared to be passable, but that some roadways were still ripped up and people wouldn't be allowed to travel past a certain mile marker on U.S. 1, which connects the islands with the mainland. Crews were working Tuesday to repair two 300-foot sections of the highway.
Related: Irma Winds Down, Leaving a Trail of Destruction and Broken Records
All 73,000 Keys residents were ordered to evacuate ahead of Irma, but some refused. A dawn-to-dusk curfew remained in place Tuesday, and a roadblock was installed where the road washed out, effectively keeping nonemergency vehicles from getting in or out of the Lower Keys, including Key West.
"We don't really encourage people to come back and stay," Carruthers said.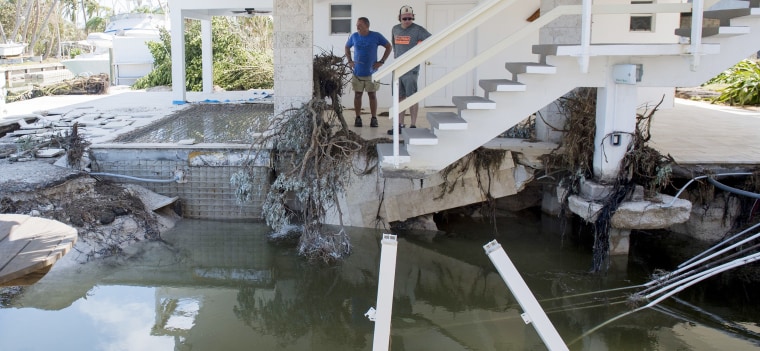 She added that supplies remained extremely limited but reinforcements were expected to arrive Tuesday through the Red Cross and the Salvation Army. In the wake of Irma, mobile home parks were ravaged and pictures of the destruction showed shipwrecked boats and standing water.
Homes made out of concrete fared better than others, and some of the colorful bungalows and mansions in Key West, including a 19th-century house where Ernest Hemingway once lived, were battered by the winds but still standing.
PHOTOS: Floridians Awake to Damage and Darkness
But residents' ability to even relay the extent of the damage — or their good fortunes — has been difficult after cellphone service was left spotty and required satellite phones to get in touch with emergency responders.
As the success of short-term recovery is being gauged by getting power back and debris cleared, residents hoping to rebuild and get back on their feet could be waiting not just months, but years, experts warn.
"A recovery isn't complete because the power is on," said Zack Rosenburg, the co-founder and CEO of SBP, a nonprofit disaster recovery group that stepped in after Hurricane Katrina. "If people are still sleeping in moldy houses or they lost their job and can't find work, that means they're not back to before."
Rosenburg added that getting help from the Federal Emergency Management Agency could prove time-consuming for some homeowners — and it's a matter of getting grants to them in an expeditious manner while avoiding the pitfalls of fraud and waste.
FEMA is already seeing its $2.14 billion disaster relief fund dwindle as it looks to help those affected not just by Irma, but Hurricane Harvey in Houston last month.
Rosenburg said even in New Orleans, which has seen neighborhoods rebuild since Hurricane Katrina in 2005, there remains work to be done — and Florida will be no different. SBP is looking to help homeowners in Florida avoid contractor fraud and navigate FEMA.
"In some ways, the recovery from Katrina has been successful," Rosenburg said. "For people who are home, it's a great city to live in. In many ways, it's functioning better than before Katrina."
"But when I say it's incomplete, there are veterans and seniors and teachers who still aren't home," he added. "That makes it incomplete."
Gadi Schwartz reported from Cudjoe Key, Florida, and Erik Ortiz reported from New York.