TAMPA, Fla. — Irma was downgraded to a tropical storm Monday morning after a terrifying weekend where the devastating superstorm battered much of Florida with triple-digit winds and plunged millions of residents into darkness.
The extent of the damage after a day of triple-digit winds and raging waters was slow to emerge as morning broke and officials began assessing the damage while first responders began searching for casualties.
Florida's largest utility reported that the storm had knocked out power to nearly three-quarters of its customers. More than 6.5 million residents across the state woke up Monday to no electricity.
Meanwhile, the families of Hardee County Deputy Julie Bridges and Sgt. Joseph Ossman, a Hardee County corrections officer, were in mourning after the two were killed Sunday when their cars collided as Irma was threatening Florida. While weather was likely a factor, but the deaths were not immediately blamed on Irma
Tampa appeared to be largely unscathed after Irma passed through. Some trees, power lines and signs were down but there was no widespread damage and no signs of flooding downtown. But storm surge warning remained in effect for some areas — including Tampa Bay.
---
The Latest on the Storm
The center of Irma was expected to cross the eastern Florida Panhandle into southern Georgia on Monday afternoon before later heading into eastern Alabama.

Tornadoes were possible in northeast Florida and the southeast portions of Georgia and South Carolina through Monday night.

West Palm Beach airport is scheduled to re-open Monday at noon. Miami International Airport scheduled to re-open Tuesday with limited schedules. Ft. Lauderdale and Tampa International airports were to remain closed Monday.

Irma hit the lower Florida Keys with winds of up 130 mph just after 7 a.m. ET Sunday. It made landfall on Cudjoe Key around 2 hours later. It weakened to a Category 1 storm early Monday.

It passed the Tampa Bay area early Monday on its way to northern Florida.
The Florida Keys could get 10 to 20 inches of rain, and the western peninsula could get 10 to 15 inches.
---
Many streets in Miami were submerged, and three construction cranes collapsed in Miami and Fort Lauderdale.
By 8 a.m. ET Monday, Irma had sustained winds of 70 mph as it moved further inland, about 105 miles north of Tampa.
The National Hurricane Center said that the storm is still producing wind gusts "near to hurricane force."
The storm's maximum winds decreased to about 70 mph Monday, with higher gusts, but NHC officials predicted "additional slow weakening," with Irma becoming a tropical depression by Tuesday afternoon.
The havoc it wreaked on Florida as a hurricane, however, was serious.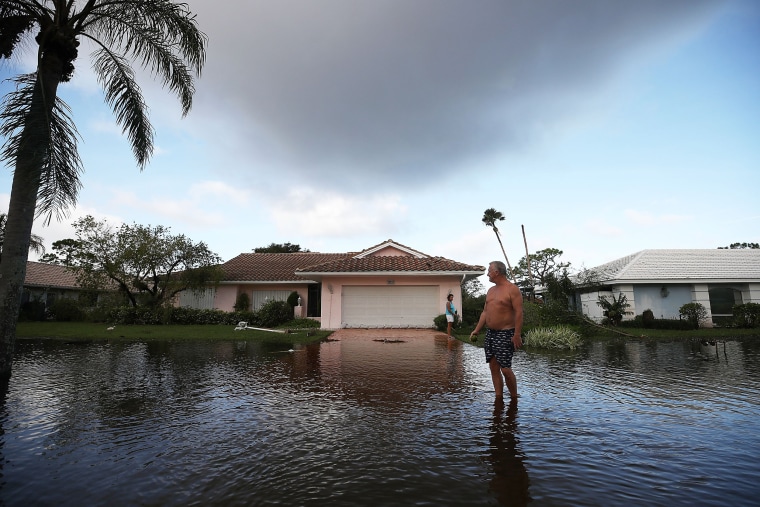 NHC officials said the storm's center was moving toward Florida's northwestern coast and could cross the eastern Florida Panhandle into southern Georgia Monday afternoon, moving into southwestern Georgia and eastern Alabama by Monday night and Tuesday morning.
Hurricane-force winds were extending outward up to 60 miles from Irma's center, and tropical-storm-force winds were being felt up to 415 miles away, the National Hurricane Center said early Monday.
Forecasters urged Floridians not to let their guard down, warning of as much as 16 inches of rain and tropical storm-force winds well into Monday morning.
"In all areas this rainfall may cause life-threatening flash floods," the National Hurricane Center said at 11 p.m. ET.
PHOTOS: Photos: Hurricane Irma Faces Off With Florida
Bill Karins, a NBC News meteorologist, highlighted that Naples reported only around 6 feet of storm surge on Sunday night. The hurricane center had earlier forecast a "catastrophic" storm surge of up to 15 feet in the city.
In Tampa and St. Petersburg, which hadn't been struck by a major hurricane since 1921, 6 p.m. curfews were declared with about 28,000 people in shelters throughout Hillsborough County, NBC affiliate WFLA of Tampa reported.
All emergency services were suspended Sunday night in St. Petersburg and Hillsborough County, and some were suspended in many other counties and municipalities, as winds made it too dangerous to be outside.
Earlier, the center of Irma's eye passed over Cudjoe Key at 9:10 a.m. ET Sunday, the National Hurricane Center reported, and around 3:35 p.m. ET it made landfall again on Marco Island, 180 miles south of Tampa.
Evacuees fled as far north as Tennessee, where Eric Gerhardt of the Tampa Bay area pulled into a shelter with his family at Mississippi Boulevard Christian Church in Memphis.
"We tailgated up to Tallahassee, slept in the car a little bit, and upon getting to Tallahassee, realized it wasn't safe," Gerhardt told NBC affiliate WMC on Sunday.
The trip was "hectic, to say the least," Gerhardt said. "Fuel shortages abound. There was no water to be had. People were fighting over water when shipments would come in."
Related: How to Help Hurricane Irma Victims
Irma slammed into Naples late Sunday afternoon with maximum winds of 110 mph and a top wind gust of 142 mph.
Recalling Hurricane Wilma, the powerful Category 3 storm that struck Florida in 2005, killing six people and causing $20 billion in damage, Mayor Bill Barnett described Irma as "horrendous."
"I thought Wilma was bad … this one really, really made Wilma look kind of tame. I've never seen anything like this," Barnett said on TODAY.
Barnett said city officials would be conducting extensive damage assessment Monday, with crews having gone out at sunrise.
"We are going to have a lot of work to do. This was a bad one," he said.
Tampa Mayor Bob Buckhorn, for his part, expressed gratitude that the storm was "not a knock-out" for his city.
"It was a glancing blow," he said. "We are still standing."
"I think when dawn comes and the lights come on we will find we were very, very lucky last night," he added.
Miami International Airport, meanwhile, sustained significant water damage and will remain closed Monday, said Emilio Gonzalez, the airport's chief executive and director of aviation.
Looting was also a problem. Miami-Dade County police said early Monday that they they'd made 28 looting-related arrests, while 19 people were arrested by Ft. Lauderdale police for burglarizing homes and businesses — and Broward County Sheriff Scott Israel gave them a tongue-lashing in a message posted on Facebook.
"Looters: your behavior is illegal, it's felonious and it won't be tolerated," he said, adding that he'd make sure his deputies examined every possible camera that could have captured the thieves.
"It's unscrupulous and deplorable to loot at a time when we're battling one of the major storms of the century," he said.
Georgia authorities told 540,000 residents to leave the coast and South Carolina ordered nearly 45,000 people to evacuate as Irma was expected to arrive Monday.
Georgia Gov. Nathan Deal expanded the state's emergency declaration to cover all 159 counties on Sunday and closed the state government at least through Tuesday.
All of Monday's flights at Southwest Georgia Regional Airport in Albany were canceled. In Macon, a fifth shelter was opened Sunday after evacuees filled four to capacity, NBC affiliate WMGT reported.
Shortages of gasoline and bottled water were reported Sunday night throughout metro Atlanta, where Irma's impact could be felt for months.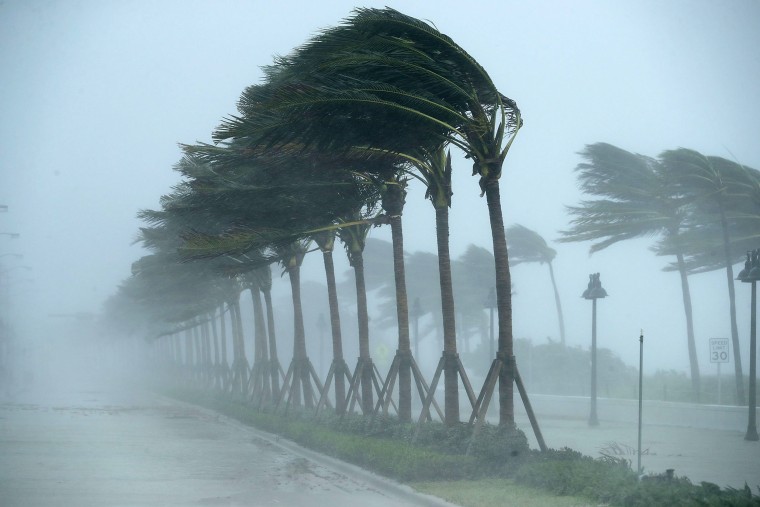 "Let's say there's a portion of Georgia or Florida that becomes uninhabitable for a long period of time. Those evacuees might decide to remain here, so we could have a significant bump in our population because those people don't have anywhere else to go," said Thomas Smith of the Goizueta Business School at Emory University in Atlanta.
That would add pressure to resources going into and out of the state, and it "could even affect housing and wages," Smith told NBC affiliate WXIA.
In South Carolina, Gov. Henry McMaster visited the state Emergency Operations Center in Columbia and warned residents that when Irma arrives, it could be "as damaging as Hurricane Matthew" — which killed 30 people and did about $1.8 billion of damage in North and South Carolina in October 2016.
"Nature is powerful, and if you've seen those photographs and films from down south, you realize how powerful," McMaster said. "Sometimes, we forget how powerful it is, but everybody remembers Matthew."
Alabama Gov. Kay Ivey said all state offices and buildings would be closed Monday in 24 counties under tropical storm warnings.
"Folks, this is an all-hands-on-deck event," Ivey said at a news conference Sunday. "All Alabamians, but especially those in our easternmost counties, must make sure that they and their families are well prepared."
President Donald Trump, who declared a major disaster in the Florida on Sunday, monitored progress from the presidential retreat at Camp David in Maryland. Returning to the White House, he said the response to the crisis has "been going really well."
"The bad news is this is a monster," he told reporters on the South Lawn. "I hope there aren't too many people in the path. That's a bad path to be in."
Meanwhile, a total of 24 people died due to Irma in the Caribbean after it clobbered several islands, including Barbuda, St. Martin, the U.S. Virgin Islands and Puerto Rico, where 1 million people were left without electricity.
Jim Seida reported from Tampa, Florida. Kalhan Rosenblatt reported from Plantation, Florida. Alex Johnson reported from Los Angeles. Jason Cumming reported from London.