Add this to the list of what makes Hurricane Irma an unprecedented storm: Its strength literally changed the shape of the ocean.
Before making landfall in Florida on Sunday, the most powerful Atlantic hurricane on record sucked water inward away from shorelines, leaving bays along the Gulf Coast practically dry.
That depleted canals, grounded boats, and, in Florida's Sarasota Bay, stranded manatees in knee-high mud. Videos and photos went viral of water receding as far as the eye could see, from shorelines in the Bahamas up through Florida's west coast.
In Tampa Bay, it receded so much, dogs were able to run on places that would normally be under feet-deep water.
"#Tampa bay now an effective dog park as we wait for #irma. With @CityofTampa parks closed ahead of storm, this is the best we've got," tweeted a Tampa resident on Sunday.
But meteorologists warned the water would return after Irma's eye passed through.
"The wind direction will shift to onshore, causing water levels along the southwest coast of Florida to rapidly rise in a matter of minutes. MOVE AWAY FROM THE WATER! Life-threatening storm surge inundation of 10 to 15 feet above ground level is expected in this area," the National Weather Service in Miami warned Sunday afternoon.
Here's a look at the science behind the shorelines drained by Irma.
What caused this?
A combination of Irma's strength and positioning caused the water to recede so much, said Jamie Rhome, a storm surge specialist with the National Hurricane Center. It was essentially the opposite of a storm surge, he added.
"Storm surge is where strong winds are pushing the water towards the shore. But you can imagine that same force is pushing water away from the shoreline," Rhome said. "If the wind is blowing offshore, it blows water away from land."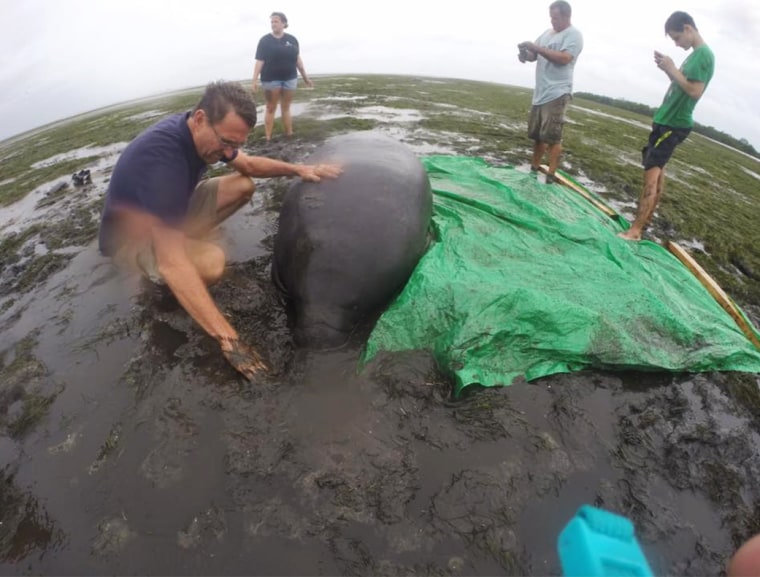 The reason Irma left shorelines so bare was because as its robust low-pressure center approached places like the Bahamas on Friday and Saturday, and Tampa and the rest of the Gulf Coast on Sunday, its record-smashing strong winds were blowing from northeast to southwest — which happens to be the same position as the bay.
"What is unique in this case is the shore is on a parallel track, so you have the track along the west coast of Florida," Rhome said.
The same effect wasn't seen in Harvey, which devastated parts of Texas earlier this month, because that storm went in on a perpendicular track, he said.
How rare is this?
This has happened before, most notably on Long Island, New York, during Superstorm Sandy, said Shuyi Chen, a University of Washington professor of atmospheric sciences. But it doesn't usually affect such a large area.
"This phenomenon is not unique, except it will be felt much more strongly, much more obviously, when you have a storm this size," Chen said. "In physics, this is quite clearly explained. But I'm still surprised at the scale of it."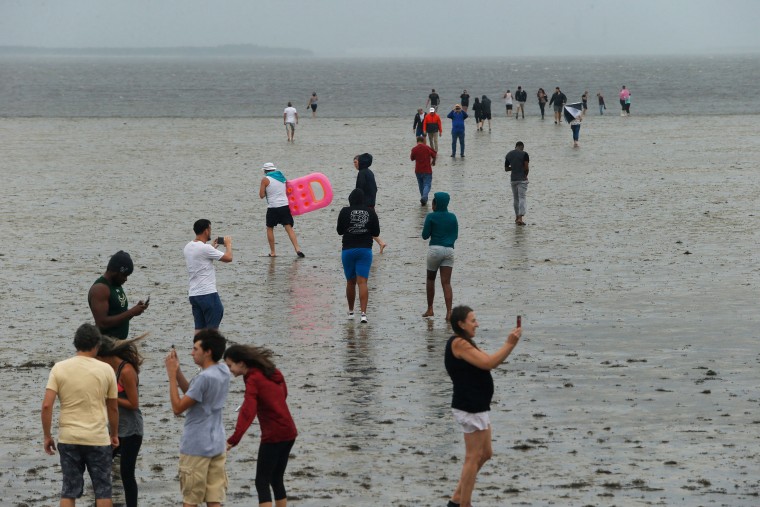 While it looks similar to what happens when an earthquake causes water to recede before a tsunami, it's not the same thing, Chen explained.
"A tsunami is not caused by wind. That is purely dynamics," she said. "The hurricane-related water retreat is mostly caused by the winds."
NBC News meteorologist Bill Karins said the timing of the tide made it even more extreme: "This is a once in a lifetime tidal event. Before the eye made landfall, the winds were blowing so hard offshore at the exact same time of low tide. People saw low water levels that they've never seen before on the west coast of Florida," he said.
Will the water return?
Yes. It already has in many of Florida's shorelines.
"In essence, once the storm has moved, the water moves back in where Irma has already passed. The westerly flow brings it back almost immediately," said Mike Schichtel, lead meteorologist for the Weather Prediction Center of the National Weather Service.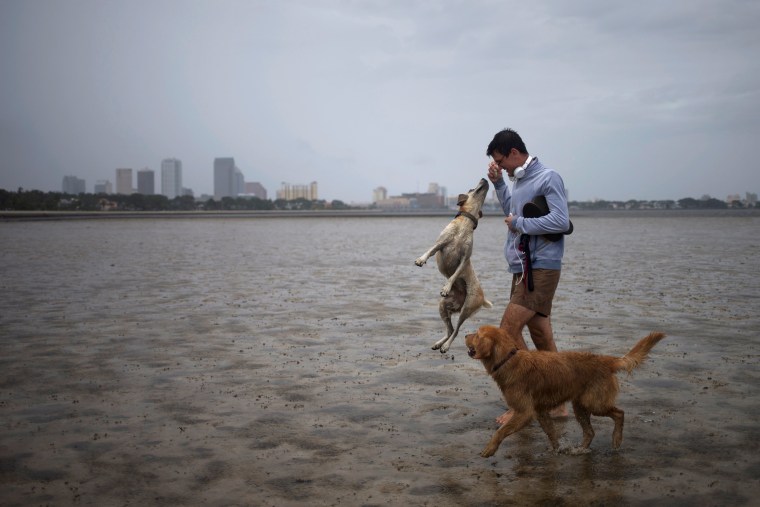 Some areas will experience a dangerously high amount of water. Rhome said there was a flash flood emergency issued for the St. Johns River in northeast Florida, for example.
"When you push that much water into a river, it gets narrowed or squeezed. It's like a funnel. It has no choice but to come out of the banks," he said.