Some in the Tampa Bay area felt unsure what to expect as Hurricane Irma made its way north through Florida in a weakened form on Sunday — most hadn't experienced a storm like this before.
A hurricane hasn't made a direct hit on the Tampa-St. Petersburg-Clearwater metro area since the Great Tampa Bay Hurricane of 1921. The nearly 3 million people in Pinellas and Hillsborough counties fear not only the wind and flooding, but also the unknown.
"I just don't know what it's going to do," said David Tran, 40, a English teacher who had hunkered down with his two kids, his wife and his parents in his apartment. "Right now it's hitting land and it's a [Category] 2 and they say it's going to be a 1. But the news has changed so much, so it makes me hesitant to trust anything."
Irma had sucked up a large amount of water, causing the tide to recede and putting the bay's floor on display. One of the major practical concerns is when that water returns, it could bring 5 to 8 feet of storm surge, according to the National Hurricane Center.
Tran, a middle school teacher,moved for work a month ago to Belleair Bluffs, which is 25 miles west of Tampa on the Gulf of Mexico and about a mile from the evacuation zone. He wearily pointed to that nearby body of water as his greatest fear, explaining that you only have to dip your toes into its waters to realize how warm it is — with temperature and moisture functioning as hurricane fuel.
Although he and his wife considered evacuating, they didn't feel they had the option. They had thought the storm was going along the east coast of the Florida peninsula, but that track changed late last week. He said he heard about gas shortages and cars trapped on the highway, so he decided to prepare for the storm, instead.
"It's the type of planning you never thought you would do," Tran said. "It's something out of 'Home Alone.' How do you safeguard your home at the last minute?"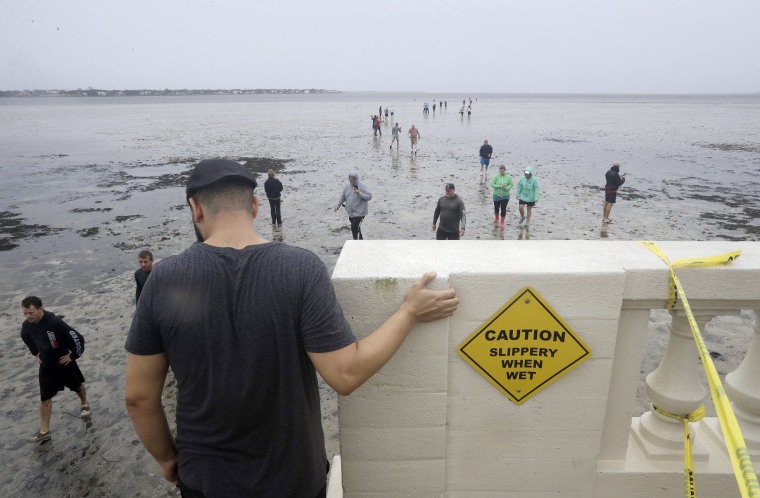 As the lights and power flickered, his wife, Dung, cooked large batches of rice and wrapped them in plastic wrap for storage. Meanwhile, Tran played Monopoly to distract his kids, while his parents tried to find something on television that wasn't about the impending storm — preferably college football — because the constant hurricane coverage added to their anxiety.
Although Irma's sudden shift westward late last week didn't give Tampa Bay much time to prepare, Tampa Mayor Bob Buckhorn — who evacuated from his own home on Davis Island — maintained that the city was prepared.
"We hope we never have to deal with it. We haven't had a direct hit in over 90 years, but we train for this," he said Sunday on TODAY. "This is game day for us, and we are going to go out and execute on that plan. We've got hundreds of thousands of people who are counting on us."
Russell Hodill, 26, a commercial real estate broker who was born and reared in the area, was particularly prepared. He, as well as family and friends, had battened down the hatches on two adjacent homes that they had supplied with multiple generators, boarded-up windows, dozens of gallons of water, vats of rice and turkey and more. He said they were prepared to be without power and food for two weeks.
"One of our fears is looting and mayhem," he said, adding that they had made bamboo spears and bought baseball bats for self-defense. "It's not so much the storm but the aftermath and the unknown of what happens."
Hodill said he never considered evacuating because his livelihood is in the Tampa Bay area, and it's not so easy to leave when your own property is in danger.
"If you own property or a business, you want to be there to button everything up and make sure everything is good and make sure you do whatever you need to do," he said.
"I have a property contract underway for a building on the beach," he added. "It's basically about 30 or 40 feet from the water. Hopefully, it's still there, or else the sale isn't going to go through, which is how I make a living."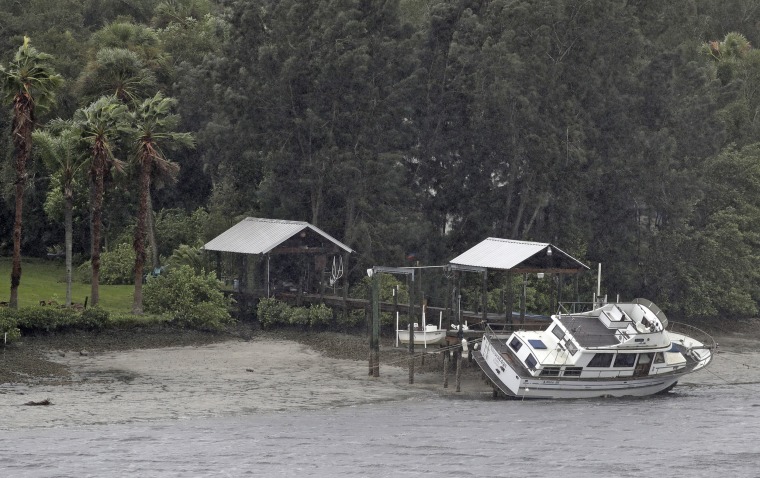 Others weren't as confident about sticking it out and decided to evacuate. When Sara Altenhoff, 28, woke up and looked at the NOAA forecast on Friday night, she woke up her boyfriend, Jonathan Veach, 28, and told him she wanted to skip town.
They grabbed prepacked hurricane bags and hit the road for Jacksonville, where they are staying with friends, by 5 a.m.
"It's been looking a little better with the storm being downgraded," said Veach, who works in the tech industry. "We were worried that we weren't going to have an apartment to go back to. If it was a Category 4 hitting, Tampa Bay would just be destroyed."
Veach said he saw a number of gas stations that appeared out of fuel on the 3½-hour drive to Jacksonville, but they had enough to make the trip.
Yet he said people around Tampa Bay didn't seem inclined to evacuate.
"People were starting to get worried as the track started to push more west instead of [to] the east coast," he said. "But there was definitely a sense that people were going to ride it out — that old Floridian take."