Watches and warnings were in effect for several Caribbean islands Sunday as Tropical Storm Maria reached hurricane status, threatening more devastation for regions already devastated by Hurricane Irma earlier this month.
Maria was about 140 miles east-northeast of Barbados with maximum sustained winds of 75 mph at 5 p.m. ET, the U.S. National Hurricane Center said.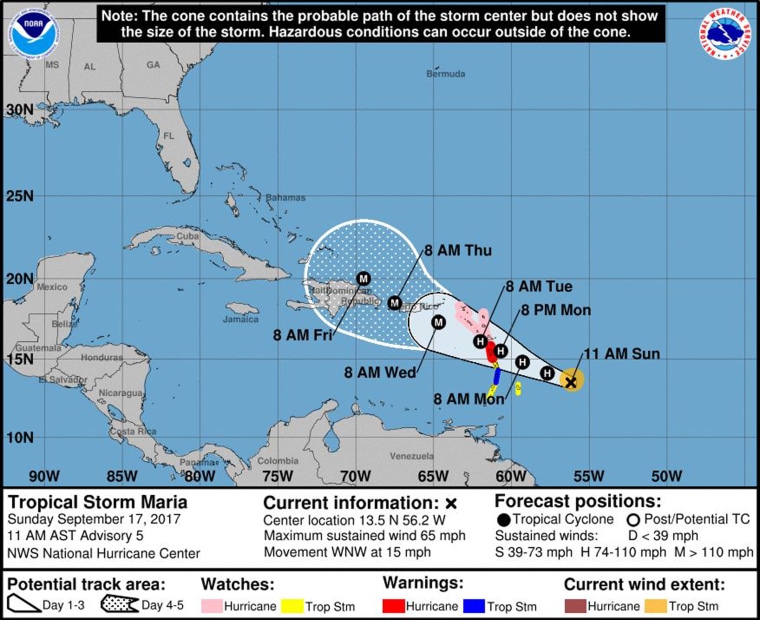 "Strengthening is forecast during the next 48 hours," it said.
Hurricane conditions are possible by Monday night or Tuesday in Antigua and Barbuda, St. Kitts and Nevis, Montserrat, Guadeloupe, Dominica, Saba, St. Eustatius, St. Maarten and St. Martin, St. Barts and Anguilla, according to the NHC.
Tropical storm conditions were possible on Monday in those areas, as well as St. Lucia, Martinique, Barbados and St. Vincent and the Grenadines.
The tropical storm strengthened and became a hurricane at 5 p.m. A hurricane warning is in effect for Guadeloupe, Dominica, St. Kitts, Nevis and Montserrat. A hurricane watch is in effect for the U.S. Virgin Islands, British Virgin Islands, Saba and St. Eustatius, St. Maarten, St. Martin and St. Barthelemy and Anguilla.
This is a developing story. Refresh for more updates.