NASSAU, Bahamas — Hurricane Irma moved through the Bahamas as an "extremely dangerous" Category 4 storm early Friday after its eye grazed the low-lying Turks & Caicos Islands on its way to Florida.
With winds of as much as 185 mph, the storm the size of France has ravaged small islands in the northeast Caribbean in recent days, including Barbuda, St. Martin and the British and U.S. Virgin Islands, ripping down trees and flattening homes and hospitals.
Irma soaked the northern coasts of the Dominican Republic and Haiti and brought hurricane-force winds to the Turks & Caicos Islands on Thursday. It was downgraded from a Category 5 hurricane early Friday.
At 5 a.m. ET, the storm was about 55 miles northeast of Great Inagua Island in the Bahamas with winds of 155 mph.
"The eye of Irma should continue to move westward away from the Turks & Caicos Islands and toward the southeastern Bahamas this morning," the National Hurricane Center said. "The core of the hurricane will then move between the north coast of Cuba and the Bahamas during the next day or two, and be near the Florida Keys and the southern Florida Peninsula Sunday morning."
PHOTOS: Hurricane Irma Carves Path of Destruction in Caribbean
Tourists scrambled to evacuate from the Turks & Caicos and the Bahamas before Irma arrived.
Authorities urged coastal residents in Turks & Caicos to move to higher ground as the hurricane approached. A storm surge and large waves could raise water levels as much as 20 feet above the normal tide in the British territory, officials warned.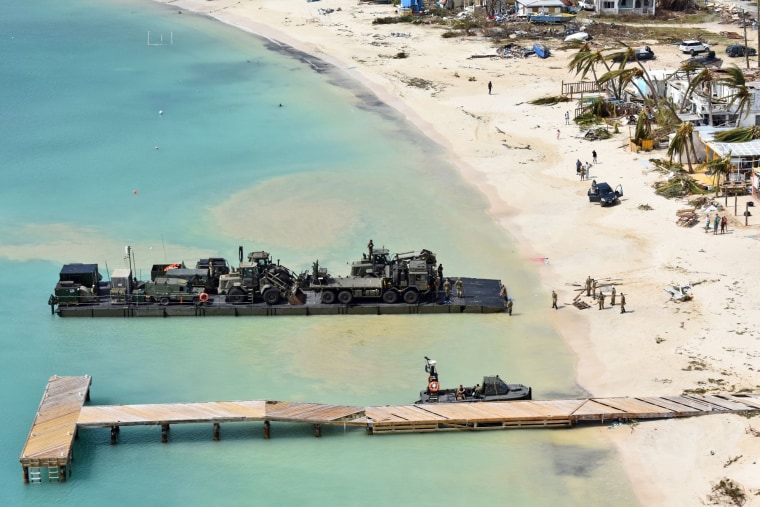 Earlier, the Bahamian government closed its international airport in the capital, Nassau — a popular tourist destination known for its beaches and coral reefs.
The Tourism Ministry said in a statement that about 4,100 visitors were believed to have been in the country's major tourist destinations on Wednesday but that it expected most of them to have left before Irma's arrival.
Jim and Marlene Norton of Florida were among them.
Related: Predicting Irma's Path Is Giving Supercomputers a Challenge
"At this point, we're just going to board up the house and shutter everything up," Jim Norton said, adding that that his family would decide whether they would have to evacuate again when Irma strikes Florida.
"Right now, from the track we've seen, there's no place to go," he added.
Tourism Minister Dionisio D'Aguilar told The Tribune newspaper of Nassau that authorities expected that the capital and major tourist centers on New Providence, Grand Bahama, Abaco, Eleuthera, Exuma and San Salvador islands would be spared "the full brunt of it."
"If it maintains its current path we reckon we will be up and running, and back in business, in a fairly short time frame," D'Aguilar said.
Officials across a string of Caribbean islands say at least three people were killed in the U.S. Virgin Islands, one person was killed in Barbuda, five people were killed in the French territory of St. Martin and three people were killed in Puerto Rico. The storm also cut power to more than 1 million people in Puerto Rico, which, unlike other islands, was spared a direct hit.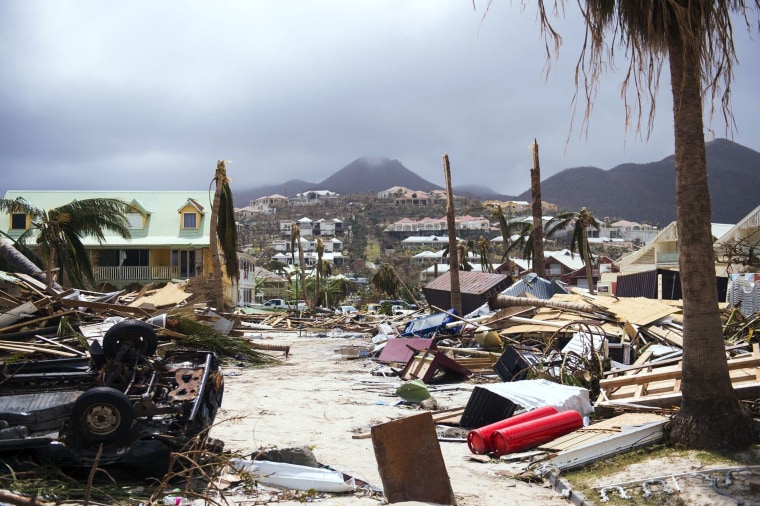 The hurricane center said Irma on track to sweep north and slam Miami and the rest of South Florida, where people were rushing to board up homes, fill cars with gasoline and find routes to safety.
On Thursday, business owners and residents in the Bahamas were hammering plywood against windows to protect buildings. Among the biggest concerns were access to potable water, particularly if the electricity goes out.
Cars began lining up for water early Thursday after about 100,000 gallons were distributed on Wednesday.
Related: Hurricane Jose to Give Irma-Battered Islands Another Lashing
Bahamas Prime Minister Hubert Minnis had already ordered six islands in the archipelago's south to be evacuated because authorities wouldn't be able to help anyone caught in the "potentially catastrophic" wind, flooding and storm surge. People were flown to Nassau starting Wednesday in what he called the largest storm evacuation in the country's history.
In addition, the Royal Bahamas Defence Force, the country's National Guard, were being deployed.
The last major hurricane to pass directly through part of the Bahamas was Matthew last October. Some residents are still rebuilding after that Category 4 storm.
Rehema Ellis and Adam Reiss reported from Nassau, Bahamas. Erik Ortiz reported from New York.