It's not a question of if, but when.
Another Katrina-like hurricane, or worse, is out there, and for New Orleans the big questions are: How soon before the next one hits? How prepared will the city be?
"We're dealing with probabilities here," said Gerry Galloway, a retired Army Corps of Engineers general who is now an engineering professor at the University of Maryland. "There is nothing that prevents a hurricane the size of Katrina or Katrina-plus tomorrow. Sooner or later something like that is going to happen."
In the 10 years since Katrina killed more than 1,500 people in Louisiana and left 80 percent of New Orleans under water, significant steps to reduce the risk of future flooding have been taken. The most visible: $14.5 billion in stronger levees that truly make New Orleans a city walled in from the water. That's a major change from the numerous gaps and faulty pumps that marked the city's defenses before Katrina.
The crown jewel in this 133-mile, concrete necklace is the $1.1 billion Lake Borgne Surge Barrier, which measures 26-feet tall and is nearly two miles wide. Its job is to prevent what happened on Aug. 29, 2005, when a 15-foot-high surge of water tore through shipping canals and toppled levees, swamping the Lower Ninth Ward.
Related: Animals Rescued After Katrina Live on 10 Years Later
What has been accomplished in just a decade "is a modern miracle of construction," said Ed Link, who chaired the Army Corps of Engineers task force that investigated why Katrina overwhelmed the old levees. "But is it enough? It's a great foundation to build from but, no, it's not enough."
A Katrina-like storm today could very well still overtop some levees and cause some flooding, said Link, "but I doubt it would be anywhere close enough" to destroy levees and cause massive flooding.
The Corps of Engineers designed the new levees based on computer models showing 152 types of hurricane scenarios — a big improvement over the simpler designs from the 1960s that guided pre-Katrina preparations, said Link, who also teaches civil engineering at the University of Maryland.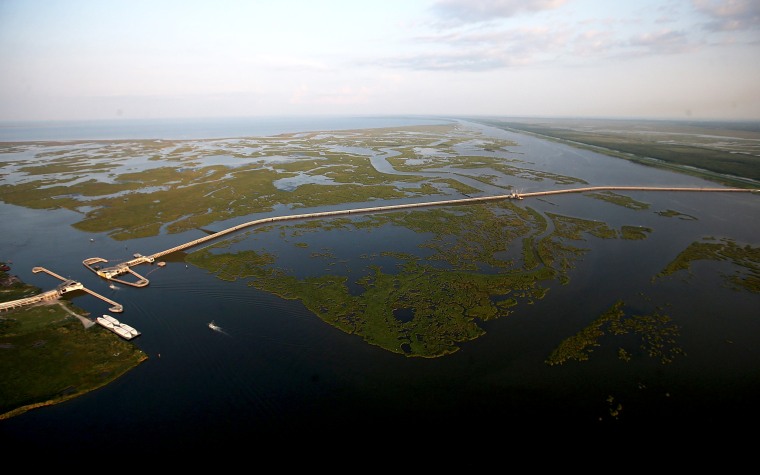 The immediate aim is to guard against 100-year-storms, or those that have a 1 percent chance of hitting in any given year, through the year 2057. Many observers argued for a tougher 200- or even 500-year-storm standard, but that would have cost billions of dollars more to raise levees even higher.
Instead, the goal is to modify the system as needed. This "adaptive management" will keep engineers busy, since the forecast is for worsening conditions: rising sea levels, a New Orleans that continues to sink as groundwater is pumped from beneath it, and coastal wetlands being destroyed faster than they can be restored.
"It's going to get more and more challenging, and there will be a time when you can't build the walls high enough," Link said.
Louisiana does have a $50 billion coastal restoration plan to rebuild more wetlands, which act as natural storm buffers, and its share of the BP oil spill settlement will help pay for the initial work. But long-term funds are not secure and any major work won't even start until 2035.
It's these vulnerabilities that keep engineers from describing the levee system as full "protection" — indeed its official name is the "Hurricane & Storm Damage Risk Reduction System."
"Use of the word 'protection' implies that there is an absence of residual risk," said Corps spokesman Ricky Boyett. "No system can eliminate risk regardless of how high or big you build it."
Related: Then and Now: Photographer Revisits His Katrina Images
Galloway agreed, adding that "the most important thing to come out of Katrina was to recognize that we had a risk that could never be zero."
Longer-term possibilities include "armoring" the back side of some levees with more concrete, and raising some of the barriers even higher. The Corps also notes that flood damage costs could be significantly reduced by spending $28 billion to raise some 230,000 buildings that now sit below sea level to one foot above it.
Raising buildings, zoning out residential land use in risky areas and strengthening building codes should be priorities, said Rich Campanella, a geographer at the Tulane University School of Architecture in New Orleans. But, he said, the fact is that two-thirds of residents still live in parts of the city that are below sea level, and thus more prone to flooding.
"Certain areas are called vulnerable for a reason," he said. "They will likely see rising flood insurance rates in the short term, and flooding potential in the long term."
Link's task force created flood risk maps designed to communicate that danger visually. But even those can't guarantee that, as time goes by, residents and officials won't succumb to "financial fatigue," said Link.
"Risk is very, very difficult to communicate," and doing so effectively in the decades ahead will be a major challenge, said Bob Thomas, who runs the Center for Environmental Communication at Loyola University in New Orleans.
Related: Reducing Flood Risks 10 Years After Hurricane Katrina
He's optimistic, though, in part because Katrina created an incredible wealth of local experts who regularly write and speak about the risks.
Moreover, the National Hurricane Center has a new warning system that relies less on talking about a storm's category and more on showing maps of potential flood areas.
"When they start putting up pictures, showing different colors and flood threats," Thomas said, "people are going to see that and say 'holy crap.'"
"Am I confident everyone will heed those warnings?" he said. "No, there are always people who will stay."