NEW ORLEANS — Pulling up to Jerry Reed's house in St. Roch neighborhood is like stepping back in time to August 2005, when Hurricane Katrina ripped through the area, devastating everything in its path. The house appears very much the same today as then, a decade after the storm.
The home's foundations are unearthed, its vinyl siding peels along ragged lines that demarcate clearly how high the floodwaters rose. Inside the home, contaminated drywall emits a jarring stench — a result, Reed says, of shoddy, unfinished contract work.
Reed's bedroom is nestled between a bare dining room and a living room that he has furnished with a couch and chairs and decorated with wall portraits. The space, he says, is one of the few livable areas amidst the ruin.
"Ten years after the storm, I didn't ever think it would still be — this bad," said a somber Reed as he reflected on the 10th anniversary of one of the most powerful natural disasters to ever strike a major American city. "Never."
Reed, 66, is a Vietnam War veteran who fought for his country and won the Silver Star but feels he has been forgotten here at home.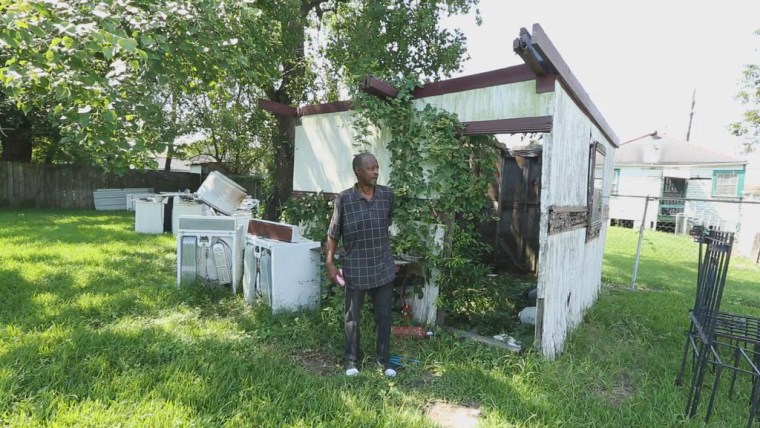 He is just one of thousands of homeowners in and around New Orleans who is unable to pay for damages that remain from Hurricane Katrina. The majority didn't have flood insurance before Katrina and, consequently, relied on the federal government for assistance to rebuild their homes.
That funding — allocated by the Department of Housing and Urban Development (HUD) through its Road Home Program — was based on the home's pre-Katrina market value. Critics say that was in many cases insufficient to cover a home's repairs.
Reed received funds from Road Home but he says they did not cover all the costs of rebuilding. Like most other desperate homeowners at the time, he resorted to hiring below market-rate independent contractors who, in some cases, fraudulently performed inadequate repairs.
Once it was discovered that his home contained contaminated drywall after one botched job, his family and others recommended that he move out of the home. Reed says he had nowhere to go.
"I gotta stay in here. Where else am I going?" said Reed. "I can't pay for no hotel, another apartment."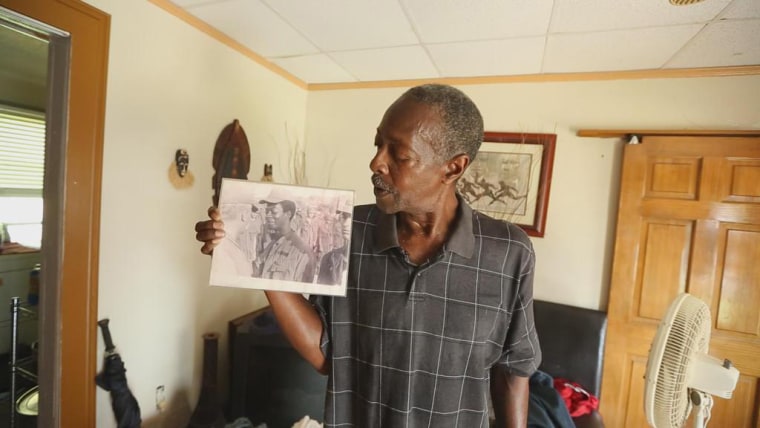 Reed's case is typical of many other low-income homeowners post-Katrina, says Liz McCartney, co-founder of the St. Bernard Project, an organization based in neighboring St. Bernard Parish focused on disaster recovery and who Reed earlier this year approached for help.
"Many .. (homeowners) have been ripped off by contractors, or they never got enough money from insurance," said McCartney. "And they just hit a wall."
Janice Tambrella, a 53-year-old St. Bernard Parish native, is another one of those homeowners. Her ranch-style home in Violet, a tiny suburban inlet, was fully submerged under 14 feet of water in the storm, and she has not lived there since.
At the time, she received around $90,000 from Road Home for repairs, but she says that was not enough to meet all of her mounting expenses. To save money, she hired an independent contractor for electrical work. When the contractor left the job woefully unfinished, she was forced to hire a market-rate electrician at a much steeper rate.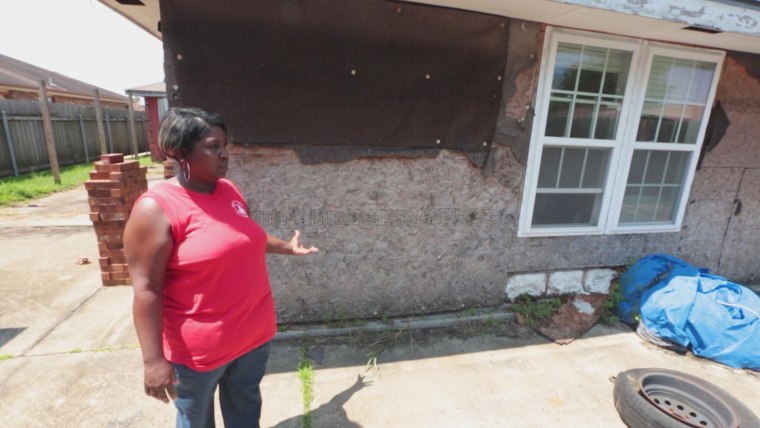 NBC News could not independently verify either Tambrella's or Reed's claims of contractor fraud. Neither sought damages in court for the expenses incurred.
Today, Tambrella's home is festered with contaminated drywall and remains unfinished. She works two jobs to help pay off the home's monthly mortgage, though she has not been able to live there for a decade. Frustrated and embittered, she too reached out to the St. Bernard Project in 2014 for assistance. She, like Reed, is one of roughly 100 people on the organization's waiting list that is eligible for free repairs and remains stubbornly optimistic of her chances to finally move back into her home next year.
For Tambrella, the goal is "getting back in my house and being able to reach back and help somebody else."
A decade later, a city divided
Mayor Mitch Landrieu has trumpeted New Orleans' post-Katrina comeback as a wild success story and in some ways, it has been.
The city's tourism sector is booming. Some of the city's traditionally impoverished neighborhoods today are flourishing under new development spurred by an upper-income, highly educated workforce that came in the early years following Katrina to assist in the city's recovery efforts and have stayed.
The development, however, has also brought about record high rents and, critics say, unequal growth. In 2014, the average New Orleanian spent 35 percent of their yearly income on rent — five percent above the national average — according to Zillow, the real estate website.
"It's very hard for a low-income person to make it in our city, said Martha J. Kegel, executive director of UNITY, a New Orleans based non-profit collaborative of over 60 organizations providing housing and services to the city's homeless. "The housing costs have skyrocketed so much in recent years that low-income families just can't afford to rent, let alone buy their own home."
Less than a mile away from Reed's home in St. Roch, trendy restaurants and bars buzz with young patrons in a newly gentrified section of Florida Avenue, the neighborhood's main thoroughfare. The glaring contrast is commonplace across the city, where urban blight and gleaming construction lay side by side.
For Reed, it's difficult to stomach. He says as the city around him has recovered for some, he has less hope for his own predicament.
"I might get this house to the point where it's livable," said Reed. "But as far as recovered, I just don't see it. Not 100 percent."