Years after then-presidential hopeful Barack Obama declared "America failed the people of New Orleans and the Gulf Coast," he returned to the city to hail Hurricane Katrina recovery efforts and highlight the region's resilience in the face of massive devastation.
"I'm here to hold up a mirror and say because of you, the people of New Orleans working together, this city is moving in the right direction and I have never been more confident that together we will get to where we need to go," the president said at a speech Thursday afternoon at the Andrew P. Sanchez Community Center in Lower Ninth Ward of New Orleans, Louisiana. "You inspire me."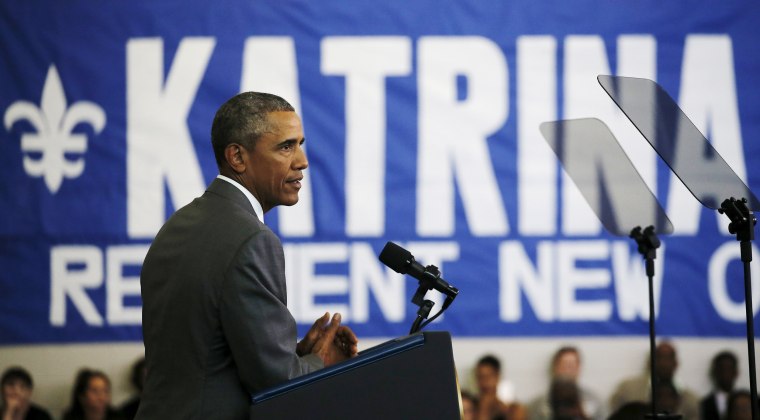 President Obama praised the hard work of the local community in the wake of the storm, saying that their efforts inspired not only him, but the rest of the nation.
"Folks have been watching what happened here and they've seen a reflection of the very best of American spirit," he said.
Earlier, the president met with residents who are working to rebuild their neighborhoods as part of the 10th anniversary of Hurricane Katrina. He visited the community center in the Lower 9th Ward, a predominantly African American neighborhood especially hard hit during Katrina.
PHOTOS: A Look Back at Hurricane Katrina's Wrath
"Not long ago, our gathering here in the Lower Ninth might have seemed unlikely," the president said. "But today, this new community center stands as a symbol of the extraordinary resilience of this city and its people, of the entire Gulf Coast, indeed, of the United States of America. You are an example of what's possible when, in the face of tragedy and hardship, good people come together to lend a hand, and to build a better future."
The community, like a number of historically African-American neighborhoods in the city, is still working to recover. The Obama administration has scored high marks in helping New Orleans recover and the region rebuild the local economy, schools, homes, hospitals and roads, restore the wetlands and improve access to public transportation.
That recovery has been aided in part by funding efforts that began under his predecessor, former president George W. Bush. The two administrations focused nearly $71 billion in federal funds to help the region rebuild and boost the economy.
Related: 'The old FEMA is gone': Craig Fugate's cleaned-up FEMA
Still, the recovery has been uneven, and some of the city's poorest residents and African Americans have been disproportionately impacted.
"We came to realize that what started out as a natural disaster became a man-made disaster, a failure of government to look after its own citizens," Obama said. "What the storm laid bare was another tragedy, a deeper tragedy that had been brewing for decades."
Obama went on to say New Orleans had been plagued by structural inequality, a lack of jobs and affordable health care for people of color, and cycles of poverty.
"And so, like a body weakened, already undernourished, when the storm hit there [were] no resources to fall back on," he said.
Related: Katrina Anniversary: Has Obama Kept His Promises to New Orleans?
While acknowledging the work that was still to come, Obama said the progress New Orleans had made was "remarkable."
"If Katrina was initially an example of what happens when government fails, the recovery has been an example of what happens when government works together," he said.
Earlier Thursday, the president strolled with New Orleans Mayor Mitch Landrieu through Tremé, one of the oldest black neighborhoods in America, which borders the French Quarter just north of Downtown and the birthplace of many jazz legends.
The administration points to communities like Tremé and others across the Gulf, as an example of how they've worked with local communities to cut-red tape and hasten assistance, use data to improve services for citizens, build in a more resilient way and make the government a better partner for communities.
"Like so much of this area it was devastated during the storm," But what we're seeing is an example of the incredible federal, state and local partnerships that have helped revitalized this community," the president said of Tremé.
"Part of our goal has always been to make sure not just that we recover from this storm but also that we start dealing with some of the structural inequities that existed long before the storm happened."