Former President George W. Bush returned to New Orleans on Friday to mark the 10th anniversary of Hurricane Katrina, a low point of his presidency.
Bush spoke to a packed auditorium at Warren Easton Charter High School and praised it as a beacon of resilience. It had been the oldest public school in New Orleans and was transformed into a charter school a year after the hurricane.
"People stared into the eye of the storm and refused to back down, and so Laura and I are in New Orleans to remind the country about what strong leadership means — and we're here to support the leaders," Bush said.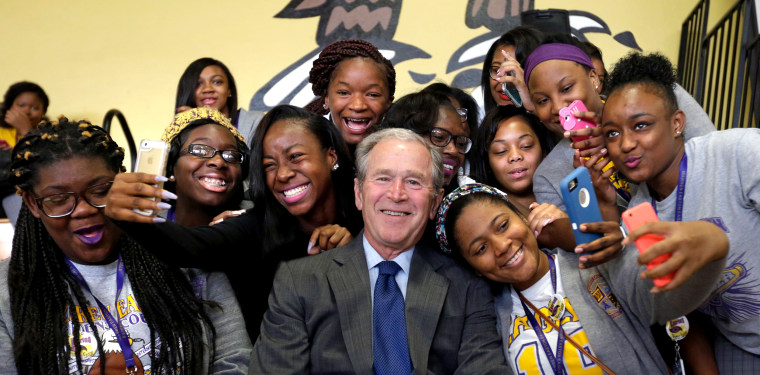 Bush visited the school when it opened in 2006. Laura Bush's library foundation was among the groups that helped it rebuild.
"The storm nearly destroys New Orleans, and now New Orleans is the beacon for school reform," Bush said to applause.
PHOTOS: A Look Back at Hurricane Katrina's Wrath
Bush was early in his second term when Katrina made landfall on Aug. 29, 2005, leaving more than 1,800 people dead and a swath of devastation across the Gulf Coast seared into the nation's memory. His administration was vilified for a lackluster initial response to the storm.
The series of missteps included Bush's praise for then-FEMA chief Michael Brown — "Brownie, you're doing a heck of a job" — while thousands of people pleaded for help from the New Orleans Superdome.
Warren Easton remains a bright spot for Bush in New Orleans. The school's graduation rate is more than 97 percent, beating the parish's public school system average, NOLA.com reported in April.
During Friday's presentation, Bush praised the city as a whole for bouncing back.
"You've achieved a lot over the last 10 years, and with belief and success and a faith in God, New Orleans will achieve even more," Bush said, adding that "the darkness from a decade ago has lifted, the Crescent City has risen again, and its best days lie ahead."
Mayor Mitch Landrieu thanked Bush and Louisiana's congressional delegation for making sure billions of dollars in federal funding was released for rebuilding.
"New Orleans will always be your home," Landrieu told Bush.
Bush's visit comes a day after President Barack Obama toured a New Orleans community center, telling people in the battered Lower Ninth Ward that the nation has seen "a reflection of the very best of American spirit" through their resilience.
Former President Bill Clinton is expected to visit New Orleans on Saturday.