At least eight people were killed in North Carolina and three were killed in South Carolina by Hurricane Matthew's destructive forces, bringing the storm's death toll to 19 across four Southeastern states, authorities said Sunday morning.
Hundreds of flooded residents were rescued overnight in North Carolina and more than 2 million businesses and homes still without power along the Southeastern seaboard as Matthew continued to batter the Atlantic coast with 75-mph winds even as it was downgraded to a post-tropical cyclone.
North Carolina Gov. Pat McCrory warned residents that even though the storm had been downgraded and had moved past the state, it would pose dangers for days to come.
Photos: North Carolina Slammed by Floodwaters
"What those categories don't include are the power of water," McCrory said. "The power of water can kill people." He said that eight people across the state had already died and that the death toll was expected to rise. Five other people were missing in two different counties.
McCrory said the threat of flooding would persist all week as many rivers were expected to top record-breaking levels. Hundreds of buildings in the state, including at least one airport and one school, had already taken on water, McCrory said.
Unofficial rainfall totals were 16 inches in Bladen County, 15 inches in Goldsboro, 12 inches in Lumberton and Smithfield, and 9 inches in Raleigh and Rocky Mount, McCrory said in a statement.
More than 1,000 people had been rescued during the storm, and 3,000 people were in shelters.
The Fayetteville Emergency Operations Center said response teams rescued nearly 700 people overnight in the Fayetteville and Cumberland County areas alone, while 503 people were being housed in shelters.
Nearly 770,000 customers across the state were without power, according to the state's emergency management office.
McCrory asked residents to be patient and cautious.
"Hurricane Matthew is off the map, but it's still with us, and it's still deadly," McCrory said. "It's going to be with us for a long time."
At 5 p.m. ET Sunday, the storm was about 60 miles east of Cape Hatteras, N.C., and headed northeast at 15 mph, the National Hurricane Center said in an advisory, which would be their last concerning Matthew.
The advisory said that "life-threatening flooding" would continue in North Carolina and that the Mid-Atlantic coast would see high water levels and storm surges.
"We are looking at very significant flooding. Almost every road in the city is impassable," Virginia Beach spokeswoman Erin Sutton told The Weather Channel from the city of almost 500,000 people between Chesapeake Bay and the Atlantic Ocean.
A state of emergency was declared in the city Sunday morning, and residents were urged to stay home. Nearly 250,000 power failures had been reported in Virginia by Sunday afternoon, according to utility companies.
Matthew, which days ago briefly topped out as a ferocious category 5 storm, made U.S. landfall Saturday near McClellanville, S.C., a village 30 miles north of Charleston.
Gov. Nikki Haley said Sunday that more than 4,000 people were still in shelters as emergency crews monitored swollen rivers and cleared debris-covered roads.
Five buildings near Myrtle Beach were destroyed in a wind-whipped fire Saturday night, officials said. The residents of the multi-story buildings had already evacuated, and no one was injured, a statement from the city said.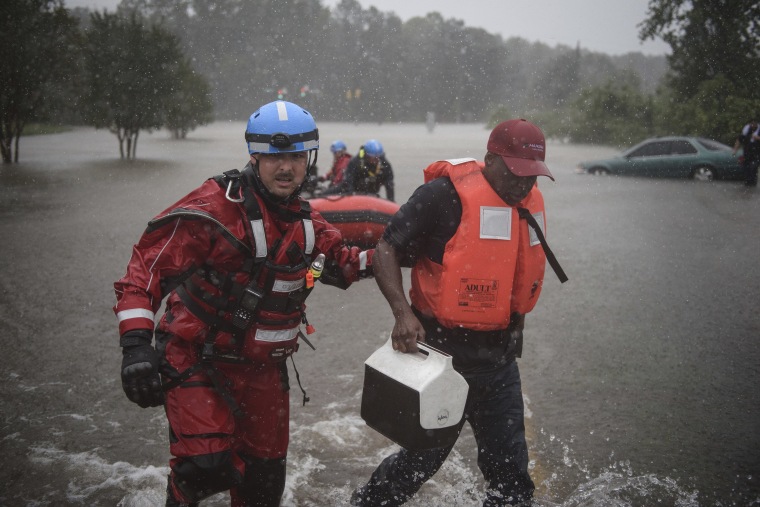 Two people were killed in Florence County in separate incidents after their vehicles were swept away by floodwaters or driven into washed-out roads or bridges, the Florence County Sheriff's Office said in a statement. In Richland County, another person was found dead pinned beneath his wheelchair, which appeared to have gotten stuck in floodwaters outside of his home, county coroner Gary Watts said.
The storm also killed five people in Florida, and three in Georgia.
More than 2 million households and businesses were without power, most in Florida and South Carolina.
President Barack Obama signed disaster declarations for Florida and Georgia on Sunday morning.
Speaking at a political fundraiser in Chicago, Obama said he had spoken with the governors of Florida, North Carolina, South Carolina and Georgia, and he told residents of those states: "We've got your back."
Damage in the United States, however, was much less than in Haiti, where Matthew took nearly 900 lives. At least 13 people on the Caribbean island have also died from outbreaks of cholera since the storm, and about 61,500 people were in shelters, officials said.