Two more deaths were confirmed in North Carolina from damage and flooding caused by Hurricane Matthew, the governor said Thursday, bringing the total storm-related deaths there to at least 22.
Authorities were also investigating a third possible death in North Carolina, Gov. Pat McCrory said.
One person in Lenoir County drowned after a vehicle went around a barricade and ending up on a flooded road, and a man walking in Robeson County died after falling into a hole left by an uprooted tree and couldn't escape, he said.
"We've stressed again, to please be safe," McCrory said. "Stay off the roads, stay out of water... Our prayers are with the families being impacted by these tragedies."
More than 43,700 customers remained without power Thursday, five days after the Category 1 hurricane pummeled the state with heavy rain after lashing South Carolina, Georgia and Florida.
Princeville, a town of 2,000 around 73 miles east of Raleigh, was "basically under water," McCrory said, with some areas under 10 to 12 feet of water.
The historic community of Princeville is the oldest town chartered by Africa-Americans in the nation. It was settled by freed slaves after the Civil War and incorporated in 1885. The town was devastated by flooding caused by rains from Hurricane Floyd in 1999.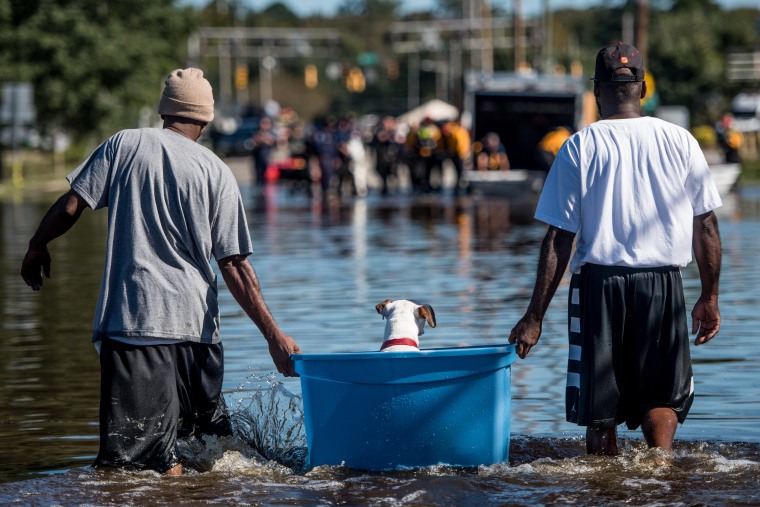 McCrory raised Princeville's mayor and local authorities for ensuring that the entire town was evacuated ahead of the storm, which has a history of floods. "We have not had a loss of life in a town that is totally under water," McCrory said.
McCrory flew over the town and saw water up to and over the roofs of houses and mobile homes, he said. He plans to visit Friday. Lumberton, around 140 miles away, was also inundated and rescuers used boats and helicopters to save residents.
"We're going to have a lot of work to do in Princeville, a lot of work, a lot of recovery," McCrory said. "We're going to have to rebuild a town."
An additional death was also reported in Dillon County, South Carolina, that state's governor said at a press conference, bringing the number of deaths in that state to four.
At least 42 people in all were killed either by the Hurricane Matthew or died due to complications caused by it in Florida, Georgia, and South and North Carolina, authorities said.
In Haiti, more than 1,000 people were reported killed by the hurricane. The U.S. Agency for International Development, known as USAID, said Thursday it would provide more than $12 million in additional humanitarian assistance for Haiti, the Bahamas and Jamaica.