In the heavily Latino state of Florida, bilingual Red Cross volunteer Roberto Baltodano has been busy helping anxious families fearing the wrath of Hurricane Matthew.
In West Palm Beach County, Baltodano, a Nicaraguan native, helped a young mother from Guatemala understand her options. The mother left her mobile home on Thursday with her three young sons and a 6-day-old infant as news of the potentially deadly hurricane intensified. She sought shelter in the Forest Hill Community High School but did not speak enough English to fully understand what resources the Red Cross could provide.
Click here for all Hurricane Matthew coverage on NBC News.
"She had never been to a shelter before," Baltodano said. "Understandably she was a little concerned sharing an open area with 1,000 people. I explained to her what the shelter was about and what we could do to help give her emotional support."
Baltodano told NBC Latino he began volunteering for the Red Cross after Hurricane Andrew destroyed his home in 1992. The Red Cross gave him food and shelter for 17 days, and because the organization and volunteers kept him safe, he tries to pay his efforts forward after disasters.
José Luis Rivera-Villamañán was one of the thousands of residents along Florida's "space coast" who had to evacuate their homes because of the terrifying uncertainty of Hurricane Matthew. The 56-year-old Puerto Rican and Spanish businessman evacuated his home at Satellite Beach, 16 miles south of Cape Canaveral. Him and his 19-year-old son took refuge in Miami with several family friends.
Neighbors in his community helped each other board up their homes either by sharing supplies or by lending their hands. With the help of his son and his neighbors, Rivera-Villamañán boarded up his home with metal storm shutters. In the event that the predicted 10-12 foot storm surges hit the barrier island, he lifted all of their furniture off the ground in case the house flooded.
RELATED: In Florida, Latino Families Brace for Hurricane Matthew
"It was difficult in the sense that the preparations are so intense," Rivera-Villamañán said. "Because of the warnings, we felt a lot of destruction could happen. I was concerned that there would be total devastation and that it would be uninhabitable for weeks or months."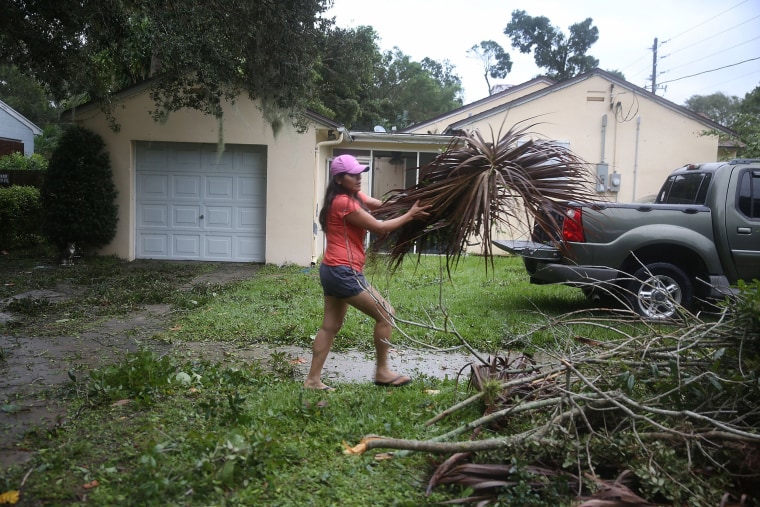 Marisella Veiga, a 58-year-old professor at Flagler College, evacuated her home in St. Augustine with her husband early Friday morning. She said she left her home along with her valuables and important paperwork to hunker down with one of her friends further inland.
"You just prepare, leave and hope for the best," Veiga said. "You say a prayer and then get together with people and enjoy yourselves."
RELATED: Hurricane Matthew Kills 478 in Impoverished Haiti: Reuters
Veiga and her husband opted to stay in their home overnight despite Gov. Rick Scott's direct warning to the area's residents. Now they are staying with their friend Keti Beguiristain, an 82-year-old Cuban immigrant who lives alone.
"My neighbors and their 4-year-old daughter came over to my house that is totally boarded up," Beguiristain said. "The governor of Florida said this storm is 'going to kill you' and it scared people. He should have said the storm 'could kill you.'"
Beguiristain said her home is 15 feet above sea level, and because her neighborhood's shelter is on the same block, she opted to stay home and house her neighbors. Beguiristain has installed thousands of dollars of metal shutters to protect her home and is confident her house could withstand a storm with winds as high as 135 mph.
The youngest in Beguiristain's house is 4-year-old Arandza Suloada. She told NBC Latino that she is relaxed with her friends.
"I am not scared!" she immediately shouted into the phone. "I am relaxed!"
She reports that she is "just hanging out" with her friends and mom until the storm blows over.