Thousands of people are fleeing Hurricane Matthew as it barrels toward Florida, but some hospital staffers are sticking around.
Florida hospitals prepared Thursday to get hit by the monster storm Matthew, with many facilities altering their normal operations, and a number of facilities closing and evacuating patients.
Jackson Health System, a major hospital operator in the Miami area, said it "will continue normal operators at all Jackson facilities, with the exception of its primary care clinics, the ambulatory care centers and rehab outpatient clinic, which will all be closed Thursday and Friday."
Related: 'This Storm Will Kill you': Matthew Churns Toward Florida Coast
Jackson Health also put out an alert for pregnant women, urging women who plan to deliver their baby at one of the system's hospitals to check in with their doctors about whether they should report to a hospital.
Another big health system in South Florida, Broward Health, closed its five hospitals except for emergencies and trauma patients, according to the system. The system canceled all outpatient procedures on Thursday and Friday.
Baptist Health is keeping its hospitals and emergency rooms in the South Florida open, but shut down its urgent care centers for Thursday at the least, closed its ambulatory surgery centers through Friday, and closed its imaging centers for the same time period.
Cape Canaveral Hospital began evacuating patients on Tuesday, transferring them to other facilities. More than 90 patients have been removed from the hospital. Baptist Medical Center Beaches in Jacksonville Beach was also being evacuated on Thursday.
Related: Hurricane Matthew Death Toll Climbs in Haiti
Also up the coast, Florida Hospital Flager, in the city of Palm Coast, began evacuating patients and staff by Wednesday night and continued that process on Thursday. The hospital, which transferred patients to other locations in its health system, is still open for emergencies, according to the Palm Coast Observer.
Two other Florida Hospital locations, in Ormond Beach and New Smyrna Beach already have been evacuated. The ERs at both hospitals are closed as well, according to the system.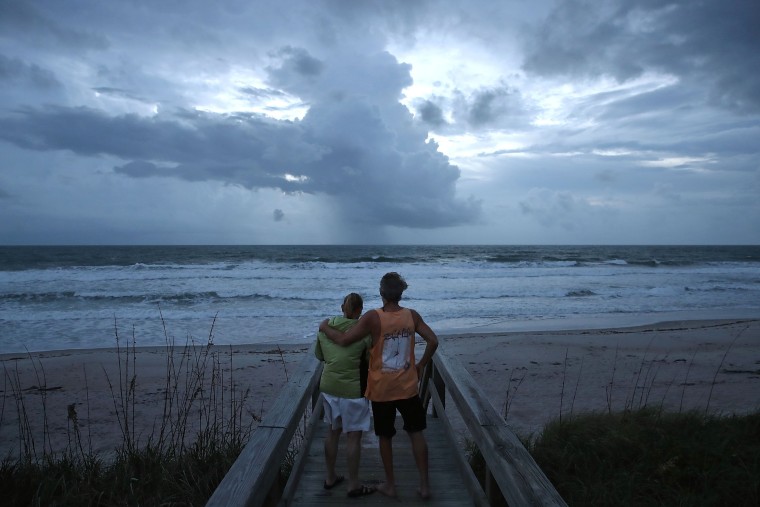 In the middle of the state, hospitals were saying they expected to operate as normal, even as they kept tabs on the storm and stocked up on fuel, food and water.
The Orlando Sentinel reported that hospital officials were urging people not to use their facilities as shelters when Matthew hits.
"Inevitably every year we get a few people who show up wanting to be sheltered and want to ride out the hurricane," Orlando Health's emergency preparedness manager Eric Alberts told the Sentinel.
"The problem is that we don't want to set aside staffing to help with that, when we need to care for patients."