The fiercest winds from Hurricane Matthew stayed off Florida's coast as the storm raked the Atlantic shoreline Friday, making its way up the South Carolina coast where it could cause "life-threatening" flooding, forecasters said.
Hurricane Matthew was packing sustained winds of 105 mph as it churned northwards less than 100 miles of Charleston, South Carolina, early Saturday, the National Hurricane Center said at 2 a.m. ET.
Storm surge flooding is occurring in South Carolina, Florida and Georgia, the 2 a.m. update said.
"Now is the time we ask for prayer," said South Carolina Gov. Nikki Hailey during a Friday night briefing.
Three deaths in Florida have been attributed to the hurricane by Friday night and more than 1.1 million were without power, authorities said. In Haiti, the death toll had topped 800, according to Reuters.
Related: Hurricane Matthew Inflicts More Pain on Impoverished Haiti
The storm weakened from a Category 3 hurricane to a Category 2 on Friday afternoon.
In its 2 a.m. update, the center said that a hurricane warning remained in effect from North of Fernandina Beach to Surf City, North Carolina. The eye of the hurricane was about 45 miles south of Hilton Head and was moving north at 12 mph.
During a news conference on Friday night, Florida Gov. Rick Scott said that he was "very concerned" about storm surge.
"Flooding could last for days and river flooding could last for even longer," he said.
Nearly 200 shelters were housing 23,000 people across the state, Scott said. Hundreds of National Guardsmen had been activated, he said, and 90 fish and wildlife officers were performing search and rescue operations.
The region around Jacksonville, in the northeastern section of the state, was among the hardest hit, and earlier Friday, one resident who stayed behind described watching the city of St. Augustine disappear underwater.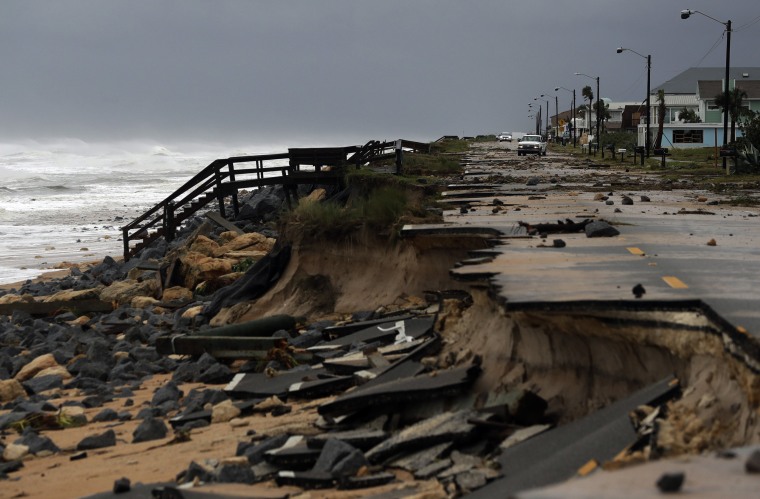 "We're getting absolutely pummeled," Andrew Cady told NBC News.
But it could have been worse, Weather Channel meteorologist Roy Lucksinger told NBC News. "If it had tracked a little farther to the left, or to the west, the eyewall would've been right there on the coast," he said.
In other words, Lucksinger said, the equivalent of a lower end EF2 tornado, with 120 mile per hour winds, would have been spinning over Florida.
"We have been very fortunate that Matthew's strongest winds have remained offshore of the Florida coast," the National Hurricane Center said in a Friday afternoon update. "But this should not be a reason to let our guard down."
As Matthew moved north, Lucksinger added, it appeared to be following the same track and remaining just offshore.
As of 8 p.m. ET, the storm was 105 miles south-southeast of Savannah, Georgia, the hurricane center said. The center of the storm was expected to move over or near the northeast Florida and Georgia overnight, and on to South Carolina's coast Saturday.
By Friday afternoon, that city and others along the coast were virtual ghost towns, NBC affiliate WXIA reported. Earlier in the week, Gov. Nathan Deal ordered mandatory evacuations in the state's six coastal counties, and residents there appeared to be listening: photos published by the station showed deserted streets and boarded-up windows.
A Savannah police officer told WXIA that 90 percent of residents who live east of Interstate 95 had evacuated. Georgia Gov. Nathan Deal called up an additional 1,000 National Guard personnel Friday, doubling the number to 2,000.
Related: What Kills People During Hurricanes? The Answer May Surprise You
In South Carolina, where the storm was expected to arrive on Saturday, tornado watches were in effect, as much as 14 inches of rain were expected on the coast and some floodwaters could to rise to nine feet, state officials said during a Friday night briefing.
More than 2,000 National Guard troops had been deployed and 355,000 people had evacuated the coast, Gov. Nikki Haley said — though that still feel short of the state's goal of 1.1 million evacuations, NBC affiliate WIST reported.
"We're asking citizens to heed the warnings," she said, adding: "Be prepared for flooding."
North Carolina was preparing for Matthew as well. During a news conference, Gov. Pat McCrory said the storm could trigger the worst flooding since 1999, when Hurricane Floyd ravaged the state, killing 52 people and causing billions of dollars in damage, NBC affiliate WRAL reported.
Federal Emergency Management Director Craig Fugate said Friday afternoon that that just because the wind speed of the hurricane has weakened, residents should be prepared for dangerous flooding.
"It may be a lesser storm when you talk about category, but as far as storm surge goes, that has not changed," Fugate said on MSNBC.