Evacuations are under way in Florida, Georgia and South Carolina ahead of Hurricane Matthew's expected landfall in Florida Thursday. Forecasters say there's a small chance the Category 4 storm could strengthen to a Category 5 by the time it arrives.
While priority in an evacuation should be given to your own safety, what key personal and financial documents should you bring with you in an evacuation? It's important to have a plan.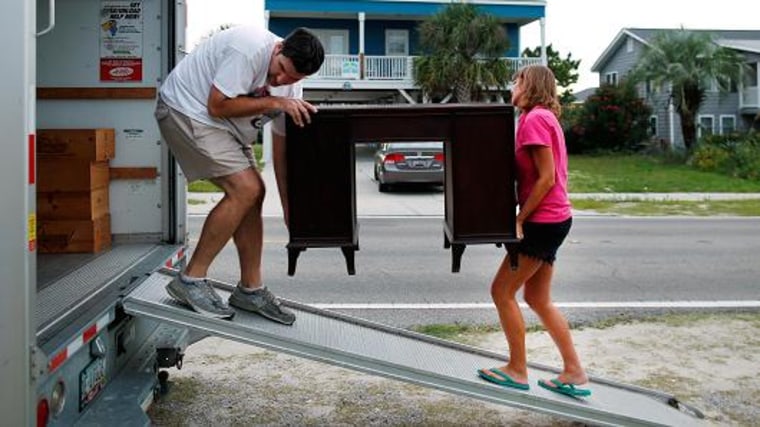 The Florida Division of Emergency Management called the storm "life-threatening," and Governor Rick Scott warned of its "catastrophic" impact. He urged the estimated 1.5 million Florida residents in evacuation zones to follow evacuation orders.
"Do not surf. Do not go on the beach. This will kill you," Gov. Scott said at a press conference Thursday. "There is no reason not to leave."
Certified financial planner Ann Coulson, an assistant professor at Kansas State University's Institute of Personal Financial Planning, said that while it can help to bring along harder-to-replace documents (such as birth certificates) or ones that can help in the aftermath of a storm (such as your insurance policy), tracking those down shouldn't delay evacuating, she warned.
"A lot depends on time," she said. "Their lives should come first."
Kristin McNab of Amelia Island, Florida, started packing for her family of four Wednesday afternoon, pulling together both necessary supplies and irreplaceable items such as photo albums. The family left Wednesday evening to ensure they stayed ahead of the storm. McNab's skill at organization meant she was quickly able to grab important documents.
"We took everything that was in our safe," she said. "Birth certificates, wills and so on."
Based on recommended lists from the Red Cross, the Insurance Information Institute and ASPCA, here's some of the documentation that would be good to bring with you, if possible, in an evacuation:
Insurance policies (or at least, contact information for your insurer and agent)
Birth and marriage certificates
Social Security cards
Passports
Driver's licenses
Prescriptions and important medical records
Copies of your pet's medical records
Wills
Deed or lease to your home
Up-to-date identification tags for your pet's collar and carrier
Recent home inventory
Another common must-have: Extra cash, in case the power is out and you can't swipe a credit card or access an ATM after the storm.
Lists of financial account numbers and copies of recent financial statements often pop up on packing lists, too. Focus less on those items, which you can easily access online, said certified public accountant Kelley Long, a member of the American Institute of Certified Public Accountants' National Financial Literacy Commission.
"Before you leave your house, take pictures of all the rooms," Long said.
Those "before" pictures can help streamline the insurance claims process, she said, showing possessions you left behind and the state of your home ahead of the storm's arrival.
"This is a good wake-up call for everybody to be prepared," she said.
Ideally, consumers should have important documents already gathered and stored in a watertight, fire-protected safe as part of a disaster preparedness plan. You might consider making electronic copies that can be uploaded to secure cloud storage service, in the event you are not allowed to return to your home after a storm.