Haiti is facing a surge in cholera cases in the wake of Hurricane Matthew, doctors warned as the death toll on the devastated island climbed past 1,000.
U.S. Marines delivered badly-needed food aid Sunday, after Haiti's government said more than 1.5 million people had been affected by the storm and 350,000 of those were in need of immediate assistance.
Ninety percent of crops have been destroyed in worst-hit areas of the country according to U.N. World Food Program officer for Haiti, Lorene Didier.
Throughout Haiti's southwestern peninsula, people were digging themselves out from the wreckage of the storm, which also brought flooding and at least 21 deaths to the United States.
Haiti's National Civil Protection agency in Port-au-Prince said Sunday that its official death toll for the country was 336, which included 191 deaths in Grand-Anse. However, a tally of numbers from local officials, compiled by Reuters, put the number at more 1,000. NBC News could not independently confirm that figure.
At the Port-a-Piment hospital, survivors carried in a string of weak and severely sick patients with symptoms of cholera.
Missole Antoine, the hospital's medical director, said the number of patients admitted with cholera symptoms had doubled to 60 during Sunday and that four people had died of the waterborne illness.
"That number is going to rise," she told Reuters as she rushed between patients laid out on the hospital floor.
The hospital lacks an ambulance, or even a car, and Antoine said many new patients were coming from miles away, carried by family members.
Inside the hospital, grim-faced parents cradled young children whose eyes had sunk back and were unable to prop up their own heads.
"I believe in the doctors, and also in God," said 37-year-old Roosevelt Dume, holding the head of his son, Roodly, as he tried to remain upbeat.
In the nearby village of Labei, locals told Reuters said the river had washed down cadavers from villages upstream. With nobody coming to move the corpses, residents used planks of driftwood to push them down the river and into the sea.
"It seems to me like a nuclear bomb went off," said Paul Edouarzin, a United Nations Environmental Program employee based near Port-a-Piment.
"In terms of destruction — environmental and agricultural — I can tell you 2016 is worse than 2010," he added, referring to the devastating 2010 earthquake from which Haiti has yet to recover.
In Jeremie, near the tip of Haiti's southwest peninsula, the sound of hammering could be heard on nearly every street as people patched their roofs as best as they could.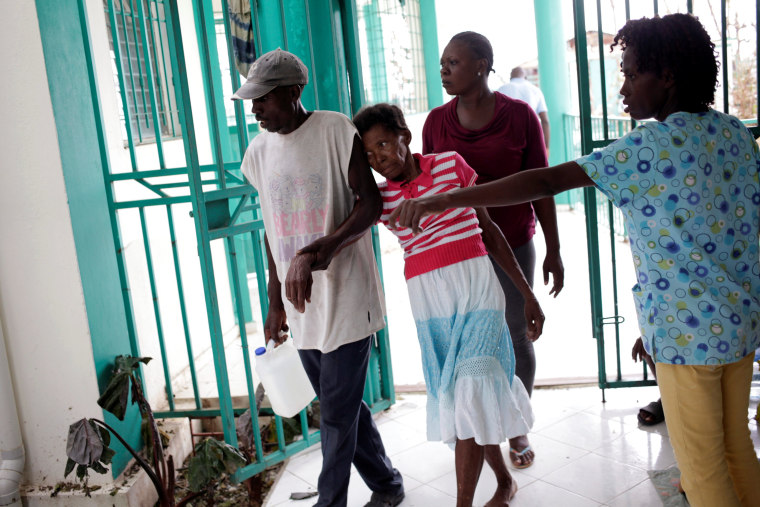 "There will be lots and lots of jobs since so many homes were knocked down," Jameson Pierre, 22, told The Associated Press. "I've been working for the last three days straight."
The area received bags of food delivered by air Sunday by U.S. Marines, soldiers and representatives from USAID.
Peter Mulrean, the U.S. Ambassador to Haiti, said Hurricane Matthew had been "catastrophic" for the country.
"Priorities for immediate assistance are food, water and sanitation, emergency shelter, and critical health care for communities, particularly in the regions of Grand'Anse and Sud," he said in a statement Sunday.