Florida began to feel the effects of Hurricane Matthew as the first band of rain from the deadly storm hit the east coast Thursday — and officials warned any holdouts to evacuate before it's too late.
"People do not seem to get it and are not leaving," Martin County, Florida, Sheriff William D. Snyder told NBC News. "I'm not saying this to be theatrical ... I asked my captain of detectives if he had body bags, because if we get 140 mile-per-hour winds in mobile home parks, we are going to have fatalities."
As of 5 p.m. Thursday, the "potentially disastrous" storm was 100 miles east-southeast of West Palm Beach, Florida, packing winds of up to 140 mph, and heading for the Sunshine State at a speed of 13 mph, the National Hurricane Center warned.
Some 1.5 million Floridians up and down the east coast were ordered to evacuate and 3,500 members of the National Guard — half the state's contingent — had been activated.
"There is no reason not to leave," a grim Gov. Rick Scott warned as the storm that has already killed 114 people across the Caribbean moved ever closer.
"Do not surf. Do not go to the beach," he said. "This storm will kill you."
Latest developments:
Landfall or near-landfall is forecast for between 3 a.m. and 8 a.m. Friday, between West Palm Beach and Cape Canaveral, Florida.
Winds of 145 mph are expected if it makes landfall, although there's a small chance the winds could reach Category 5 strength.
Regardless of whether Florida gets a direct hit from Matthew, the damage will be "catastrophic," Scott warned.
With forecasters expecting the storm to wallop Florida early Friday morning, President Obama signed an emergency declaration to speed federal aid to the state and spoke with the governors of Florida, Georgia, North and South Carolina.
Evacuations were also under way in Georgia and the Carolinas after Matthew, which hammered Haiti and strafed Cuba, began battering the Bahamas. It killed a staggering 108 in Haiti alone.
"Sadly, this is one of the most dire predictions I've ever given for a hurricane forecast," NBC News meteorologist Bill Karins said. "The devastation that is left behind is going to take us weeks to clean up, and a lot of people are going to need help."
PHOTOS: Southeast Prepares for Matthew
Scott warned Floridians that projected winds of 100 to 150 mph will destroy houses and "millions will lose power, possibly for a long period of time."
"My goal is to make sure everyone is prepared," he said, urging residents to fill up on gas, grab supplies, and get out of town. "Evacuate, evacuate, evacuate."
"There is no reason not to leave."
Meanwhile, the NHC extended the hurricane warning Thursday northward to Altamaha Sound in Georgia, while a watch was put into effect as far north as South Carolina's South Santee River.
"Storm surges are going to go much further inland than people realize, and that's a lot of water all at once. The winds are going to be incredibly high, and the rain is what we're concerned about," South Carolina Gov. Nikki Haley said.
The projected path of the storm, according to the NHC:
Thursday evening and Friday morning: A turn toward the north-northwest is expected as Matthew approaches Florida.
Friday afternoon and evening: Matthew is forecast to head up the east coast of Florida, with central coastal Florida experiencing hurricane conditions throughout the day.
Saturday morning: Depending on the position, coastal South Carolina or Savannah, Georgia, could be battered by strong winds and rain.
Saturday afternoon and evening: Matthew could move eastward, with Myrtle Beach, South Carolina, feeling lesser impacts.
If it makes landfall, Matthew would be the first major hurricane — Category 3 or higher — to hit the U.S. mainland since Wilma in 2005.
Regardless of whether it's a direct hit, Scott said the impact on Florida "will be catastrophic."
"Saving every life in our state is our priority," he said.
Tropical storm systems typically diminish as they cross land, but Matthew did not weaken significantly when it slammed first into Haiti and weakened only slightly when it passed over a sparsely populated corner of Cuba.
That's because Atlantic hurricanes usually veer out to sea, thanks to low pressure over the ocean in late summer and early autumn. But the National Weather Service said high pressure has persisted over the western Atlantic and the East Coast in the recent days — trapping Matthew close to the coast and the warm waters of the Caribbean.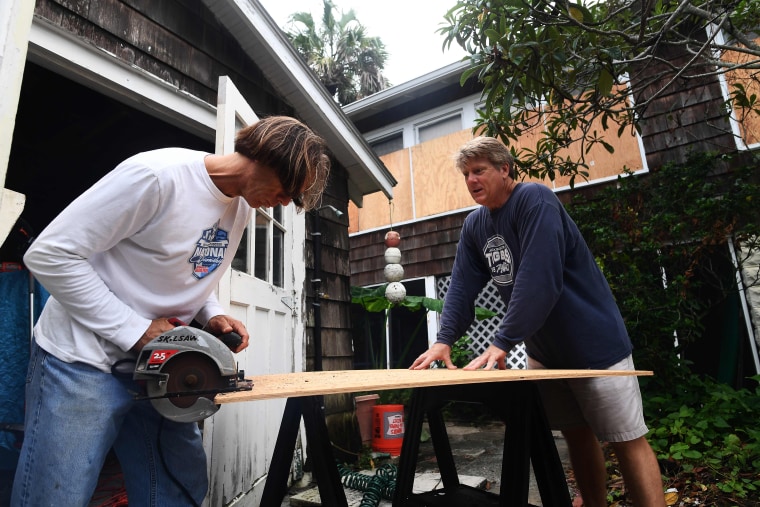 In South Carolina, more than 250,000 people evacuated from historic Charleston and other coastal areas on Wednesday — packing westbound traffic on Interstate 26 as motorists headed west.
The exodus continued on Thursday as Gov. Nikki Haley ordered the evacuation of the low-lying Jasper and Colleton areas.
While most of the evacuees exhibited remarkable patience, police said one man frustrated by the bumper-to-bumper traffic opened fire Wednesday at Moncks Corner police officers in Berkeley County.
Lucas Felkel, 35, was mortally wounded when a deputy fired back and died later at Trident Medical Center, the local sheriff's office said. No officers or deputies were injured.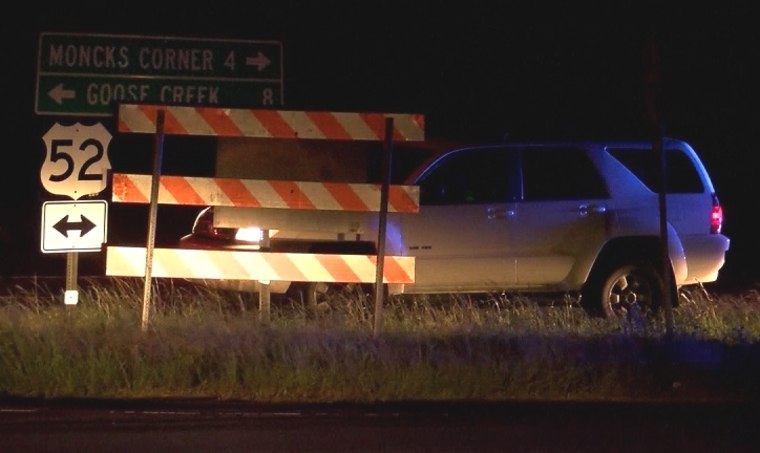 In North Carolina, Gov. Pat McCrory declared a state of emergency in all 100 counties of the state. Gov. Nathan Deal in Georgia has also declared a state of emergency in his state.