Hundreds of thousands of Americans headed for higher ground Wednesday as Hurricane Matthew barreled toward the Florida and South Carolina coasts and the death toll from the monster storm climbed to at least 25.
Evacuations were underway in Florida and South Carolina after Matthew, which hammered Haiti and strafed Cuba, began battering the Bahamas.
"We are preparing for the worst, we are hoping for the best, and we're not taking any chances," Florida Gov. Rick Scott said.
NBC News meteorologist Sherri Pugh said the latest data from the National Hurricane Center indicated that Matthew could shift to a dangerous path immediately along the coast of Florida near Melbourne and Daytona Beach on Friday, resulting in landfall and hurricane conditions for millions along the coast.
The path of the storm:
Wednesday night: Increasing hurricane conditions into Nassau and central/northern Bahamas.
Thursday morning: Some strengthening, with the worst conditions occurring in Nassau.
Thursday afternoon and evening: Matthew will be over the northern Bahamas, with some rain reaching southern Florida.
Friday morning: Highest impacts near Melbourne, Fla., with hurricane conditions and possible landfall.
Friday afternoon and evening: Central coastal Florida experiencing hurricane conditions through the day.
Saturday morning: Depending on the position, coastal South Carolina (around Charleston) or Savannah, Ga., could have strong wind and rain.
Saturday afternoon and evening: Matthew could be moving eastward, with Myrtle Beach, S.C., feeling lesser impacts.
"We have to prepare and assume we will have a direct hit by this catastrophic hurricane," with wind and storm surge the deadliest probable factors, Scott said at a news conference Wednesday evening.
"Please do not go to the beach and try to surf. This can kill you, and we cannot save you," he warned. "Wind strength is our biggest concern, regardless if the storm directly hits or or not."
Scott said that 1,500 National Guard members had been activated and that he had asked President Barack Obama to declare a federal emergency in 26 counties.
On Florida's east coast, mandatory evacuations were underway from the barrier islands in Brevard County, and many coastal residents in Duval, Volusia and Flagler counties were already starting to head inland. Drivers won't be charged tolls on major roadways leading out of the region, including all of the Florida Turnpike, officials said.
Photos: Boarding Up, Battening Down: Southeast Prepares for Matthew
In South Carolina, Gov. Nikki Haley ordered everybody out of the historic, low-lying cities of Charleston and Beaufort. In a bid to keep the highways from being clogged, Haley urged Georgetown and Horry County residents to sit tight until Thursday.
"What we're trying to do is, actually, because the storm changed, we are changing with the storm," Haley said. "Beaufort and Charleston definitely need to go ahead and plan on evacuating at 3 [p.m. ET], but we saw that because the storm had slowed down, we can move that evacuation for Georgetown and Horry to tomorrow morning."
South Carolina officials said Wednesday evening that more than 250,000 people had already been evacuated. Many hours before, westbound traffic on Interstate 26 was packed with motorists Tuesday night, many headed for the state capital, Columbia, where hotel rooms were already scarce.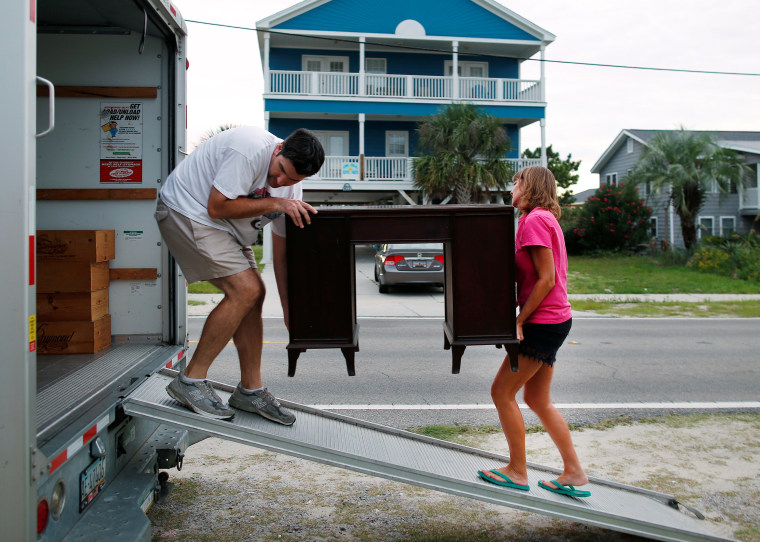 "The phones have been ringing off the hooks," said Jana Medlin, director of sales at the Inn at USC Wyndham Garden near the University of South Carolina campus.
People who stayed behind found empty shelves at the stores.
Related: Storm of Obstacles in Path of Thousands Fleeing Hurricane Matthew
James Cannon, assistant manager of a Lowe's Hardware in Myrtle Beach, said a shipment of 48 generators sold out within hours Wednesday.
"We're going to be splitting a truck [of supplies] with another store of ours in the area," Cannon told NBC station WMBF. "That's going to have your basic supplies — gas cans, chainsaws, batteries, clean-up materials, sand bags."
Meanwhile, Obama was briefed on the storm and the federal response at Federal Emergency Management Agency headquarters.
"I want to emphasize to the public: This is a serious storm," Obama said. "It has already hit Haiti with devastating effect. It is now in the process of moving through the Bahamas. Because it's not going to be hitting enough land, it is going to be building strength on its way to Florida."
So far, according to officials, the monster storm has been blamed for 25 deaths: 19 in Haiti, four in the Dominican Republic, one in the island chain of St. Vincent and the Grenadines and one in northeastern Colombia.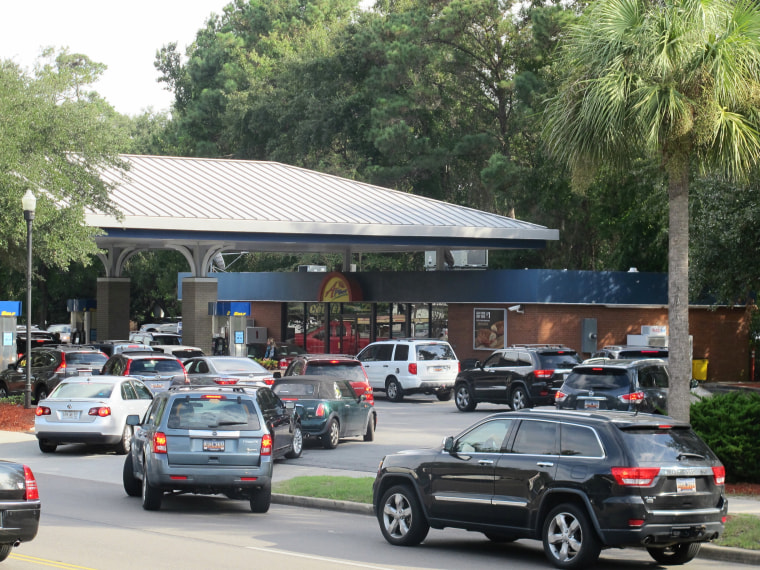 North Carolina Gov. Gov. Pat McCrory had also declared an emergency in 66 counties, but he expressed relief Wednesday as the latest models showed the storm moving away from the coastal areas of his state.
"I just hope that thing goes out to the ocean before it even hits our borders," he said.
But Matthew was changing plans all along the Atlantic coast Wednesday:
Amtrak canceled service Thursday and Friday along three major lines to Florida: the Silver Star from New York City to Miami, the Silver Meteor from Miami to New York City and Auto Trains 52 & 53 from Lorton, Va., to Sanford, Fla. No alternative transportation will be provided, Amtrak said.
Almost 1,100 arrivals and departures scheduled Thursday at U.S. airports have already been canceled, most of them in Florida: 512 in Miami and 287 in Fort Lauderdale.
The Coast Guard banned all vessel movements and ship-to-shore operations all south Florida terminals — including Port Miami, Miami River, Port Everglades, Port of Palm Beach and Port of Fort Pierce — because of expected fierce winds.
Country music superstar Garth Brooks canceled a concert scheduled for Friday in Orlando, Fla.
Shaw Air Force Base near Sumter, S.C., home to the 20th Fighter Wing, began preparations to evacuate all of its F-16 CM Fighting Falcon aircraft.
Patrick Air Force Base, near Cocoa Beach, Fla., home to the 45th Space Wing released all non-mission-essential personnel and ordered mandatory evacuations for personnel and residents on barrier islands and in manufactured homes.
Joint Base Charleston, near Goose Creek, S.C., prepared to shut down sections of the base and began evacuating it 29 aircraft.
Joint Base Langley-Eustis, near Newport News, Va., evacuated about 44 F-22 Raptor and T-38 Talon aircraft, along with 100 support personnel.
Numerous college football games this weekend were postponed, including Tulane University at the University of Central Florida in Orlando; Albany (Ga.) State at Charleston (S.C.) Southern; and Bethune-Cookman University of Daytona, Fla., at South Carolina State University in Orangeburg.
Other games remained in flux, including some marquee matchups: Florida State University at the University of Miami; the University of Georgia at the University of South Carolina in Columbia; Notre Dame University at North Carolina State University in Raleigh; Louisiana State University at the University of Florida in Gainesville; and Virginia Tech at the University of North Carolina in Chapel Hill.