With Hurricane Matthew forecast to hit the Southeast this week, millions of Americans are preparing for the worst.
How exactly the storm will impact the U.S. isn't yet clear. But if you're in the area that the Category 3 storm is eyeing, here is what you need:
Get your food and water now.
Don't wait — supermarket shelves are already emptying.
Have a gallon of water for each person in your house, enough for three days. Stock up on non-perishable food, such as canned items, and have a manual can opener on hand, in case your power goes out. If you have a grill, have plenty of propane and charcoal so you can heat up warm food as you hunker down.
Pack a bag you can quickly grab in case you need to evacuate.
Always obey local evacuation orders from authorities so you're not stuck in a life-threatening situation that emergency personnel can't get you out of.
Store basic emergency supplies in a "go bag" you can grab if you need to quickly leave your house. The Federal Emergency Management Agency recommends including the following in your bag:
prescriptions, medical equipment, eyeglasses
important papers and documents, either hard copies or electronic copies saved on hard drives or thumb drives
personal items: clothes, food, water, first aid kit, cash, phones, and chargers
priceless items, such as irreplaceable pictures
Check your flashlights and make sure you're prepared for leaks.
Turn on your flashlights and check to make sure the beam is bright. Replace any batteries that need to be now. Have extra batteries readily available.
Stock up on tarps and garbage bags, too. If your roof gets damaged by the storm, they can keep the water out; finding a roofer in the middle of a hurricane isn't easy.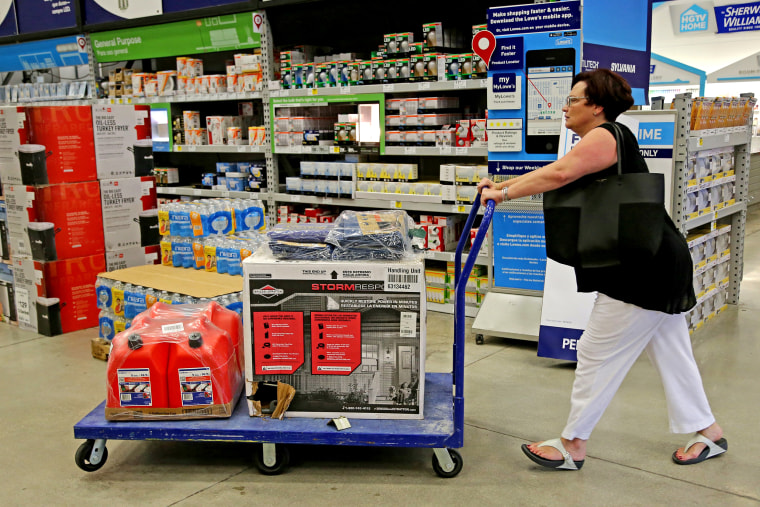 Be ready to be without power — for days.
If the electricity goes out, you won't be able to get weather updates via your phone, computer, or TV. Have a portable weather radio, along with extra batteries for it.
A generator to run the refrigerator or a small fan may also be useful. Have extra gas for it, but never run the generator inside or in the garage; keep it a safe distance away from your home so fumes don't pose a danger.
Don't forget to stock up on cash ...
... in case power goes out, ATMs don't work, and credit cards aren't accepted.
And don't forget about pets.
Have a stash of three days' worth of pet food for your furry friend, just as you would for yourself. The Humane Society recommends putting collars and identification tags on cats and dogs. Microchipping is also great, but in the event that you're separated from your animal, collars will be the easiest way for the average person to identify them. Put your cell phone number on your pet's tag, and in case you need to evacuate, put the number of a friend or relative outside your immediate area on there, too.
The Humane Society has a list of pet-friendly lodgings available here.