Hurricane Matthew continued to whip up the southeastern seaboard Saturday, killing at least 11 people after thrashing Florida and toppling trees and power lines and washing out roads, officials said.
Matthew made landfall Saturday morning south of Myrtle Beach, South Carolina, after dousing historic cities and slashing power to hundreds of thousands.
The storm weakened to a Category 1 hurricane overnight after being blamed for at least five deaths in Florida.
Matthew was also linked to three deaths in Georgia on Saturday and three in North Carolina.
Related: Carolina Coast Braces for Flooding as Hurricane Matthew Heads North
Hundreds of people had already been killed in impoverished Haiti when Matthew carved a long trail of devastation across the Caribbean.
The death toll in Florida was not nearly as dire as feared, but Matthew still had the strength to wreak havoc across the Southeast.
North Carolina Gov. Pat McCrory said Saturday that the hurricane killed three people in the state. Two died during a car crash after a vehicle hydroplaned on a wet road in Sampson County, and one person died when their vehicle was submerged in high waters in Bladen County, according to the North Carolina Emergency Operations Center.
Nearly 370,000 customers across the state were without power Saturday evening, according to utility companies.
"We're already starting to see houses being impacted, and the heart of the storm is starting to hit us," North McCrory said at a news conference. He warned of as much as 15 inches of rain and what could be the worst flooding since 1999, when Hurricane Floyd ravaged the state, killing 52 people and causing billions of dollars in damage.
Roadways in Cumberland County were filling up quickly with water, and emergency crews had already made eight water rescues, officials said Saturday afternoon. A county news release warned residents to stay off the roads and shelter in place, and called the situation "critical and life threatening."
Matthew was already slamming the Georgia and South Carolina shorelines with ferocious winds and rain Saturday morning.
The storm made landfall southeast of McClellanville, about 35 miles northeast of Charleston. The historic city was inundated with floodwaters as surrounding areas braced for potential destruction.
Some coastal areas had already been doused with up to 14 inches of rain by Saturday morning, said John Quagliariello, a National Weather Service meteorologist in South Carolina. He said many eastern parts of the state were seeing "extensive" flash flooding.
The storm was headed northeast, where it was expected to bring 5 to 7 foot storm surges on the coast and up to 7 more inches of rain, Quagliariello said.
"It's still a very serious situation," said South Carolina Gov. Nikki Haley. "We are not out of the woods."
"Most injuries, most fatalities occur after a storm because people attempt to move in too soon. Do not plan on going back home or tomorrow," Haley told the more than 6,600 residents who were in shelters after evacuating their homes.
She said no deaths had been reported yet, but the storm is the worst the state has seen in a quarter of a century.
More than 762,000 customers across the state were without power, Haley said.
PHOTOS: Southeast Grapples With Hurricane Damage
Another 250,000 customers were also in the dark in coastal Georgia, according to the AP.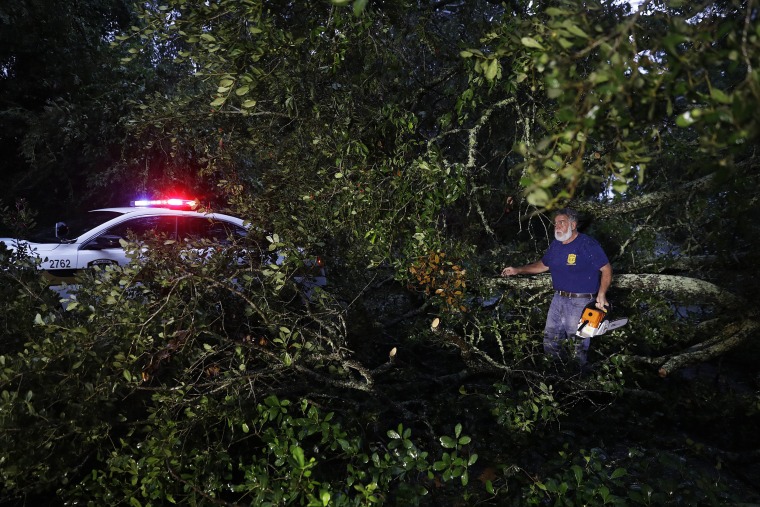 Richard Plyant, the deputy coroner of Bulloch County, Georgia, said that two people had died there. A 28-year-old man was killed when a tree fell and crushed his vehicle, and another man died when two trees fell on his home, Plyant said. Another man died when a tree fell on his home in Chatham County, according to police.
"If we had a direct landfall, the consequences would have been worse," Georgia Gov. Nathan Deal said during a news conference Saturday.
Still, Deal also cautioned residents not to return to their homes until they were told it was safe. "I know many of you are anxious to get home but be cautious and careful," he said, adding that he would ask the federal government for assistance.
President Barack Obama spoke to Deal, Haley, McCrory and Florida Gov. Rick Scott, the White House said Saturday.
The president reiterated his commitment to providing federal aid in those states where he had already declared emergencies, the White House said.
By and large, Matthew spared much of Florida, sidestepping the Miami and Fort Lauderdale areas. But Scott said Saturday that about a million people still lost power in his state.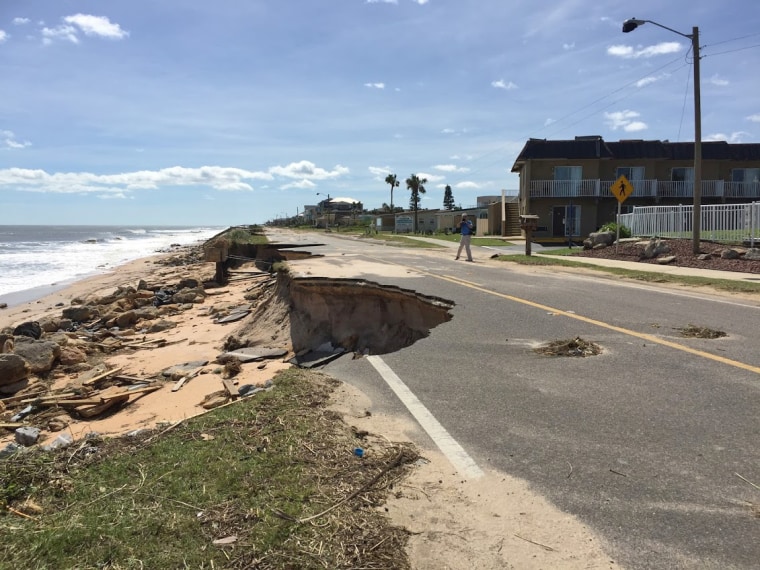 After touring the damage Saturday, Scott said the biggest problems were beach erosion and road destruction. If the storm had made landfall on the coast, he added, the effects would have been far more devastating.
The deepest pain was inflicted on Haiti, where the death toll reportedly soared past 800. NBC News could not immediately confirm that figure.
The first reports trickling in from the remote southwestern peninsula hit hardest by the storm were dire. The United Nations warned that more than a million people were directly affected by Matthew and that some 350,000 people were in desperate need of humanitarian assistance. Tens of thousands of people were left homeless, and the cleanup began.
More than 500 U.S. Marines were headed to Haiti aboard the USS Iwo Jima, which was carrying 800 cases of bottled water and other necessities.
"We have nothing left," Saintful Jean Perpetu, who lives in the storm-ravaged town of Jeremie, told reporters. "Our personal things, important documents like birth certificates — it's all gone. We sleep on streets with our children and nobody came to help us until now. "
The monstrous storm, Perpetu said, "took shirts from our backs."
Haiti, the poorest country in the Western Hemisphere, has been beset by disaster for many years. In addition to hurricanes, the island was rocked by a catastrophic earthquake in 2010 that killed more than 220,000 people, left 1.5 million others homeless and caused an estimated $14 billion in damage — a series of misfortunes from which it still has not recovered.