Hurricane Matthew, the most powerful Atlantic tropical storm in almost a decade, was gearing up to deliver a potentially devastating blow to the Caribbean as wary U.S. authorities began preparing for a possible landfall on the Atlantic Coast late in the week.
Well before its expected arrival sometime early Tuesday, Matthew was already pouring torrential rain on Haiti, where "staggering rainfall totals are possible," said Rick Knabb, director of the National Hurricane Center.
National and international authorities were rushing to meet what was being predicted as a humanitarian disaster in Haiti, the poorest nation in the Western Hemisphere, which is still struggling to rebound from a series of earlier natural disasters.
Related: Haiti's Forlorn History Suggests Matthew Could Be Another Killer
At 11 p.m. ET Monday, Matthew was a category 4 hurricane, making it the most powerful Atlantic storm since 2007. It was 190 miles southwest of the Haitian capital, Port-au-Prince, and was creeping along at just 7 mph with slightly stronger sustained winds up to 145 mph.
Projections of the potential disaster in Haiti were so dire that the U.S. Embassy in Port-Au-Prince felt compelled to reassure people that as far as it knew, there was nothing yet that "indicates that southern cities will 'disappear.'"
Matthew is "just an absolute powerhouse," said Ari Sarsalari, a meteorologist for The Weather Channel. And besides Haiti, it will be "a really nasty storm in Jamaica and eastern Cuba," he said.
Photos: Caribbean Nations Evacuate as Hurricane Matthew Approaches
All of Haiti and Jamaica were under hurricane warnings Monday night, along with the southeast and central Bahamas and the Cuban provinces of Guantanamo, Santiago de Cuba, Holguin, Granma and Las Tunas.
In Jamaica, worried residents in Kingston were boarding up the windows of their homes and reportedly stocking up on staples like food, water and even beer.
In Cuba, where Matthew was expected to arrive Tuesday, the government had already evacuated 665,000 people from Santiago de Cuba and other eastern cities, moving them inland to safety.
The U.S. government airlifted 700 civilians and 70 pets from its naval base at Guantanamo Bay to Pensacola, Fla., said Capt. Jeff Davis, a spokesman for the Pentagon. Davis declined to say whether any of the 61 detainees had been moved from their cells.
The U.S. Agency for International Development said Monday night that it was sending a disaster response team to the central Caribbean to coordinate relief and supplies. It said it was sending $400,000 in initial assistance to help humanitarian organizations provide critical relief.
By Wednesday, Hurricane Matthew could be in the Bahamas and possibly in the Turks and Caicos Islands. The U.S. Embassy in Nassau late Monday urged U.S. citizens in the Bahamas to take steps to shelter in place if they haven't already made arrangements to leave the country.
Overall, the National Hurricane Center said Monday, 15 to 25 inches of rain — with isolated totals up to 40 inches — could fall on southern Haiti and southwestern areas of the Dominican Republic. It projected 8 to 12 inches in the Bahamas, northwestern Haiti and eastern Cuba.
After that, the storm could be heading for Florida, where "direct hurricane impacts are possible" later this week, said Michael Brennan, a forecaster for the National Hurricane Center.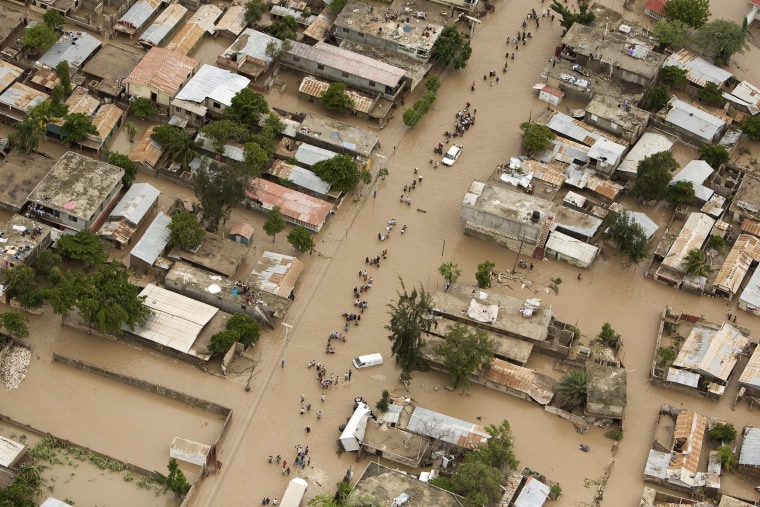 Sarsalari said late Monday that whether the storm hits the U.S. coast depends on which turns out to be stronger: a cold front developing over the East Coast, which would push the storm east toward the Atlantic Ocean, or high pressure over the Atlantic, which would push it toward land.
"The high pressure may end up winning out — that's going to be quite a wall to get past," he said.
TODAY weather anchor Al Roker said there's a chance that by Saturday afternoon, Matthew will still be a category 2 hurricane with 105-mph winds. And with the western third of forecasters' so-called cone of uncertainty — the possible track the storm could take — hovering over the Atlantic Coast, "we're going to have to continually watch this right into the weekend," he said.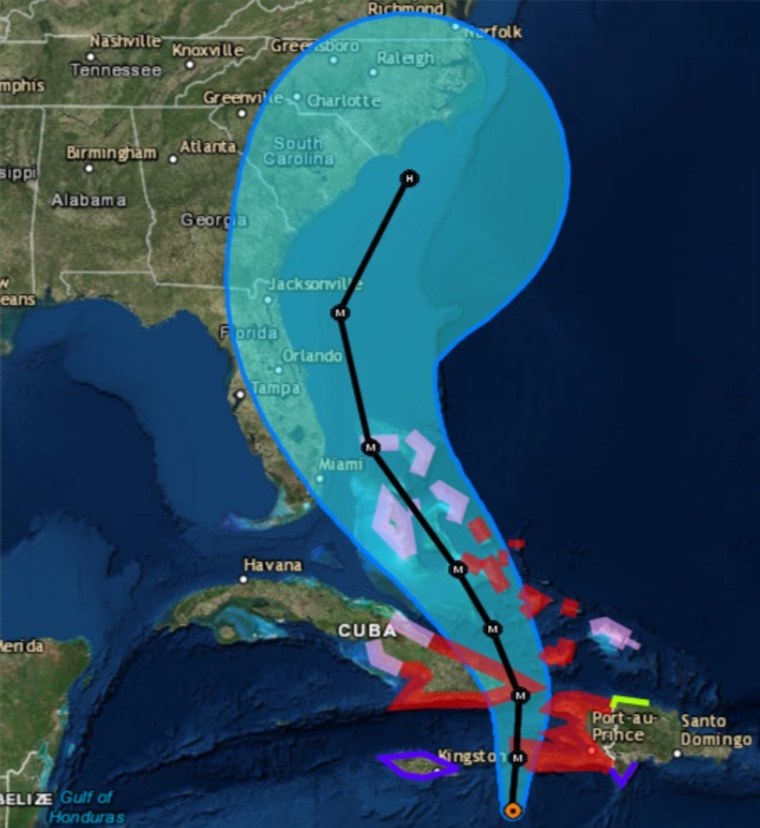 The governors of Florida and North Carolina, meanwhile, were taking no chances. Florida Gov. Rick Scott activated a state of emergency in all counties Monday afternoon.
"Right now, the projected path is a little off the coast, but it can change at a moment's notice," Scott said at a news conference. "When that happens, we're not going to have a lot of time to get ready."
North Carolina Gov. Pat McCrory declared a state of emergency in 66 counties, saying, "We want to be prepared."
"While we do not yet know how Hurricane Matthew will impact North Carolina, we do know that we can expect some form of impacts on our state," McCrory said at a news conference.
"Already, we've seen substantial flooding in eastern and central parts of the state from recent rain events, and many areas are already saturated," he said. "We are taking this storm seriously, and I encourage residents and visitors do the same."