Hurricane Matthew was expected to drop potentially "life-threatening" rainfall in Haiti along with gusting winds and dangerous surf in the poverty-stricken nation and other parts of the Caribbean, forecasters said Saturday.
Hurricane warnings were issued for Jamaica and most of Haiti Saturday night as Category 4 Matthew barreled toward the coast carrying winds of 150 mph, according to the National Hurricane Center. The storm was "barely moving" Saturday evening, the hurricane center said, but it was expected to pick up speed.
At 8 p.m. Saturday, the storm was centered about 360 miles south-southwest of Port-au-Prince, Haiti and wasn't expected to make landfall until Monday, but the hurricane center warned that time was running out to prepare for Matthew's arrival.
Tropical storm conditions would hit Haiti and Jamaica on Sunday "making outside preparations difficult or dangerous," the hurricane center said. "Preparations to protect life and property should be rushed to completion."
Southern Haiti could expect more than 15 inches of rain, with up to 40 inches in some areas, while 20 inches could fall in Jamaica.
In Jamaica, high surf began pounding the coast and flooding temporarily closed the road linking the capital to its airport. Carl Ferguson, head of the marine police, said people were starting to heed calls to relocate from small islands and areas near rural waterways.
Jamaicans were rushing to stores to stock up on necessities Saturday, NBC Miami reported.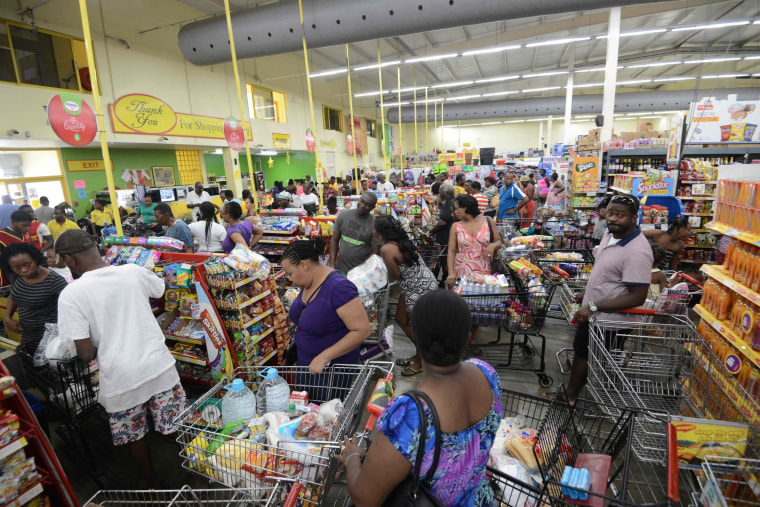 "I left work to pick up a few items, candles, tin stuff, bread," 41-year-old Angella Wage told The Associated Press at a crowded store in the Half Way Tree area of Kingston. "We can never be too careful."
Dennis Feltgen, a spokesman at the Hurricane Center, said storm force winds and rain will arrive well before the center of the storm. Jamaicans "basically have daylight today, they have tonight and they have daylight tomorrow to take care of what needs to be done," he said.
Jamaica's prime minister, Andrew Holness, urged residents to comply with evacuation orders for low-lying areas, Reuters reported.
"What we know is that we will be impacted by this storm. All the models show that Jamaica will be within the 90 percent effect band of this storm," Holness said. "What we have control over is our ability to prepare. We hold firm in the view that preparation can reduce loss of life and property."
Storm surges in Jamaica could reach 2 to 4 feet above normal tide levels, while in Haiti they could reach 5 to 8 feet, according to the hurricane center.
And in Cuba, the storm surge could swell to 11 feet.
Parts of Cuba and the Dominican Republic could expect up to 25 inches of rain, which could cause life-threatening flash-floods and mudslides, according to the hurricane center.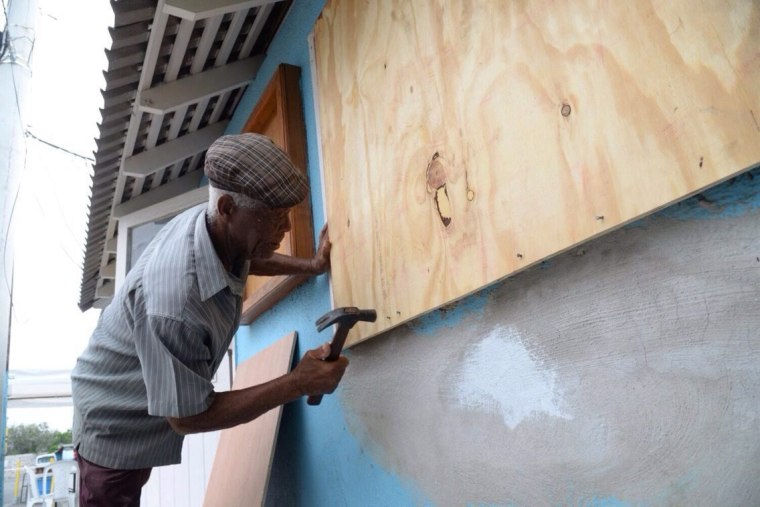 The U.S. Navy base at Guantanamo Bay, Cuba, is also potentially in the path of the storm. A mandatory evacuation of non-essential personnel, including family members of military personnel was underway and everyone remaining behind was being told to take shelter, said Julie Ann Ripley, a spokeswoman. There are about 5,500 people living on the base, including 61 men held at the detention center.
Authorities in the La Guajira peninsula of Colombia said that at least 27 houses were damaged and two roads were washed out as Matthew brushed passed South America. One person, a 67-year man, was carried away to his death by a flash flood.
Matthew had already caused another death when it entered the Caribbean on Wednesday. Officials in St. Vincent reported a 16-year-old boy was crushed by a boulder as he tried to clear a blocked drain.
The storm is expected to make its way toward the Bahamas later in the week, but Feltgen said it's too early to tell what impacts the storm might have in the U.S.