Thieves using Hurricane Matthew as cover plundered a South Carolina gun shop and made off with 229 weapons worth at least $200,000.
And now, the federal Bureau of Alcohol, Tobacco, Firearms and Explosives is offering a reward of up to $10,000 for information leading to the recovery of the arsenal — and that is being matched by the National Shooting Sports Foundation, the trade association for the firearms industry.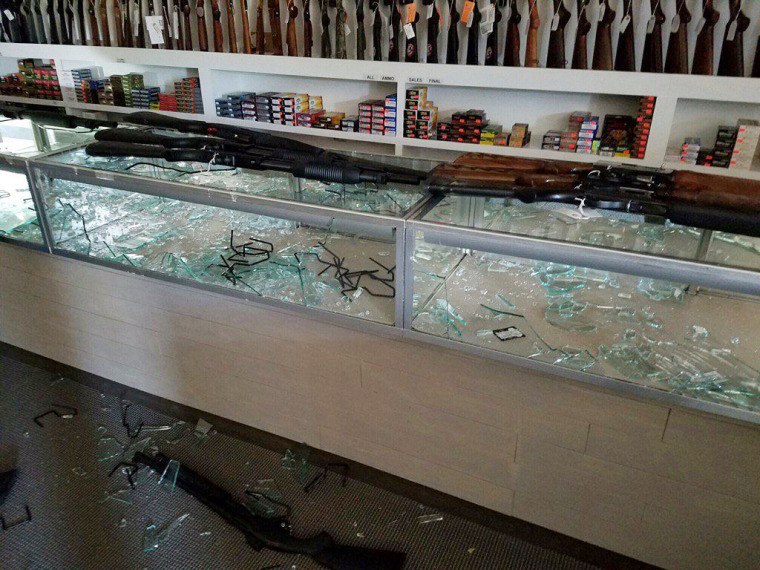 "It wasn't just run-of-the-mill handguns they took," Daniel Huneycutt, owner of Five Star Gun in Longs told NBC News on Friday. "There were some engraved guns, a lot of nice collector guns. They took a gold-plated German Luger."
Two hundred of the stolen weapons were handguns, among them several Glocks and Rugers, Huneycutt added.
The rest were rifles, he said, including some high-powered AR-15's and AK-47's and "one or two shotguns."
Related: The Truth About Guns and Gun Control
The robbery happened on Oct. 9 while the Palmetto State was being battered by the storm, according to the ATF, which is investigating the theft along with the Horry County Police Department.
When Huneycutt returned to his shop, he said he found the windows and display cases shattered and much of the stock gone.
Anyone with information about this crime is asked to contact the ATF at 1-800-ATF-GUNS (800-283-4867) or via email at ATFTips@atf.gov. All calls will be kept confidential.