It was bright and sunny Tuesday over much of North Carolina, but Hurricane Matthew was still laying waste to the eastern part of the state, where deadly flooding will continue to worsen for days, forecasters said.
Authorities said Tuesday that three more people had died in North Carolina as floodwaters continued sweeping the state, raising the death toll to 17, Gov. Pat McCrory said at a news conference.
At least 36 people had been killed by Hurricane Matthew across five Southeastern states.
Related: Hurricane Matthew Blamed for Six More Deaths in North Carolina
With Matthew long gone, the sun was beaming down on much of the state — but major rivers were continuing to rise as the state's tributaries slowly disgorge as much as a foot and a half of rain.
More than 165,000 customers were without power Tuesday night, the state's major electric utilities reported. President Barack Obama declared a new state of emergency for 31 counties in the eastern half of the state.
"You can have all the rain stop — the storm's gone, it's beautiful and sunny outside — but those rivers, they just keep on swelling, and they keep on rising," said Ari Sarsalari, a meteorologist for The Weather Channel.
McCrory and other state officials urged North Carolinians not to be fooled by the sunny conditions.
"In certain parts of the state, we're still going through ongoing floods, and now we have other parts of the state that are about to deal with some very serious circumstances," McCrory said.
"Too many people have died, and we don't want any more to die, and yet there are going to be conditions during the next 72 hours which will be extremely dangerous," he said.
The Neuse River is expected to reach 30 feet by Friday — 2 feet higher than it did after Hurricane Floyd, which created floods that destroyed several towns in 1999 — the National Weather Service said. Residents of Lenoir County along the Neuse were ordered to evacuate Monday, and an indefinite 9 p.m.-to-7 a.m. curfew was enacted Tuesday.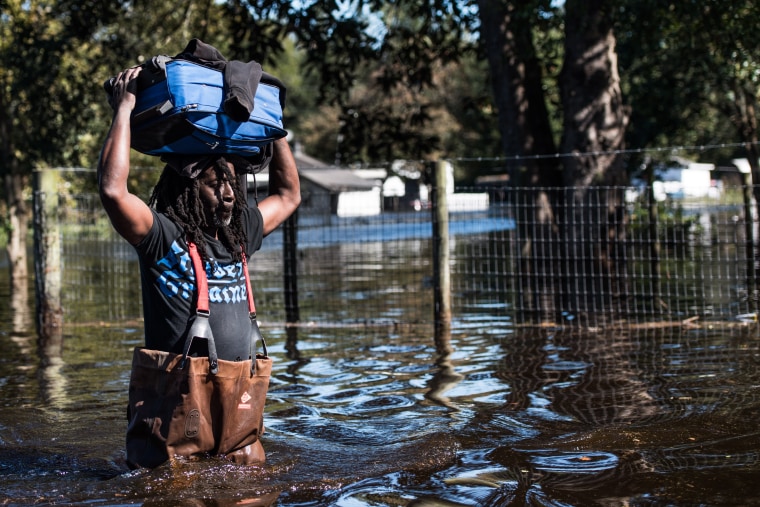 A little farther north, in Goldsboro, about 800 inmates at Neuse Correctional Institution were transferred to other prisons as the Little and Neuse rivers continued to rise.
National Guard members worked frantically Tuesday to fill a growing hole in a dam on Wood Lake in Moore County, which is fed by the Little River, NBC station WRAL of Raleigh reported. Authorities said that if the dam breaches, rushing water could raise flood gauges as much as extra 3 feet above where they already are.
"In some spots, it's going to get worse in the next couple of days," Sarsalari said. Along the Tar River, "some areas will remain at flood stage through next week," he said.
That's especially ominous for Greenville, in Pitt County about 25 miles northeast of Goldsboro, where the Tar could reach almost 25 feet by Wednesday night, the National Weather Service projected. That's 12 feet above flood stage — and 6 feet above what the weather service calls "major flood stage."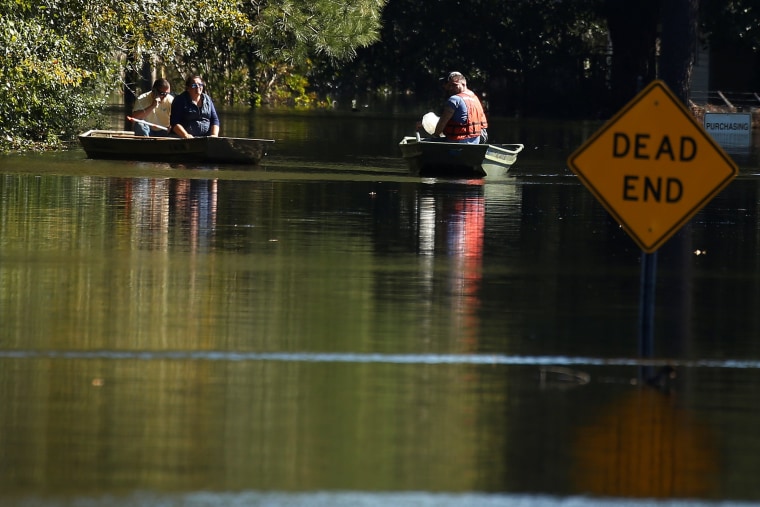 The weather service said readings like that portend "widespread flooding of a magnitude not seen in many years," possibly overflowing downtown Greenville itself and leaving all major roads impassable.
Pitt-Greenville Airport is expected to remain closed at least through Friday as flooding has swamped the main runway with half a foot of water, NBC station WITN reported. The city ordered a mandatory evacuation of about 4,000 residents in areas on both sides of the river and imposed a midnight-to-6 a.m. curfew.
"You can't control Mother Nature, but you can control how you respond to a situation like this," Greenville Mayor Allen Thomas said at a news conference. "Don't let the blue skies fool you. This is a rolling situation and still dangerous."