A flood of families crossing the southwestern U.S. border illegally is prompting the Obama administration to revive a much-criticized detention program that previously led to children and their parents being held for extended periods of time in harsh prison-like conditions.
Figures released last week by Customs and Border Protection show more than 55,000 "family units" – at least one adult relative traveling with one or more children-- were apprehended crossing the border in fiscal 2014. That figure is an increase of nearly 500 percent from the previous year and dwarfs the 106 percent spike in unaccompanied children -- to more than 57,000 --- that has received so much attention in recent months.
Now the Obama administration is rushing to open up detention centers to hold the families -- mostly women with children from El Salvador, Guatemala and Honduras -- and is working out streamlined procedures to quickly send them back to their homelands, a turnabout in policy that is being widely panned by immigrant advocates.
"The fact that these mothers have fled violence to protect their children, to protect their own lives, to protect their families' lives is not being heard by the federal government," Royce Bernstein Murray, director of policy at National Immigrant Justice Center, said Thursday.
Family detention has for years been one of the most controversial parts of the American immigrant detention system, the world's largest.
Unaccompanied immigrant teens and children, who are routed to a network of shelters run by non-profit and religious groups and overseen by the Department of Health and Human Services pending immigration court hearings. But families apprehended along the border are increasingly being treated like single adult immigrants: locked up in secure facilities to await what is intended to be expedited deportation back to their home countries.
The U.S. has tried large-scale family detention before. That operation sparked a lawsuit after it was discovered that children and their parents were being held in a former prison for long periods in punitive conditions.
In 2007, advocates sued the Department of Homeland Security, alleging it was keeping families at the 512-bed T. Don Hutto Residential Center near Austin, Texas, under virtual 24-hour lockdown and denying them privacy, educational opportunities and adequate health care. The lawsuit, filed by the American Civil Liberties Union and other immigrant advocates, said toddlers in prison garb spent most of the day locked in their cells at the private facility run by the Corrections Corporation of America, waiting for head counts. When the ACLU investigated in December 2006, it said some children had not stepped outside in a month.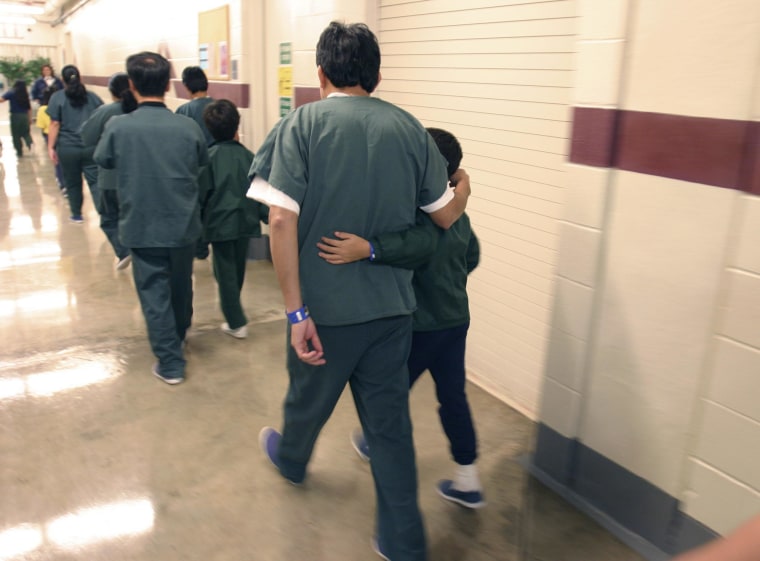 "The conditions were truly horrible," said Vanita Gupta deputy legal director of the ACLU, who helped bring the lawsuit.
The suit was settled and the government agreed to changes at what was then the nation's largest family detention facility. Then in 2009, the Obama administration announced a widespread overhaul of its detention system that included shuttering Hutto. ICE kept open only one small family detention facility in Pennsylvania, releasing most families with an order to appear in court when notified of immigration proceedings.
The unprecedented number of families apprehended at the border in the last year has led to a reversal of that policy. The Obama administration is in the process of ramping up operations at two new federal detention centers to house immigrant families – in Artesia, New Mexico, and Karnes City, Texas – adding about 1,100 beds. That's only the beginning of what could be a far larger family detention system if President Barack Obama's $3.7 billion emergency funding request to address the border crisis is approved. It includes $879 million to track, detain, prosecute and remove those families. It also would pay for additional 6,350 family detention beds, which cost the government an average of $119 a day, to house them and open 23,000 daily slots for alternatives to detention, including electronic ankle bracelets to track those released.
The move is part of the administration's effort to quash rumors in Central America that families who make it to the across the Rio Grande can stay.
"Our message is clear to those who try to illegally cross our borders: You will be sent back home," Homeland Security Secretary Jeh Johnson testified before the Senate Appropriations Committee on July 10.
Detention is one part of a broad effort by the Obama administration to facilitate "expedited removal" of these families, which generally reduces opportunities to go before a judge and explain their cases. While the U.S. has for years had the authority to speed removal of families apprehended within 100 miles of the border and in the country for less than two weeks, the procedure has been little used. Instead, they were generally released and told to report to immigration court.
"There are alternatives to detention that are far less costly, and far more appropriate, for kids and their parents fleeing persecution in their home states."
Immigrant advocates say that reinstating widespread detention of immigrant families is a step in the wrong direction.
"I have very little confidence that DHS will be able to scale up family detention in a way that ensures that conditions are safe, humane and appropriate for kids and their parents," said Ruthie Epstein, a policy analyst with the ACLU. "There are alternatives to detention that are far less costly, and far more appropriate, for kids and their parents fleeing persecution in their home states."
As ICE resumes widespread family detention, the facilities chosen thus far suggest the lessons of Hutto have not entirely been forgotten.
The first, a 672-bed center in Artesia, New Mexico, is located on federal law enforcement training campus. Families sleep in rooms with bunk beds and are allowed outside, though they remain overseen by guards and the secure facility. By August there will also be schooling for the kids, as state law requires.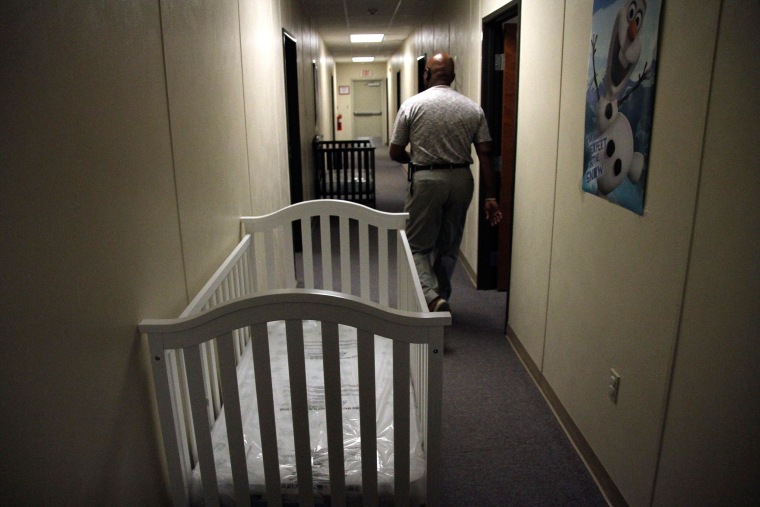 Opening on federal land circumvented many roadblocks that have stymied the opening of facilities for unaccompanied minors elsewhere. But immigrant advocates say the rush to open may compromise Homeland Security Secretary Johnson pledge that detention and expedited deportation proceedings for families will be "consistent with all existing legal and procedural standards."
Officers at Artesia were still scrambling this week to put up signs detailing people's rights, and even then, many were only in English, said Madhuri Grewal of Detention Watch Network, who toured the facility on Tuesday. Parents interviewed there described being confused about the process and their rights, and expressed concern their children were losing weight and becoming depressed or suicidal, advocates said.
Grewal is also concerned that families there may not know those with "credible fear" of persecution or torture if returned to their countries have a right to apply for asylum.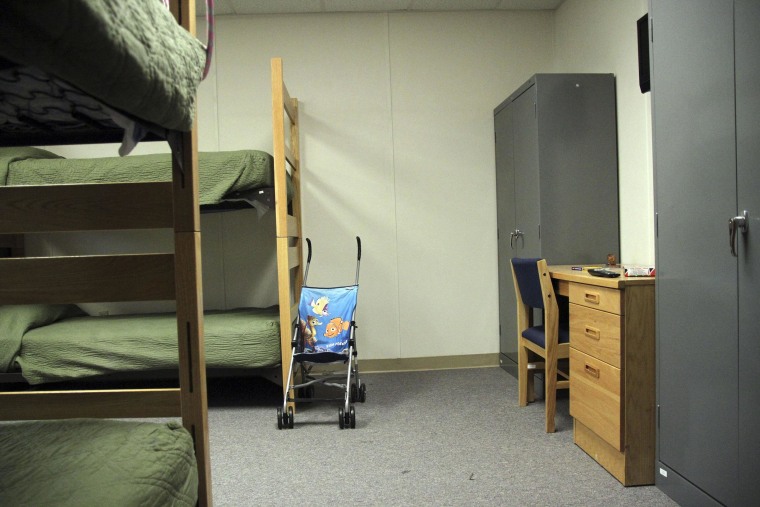 "A lot of these women do have a fear of returning but they are not being afforded to process that we do have in place," said Grewal. "It's a total circumvention of the law."
According to the DHS, 100 adults and children have been removed in both expedited and traditional proceedings since Artesia opened, and the administration has pledged to continue the swift removals, which it says are legal.
About 600 more family beds will soon open up at the Karnes County Civil Detention Center in Karnes City, Texas. The center, run by the private GEO Group, was built to serve as a model of less punitive immigration detention, with a soccer field and eight-bed rooms rather than cells.
ICE modified its contract with GEO on July11 to switch Karnes from a men-only facility to one for families, slated to open within weeks. GEO, which earned $240 million last year through its contracts with ICE, according to its annual filing declined a request for comment on the facility and the contract modification, referring NBC News to ICE. The Department of Homeland Security, ICE's parent agency, did not respond to repeated requests for comment on the amount or length of the contract.
GEO, which owns a subsidiary company with a five-year, $372.8 million contract to perform electronic monitoring for ICE, may also benefit if Obama's request to have 23,000 family members placed on alternatives to detention, which would likely include ankle monitors, is approved.
Related
Reagan-Era Rule Locked Up Immigrant Children
7-Year-Old Reunited With Mom After Grueling Trek to U.S. Border
Boehner Prods Obama on 2008 Migrants Law
It remains unclear to what extent Congress will be willing to fund family detention – or whether it will even be able to reach an agreement on spending to address the border crisis.
The Senate has floated a proposal of $2.7 billion, far short of Obama's request for $3.7 billion. Some Senate Democrats have balked a push by both Republicans and the President to amend a 2008 anti-human trafficking law to allow unaccompanied children from Central America to be more quickly deported. At the moment, unaccompanied minors from Central America must go through formal proceedings, while those from contiguous countries like Mexico can be deported immediately.
A House Republican working group on Wednesday unveiled a $1.5 billion proposal that also would require amendment of the law to speed deportation of unaccompanied minors. Rep. Kay Granger of Texas, the chairwoman of the group, said the package contains "common-sense, compassionate, but tough solutions."
Both proposals include expanding detention of families apprehended along the border, indicating that even if Congress remains deadlocked, the president would likely have a free hand to increase family detention.
Follow NBC News Investigations on Twitter and Facebook.
The 1,100 beds opening for families in a span of just two months already represents the largest expansion of family immigration detention the country has ever seen. While the administration has called Artesia temporary, it is not clear when -- or if -- the facilities that are opening will be scaled back or closed.
That alarms immigrant advocates who remember Hutto.
"Warehousing kids and their parents is not something that the United States should be known for, certainly not on a scale proposed by the president," said the ACLU's Epstein. "Ultimately what we're looking at is a net expansion of detention in this country. It's not the appropriate response to this immediate crisis."