Demonstrators interrupted Department of Homeland Security Secretary Kristjen Nielsen's dinner at an upscale Mexican restaurant in Washington on Tuesday night to express their outrage over the separation of children from their migrant parents at the U.S. southern border.
"We call on you to end family separations," a member of the Metro D.C. chapter of the Democratic Socialists of America shouted as protesters filed in to MXDC Cocina Mexicana, chanting, "Shame, shame, shame," and other slogans.
"Homeland Security Secretary Kirstjen Nielsen is in a Mexican restaurant of all places," one of the demonstrators said, according to video of the incident. "The ... gall. Shame on you."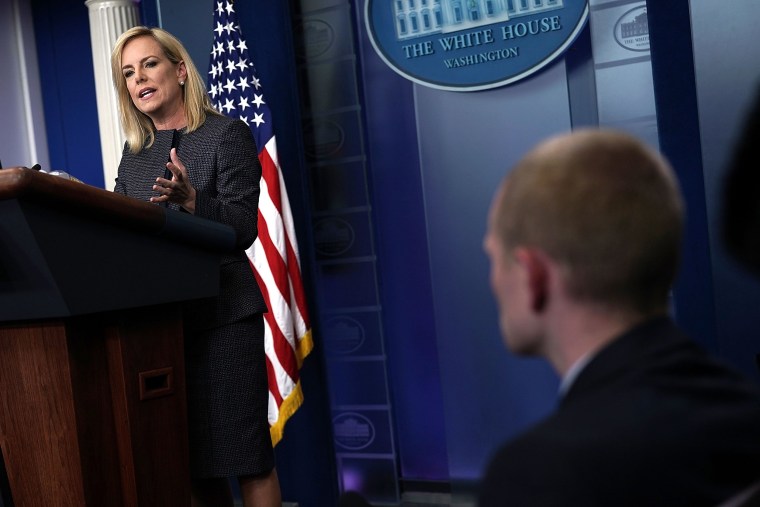 At a White House briefing Monday, Nielsen defended the Trump administration's newly enforced "zero tolerance" policy for people trying to cross into the U.S. from Mexico without visas. Nielsen falsely claimed that federal law requires family separation when parents, even those legally seeking asylum, are held for prosecution. And she said family separation is not a new policy.
Reports of young children left crying in border processing centers and in "tender age" shelters in South Texas touched off several protests Tuesday across the country.
So far this spring, more than 2,300 child migrants have been separated from parents — many fleeing violence in Central America — and housed, at least temporarily, in the federal and nonprofit-run childcare facilities in border states.
At least 13 Democratic lawmakers, citing the falsehoods and the execution of the "zero tolerance" policy that has torn toddlers and teenagers away from mothers and fathers, have called on Nielsen to resign. A number of Republicans have also called on President Donald Trump to reverse the policy.
"So we say you can't enjoy dinner until you reunite all those families," one demonstrator at the restaurant told Nielsen as two men in suits stood between the secretary's table and a half-dozen or so protesters.
"End Texas concentration camps," members of the group shouted at her.
In a statement the Democratic Socialists said that police responded and tried to detain demonstrators "to no avail."
Homeland Security spokesman Tyler Q. Houlton said in a statement that the demonstrators "share [Nielsen's] concern with our current immigration laws that have created a crisis on our southern border."
He said the secretary encourages the protesters to "reach out to members of congress and seek their support to close the terrible immigration loopholes that have made our system a mess."
The secretary exited the restaurant shortly after the demonstrators were shooed out by police, according to the Democratic Socialists.
Larger demonstrations were held in other cities across the country, including in San Francisco, where hundreds of protesters outside of the U.S. Immigration and Customs Enforcement's headquarters chanted, "Stop taking the children!" and shut down a street for two hours.
"Our country was built on immigrants, and they are denying them basic human rights and treating them inhumanly," said Algazzali Gonzalez, a mother with a 9-year-old daughter, according to NBC Bay Area.
Outrage also hit Philadelphia, where Vice President Mike Pence was dining Tuesday night at a Republican Governors Association fundraiser. At a nearby park, empty children's shoes were left to symbolize those being held in facilities without their parents.
Protesters attempted to march down the street, but were blocked off by police. One person was arrested, reported NBC Philadelphia.
In New York, hundreds did march peacefully from Union Square Park to the ICE offices in Lower Manhattan, also leaving a collection of small shoes and crying, "Let these children go!"
More protests were planned for Wednesday, including in front of the Massachusetts Statehouse in Boston; in Springfield, Missouri, outside the office of Republican Sen. Roy Blunt; and in Pensacola, Florida.