Under the scalding sun, dozens were crowded into the back of an 18-wheeler until a stop at a Texas Walmart on Sunday revealed that several had died, according to authorities.
More were critically ill from heat exposure and dehydration.
Although the origin and destination of those in the truck were unclear, police deemed the incident a case of human trafficking.
"We're looking at a human trafficking crime here this evening," San Antonio Police Chief William McManus told reporters on Sunday.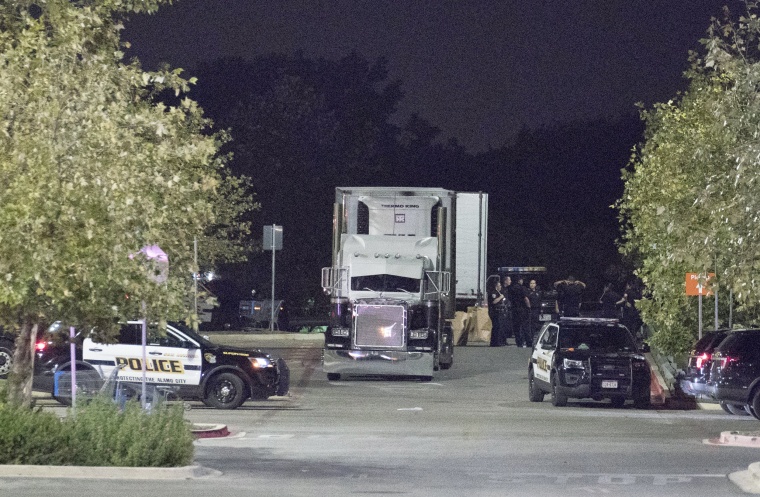 However, Thomas Homan, acting director of U.S. Immigration and Customs Enforcement, referred to the "horrific" incident as a case of human smuggling, saying smuggling networks "have repeatedly shown a reckless disregard for those they smuggle."
Experts said it remains unclear whether the migrants were the victims of human trafficking or human smuggling — which "are distinct criminal activities, and the terms are not interchangeable," ICE says on its website.
Human smuggling centers on transportation and evading the immigration laws of the United States, according to ICE. Human trafficking is based on the exploitation of people by fraud, force or coercion.
Human trafficking is also broken into two categories: sex trafficking and labor trafficking.
While sex trafficking relates to a person who is forced to engage in a commercial sex act, labor trafficking is when a person is subjected to involuntary servitude, peonage, debt bondage or slavery.
"This case of transporting people is being described as trafficking when it's about smuggling," Denise Brennan, a professor at and chairwoman of the anthropology department at Georgetown University, told NBC News. "It's about the transport of individuals. They're going to be transported over borders that they don't have legal access to cross. That's not trafficking."
Brennan, who has written several books about trafficking and has worked with victims for more than 10 years, said the real beneficiaries of smuggling are the smugglers.
"The word is that it's just costing more and more money to cross," she said, so smugglers are charging more.
"People who are going to return to home or start a new life or are fleeing violence and can't look back, they take the terms that they're handed," she said.
Related: Flight Attendants Train to Spot Human Trafficking
Few statistics are available on the number of people smuggled or trafficked into the United States, based on the secret nature of the act.
Justine Whelan, a spokeswoman for the Department of Homeland Security, told NBC News in an email in April that 42,000 front-line Customs and Border Patrol officers and Border Patrol agents protect nearly 7,000 miles of land border and 328 ports of entry. That includes crossings by land, air and sea.
Immigration into the United States remains a hot-button issue in the current political arena, and smugglers — sometimes called "coyotes" along the southern border — can use an increase in difficulty in entering the country as leverage against their victims, experts say.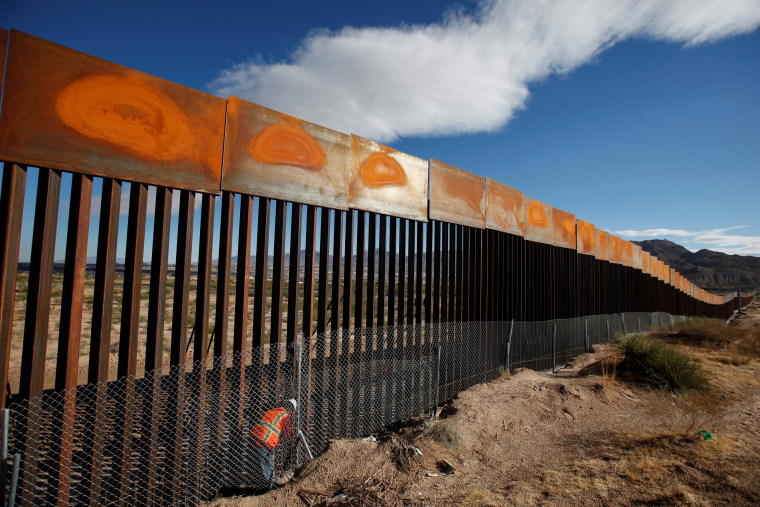 The harder it gets to enter the United States, the bigger the risk people are willing to take to grab a piece of the American dream.
Brennan said that as U.S. borders are increasingly militarized, the deaths of migrants as they are smuggled will continue to rise.
"The migrant trail is increasingly dangerous — almost guaranteeing people are going to die — based on militarization of borders, which President Trump has promised to do more of. He has also criminalized unlawful presence in the United States," Brennan said.
When it comes to trafficking, Brennan said, the crime is a gradual progression. One doesn't necessarily evolve into the other, but she said some of the victims of trafficking she's worked with once paid someone to help them cross a border.
Regardless of the risks, people are still trying to be smuggled into the United States.
Whether they are loaded into the back of a tractor-trailer, like the migrants in San Antonio, or whether they take a different path, migrants will continue to put their trust in smugglers under the current immigration laws, Brennan said.
"I think the important piece here is that people are going to come regardless of how many border patrols President Trump puts on the line or if he can build some wall, which he wont be able to," Brennan said. "They're going to come."