The image showed a man reaching up, pressing his hand onto a tinted bus window. On the other side were the haunting, barely visible outlines of two smaller hands.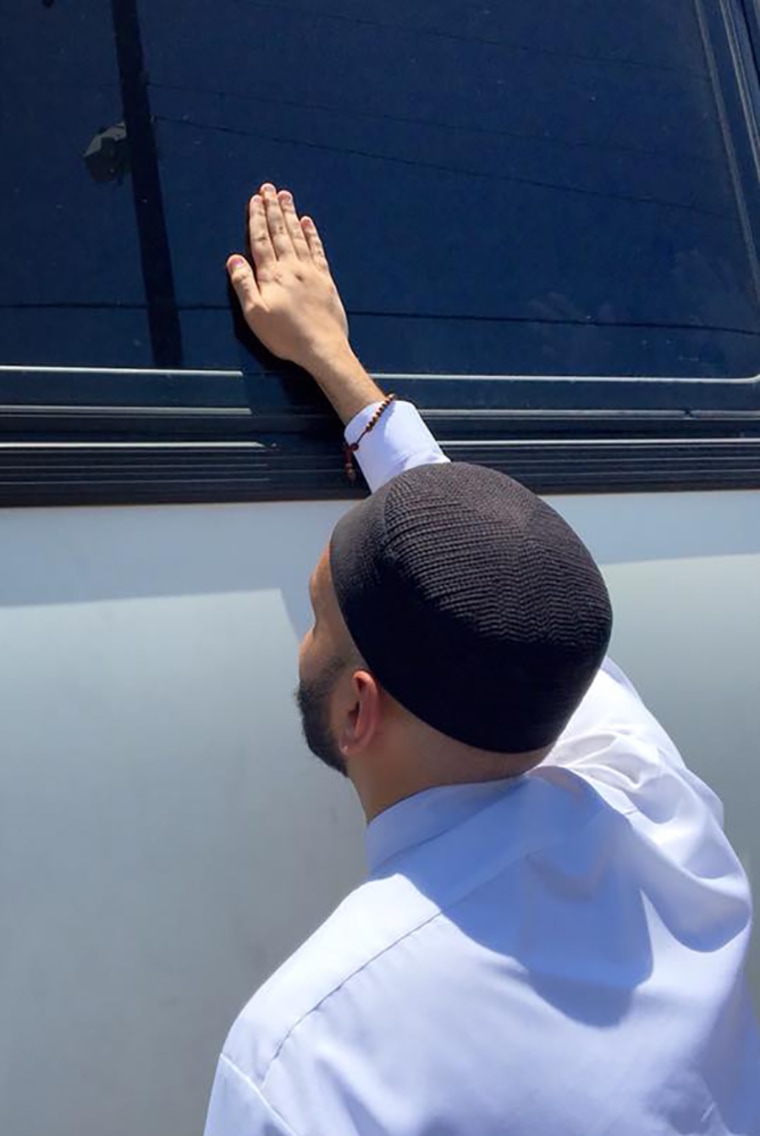 The man was Omar Suleiman, an Islamic scholar, imam and member of a Dallas-based interfaith coalition that traveled to Ursula Border Patrol Processing Center in McAllen, Texas, on Saturday morning to "bear witness" and try to inspect the facility to "see if children were visible," said Alia Salem, who met with Suleiman.
It wasn't clear whether the children on board were migrants (NBC News hasn't independently verified the claim), but the group believes they were.
The resulting photographs — of a towering, 6-foot, 5-inch Suleiman pressing his hand into the bus window, trying to offer the children a measure of comfort — were shared thousands of times on Facebook, offering a powerful reminder of the role of imagery in the debate over family separation.
In an interview, Suleiman said the group arrived early at the center, the largest such processing facility in the United States, which a Department of Homeland Security official described as the "epicenter" of the Trump administration's policy that separated thousands of children from their parents.
More than 1,100 children were detained in the Border Patrol's South Texas Rio Grande Valley sector from May 7 to last week. Many of them wound up at Ursula.
Suleiman said he heard a pastor shout that children were on a bus that appeared to be leaving the facility.
"We just surrounded the bus, and for me — I saw one of the kids put their hand on the window and I put my hand on the window," he recalled. "I saw some of the children crying, and I started blowing kisses to the children."
Suleiman said his height separated him from everyone else in the crowd: He was the only one who could reach the windows. Inside, he could see the children speaking to him, although he couldn't make out what they were saying.
"I just went down the bus and went one by one, blowing kisses and praying," he said.
Then an officer pulled Suleiman away, he said, because his hand was on the glass.