SAN ANTONIO — As they ushered her into a room at an immigration detention center in Texas, an officer handed Sandra Elizabeth Sanchez a tissue and told her, "You're going to need it."
She thought it was just so she could clean herself up, but minutes later she found out what it was really for.
"I thought we were going to an office to leave and then I see 'la niña' sitting there and I say, 'Ay Cris!' and then I hugged her," Sanchez said through tears on Thursday about the events of the day before.
Wednesday marked the first time she had seen her daughter, Cristhel Nohelia Barahona Sanchez, after being separated on June 18 right after they crossed the border.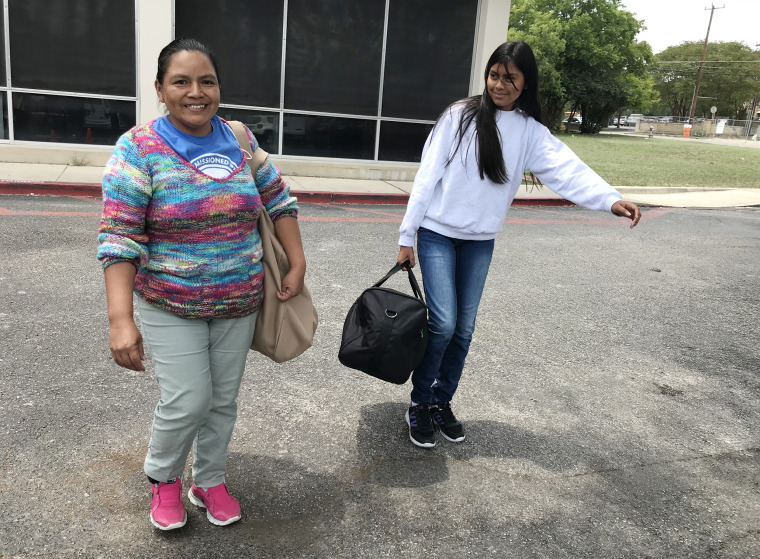 "Ay Cris, perdóname, forgive me," she said she told her daughter, "because I didn't know what was coming. I made her suffer. Forgive me, it wasn't my intention," said Sanchez, speaking as her daughter sat next to her in the offices of Catholic Charities in San Antonio.
About 300 miles south in Port Isabel Detention Center in Los Fresnos, Texas, it was a different story for Santos Chacul, who broke into tears when she looked through the glass window in visitation room #4 and picked up the phone to talk to NBC News.
"This is like hell … We were promised we will see our children and we don't know when or if that will finally happen," she said in broken Spanish, since her first language is an indigenous language of her home country of Guatemala.
Across the state, joy and relief were mixed with heartache and despair as the Trump administration went into overdrive to comply with a federal judge's Thursday deadline for repairing the families the administration splintered to enforce its two-month-old "zero-tolerance" immigration policy.
The Trump administration said Thursday that more than 1,800 children 5 years and older had been reunited with parents or sponsors who were in ICE custody hours before Thursday's midnight PT (3 a.m. ET) deadline. That included 1,442 children who were returned to parents who were in Immigration and Customs Enforcement custody, and another 378 who were released under a variety of other circumstances.
But about 700 more remain separated, including 431 whose parents were deported, officials told the Associated Press.
The Trump administration's policy required prosecution of all people who enter the country illegally and because children couldn't accompany their parents to jail, the federal government shipped them across the country and state to federally funded shelters and foster homes.
Sanchez spent some of Thursday morning "shopping" for her and her daughter at Catholic Charities of San Antonio, which has been providing clothes, foods and help to join family members in other parts of the country. She had slept Wednesday night in a hotel bed, paid for by Catholic Charities and its donors.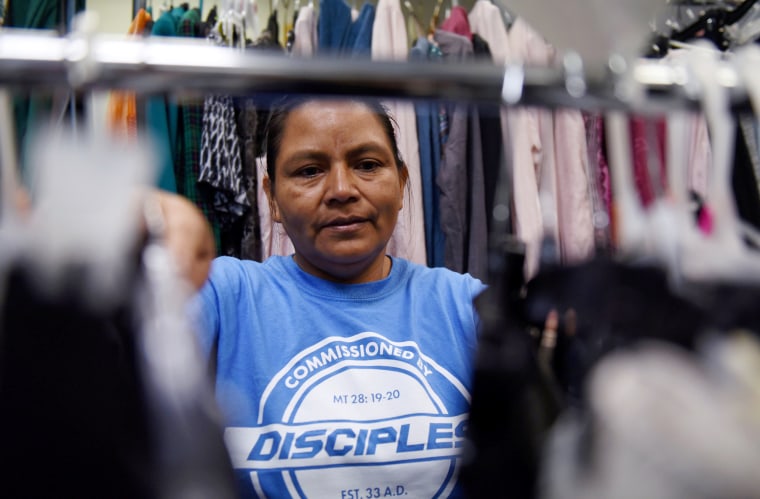 Sanchez had come from Honduras and crossed the border at Eagle Pass, Texas, on June 18 hoping to join a daughter here and to help a son who had been deported as well as escape the political and economic horror of her home country, she said.
Her daughter had turned 15 on their journey, on June 15 while they were in Piedras Negras, the Mexican city across the border from Eagle Pass. Other migrant families on the journey had chipped in to get Cristhel a "sweet" to celebrate her quinceañera.
Her smile at the memory faded as she recalled being separated from her daughter and unable to communicate with her.
"I suffered so much. I would get down on my knees and ask God for the day to arrive when I would be with my daughter," she said as she cried. "It was very difficult. All the mothers, it was like we were all one cry."
No sunlight, no news of their children
In Port Isabel Detention Center, Santos said mothers waited in shared anxiety in an area known as Alpha 3 to be reunified with their children. Isolated from others in the detention center, they had no phone privileges, were cut off from lawyers and even sunlight, as the mothers waited and hoped.
Santos crossed through Texas on June 3 from Petén, Guatemala with her 14-year old son Carlos Enrique. She says he was taken from her the very next day.
"The worst is not knowing if he is sick or even where he is … at least when we were regular detainees they let us use the phone," she said.
Santos said she'd seen other parents come and go from Alpha 3 while she continued to wait.
"Why are we still here ... why are we still hidden, why are we not reunified?" she said.
There remains a temporary hold on deporting parents separated from their children and the American Civil Liberties Union is asking the federal judge overseeing the reunification efforts to enforce a 7-day mandate for holding reunified families in the country so that lawyers may reach them to provide counsel.
In court documents filed Wednesday, the ACLU described 27 cases where parents were misled into signing away their rights for reunification.
Utelia, who is from Guatemala, was separated from her son Geremy for 45 days.
"I was desperate," she told NBC News. "I spent every day crying and crying. I said, 'Oh lord, what did I do? I thought I would never get him back."
Geremy, 11, said he was bullied by other children while separated from his mother, which was traumatic. He has told his mother that if she gets deported he wants to remain in the U.S. with an aunt.
Now in Miami, Utelia said she is feeling hope for both of them.
"Thank God we are together again," she said.
"I am happy because now I am achieving things and now he's with me," Utelia said. "He will start school and so I now feel happy."
Before the midnight PT Thursday deadline for the government to reunify children over the age of 5 passed, Santos, who was still waiting to see her boy, had a parting message before she returned to Alpha 3.
"Don't forget about us," she said.
Suzanne Gamboa reported from San Antonio, Texas, Mariana Atencio and Peter Shaw reported from Los Fresnos and Gabe Gutierrez and Annie Rose Ramos reported from McAllen.