A 7-year-old boy and his migrant mother who had been separated last month were brought together in a tearful reunion early Friday after she sued in federal court and the Department of Justice agreed to release the child.
The mother, Beata Mariana de Jesus Mejia-Mejia, and her son, Darwin, were reunited around 2:30 a.m. Friday at Baltimore-Washington International Airport in Maryland. She cried and wrapped the boy in a blanket, hugging him close and saying "I love you so much" in Spanish.
Mejia-Mejia sued the federal government to find out where Darwin was being held after they were separated at the border after a long journey from Guatemala, according to the lawsuit.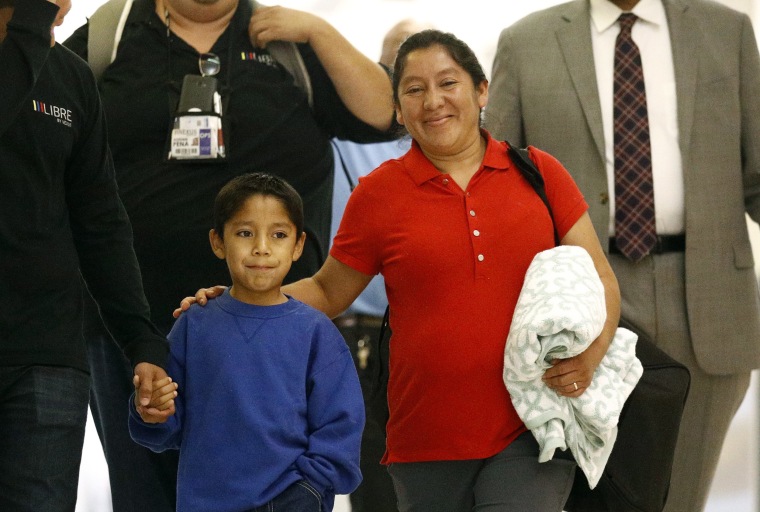 The two were set to travel to Texas, where they will live while their asylum claim is being decided, according to The Associated Press.
Mejia-Mejia and her son crossed the border on May 19 where she filed for political asylum near San Luis, Arizona, and the two were detained by Border Patrol agents. Two days later, her son was taken from her, the lawsuit said.
She was transferred to the Eloy Detention Center in Arizona where she was told her son was at a facility run by HHS's Office of Refugee Resettlement in Phoenix, the lawsuit says.
Mejia-Mejia was released from custody on June 15 after posting bond, her legal filing said, but as of four days later, she still did not have her son back.
Based on the facts laid out in her complaint, it appeared she was not subjected to the entire "zero- tolerance" policy announced by Attorney General Jeff Sessions, because she was never charged with a criminal offense for entering the country illegally.
The "zero-tolerance" policy, announced by Sessions in April, has resulted in the separation of children from their parents. In the face of public outcry, President Donald Trump signed an executive order on Wednesday that he said would stop the family separations, and instead allow parents and children to be detained together.
However, Trump said that the executive order does not put an end to the "zero-tolerance" policy.