MIAMI -- Apprehension of illegal migrants attempting to reach the United States from Haiti and Cuba by sea has hit a five-year high, in part because of aggressive smugglers in Haiti and relaxed travel policies introduced under Cuban President Raul Castro, Coast Guard officials tell NBC News.
The surge has occurred while most public attention on illegal immigration has been fixed on the surge of unaccompanied minors from Central America detained along the southwestern U.S. border.
One Coast Guard crew saw the desperate cruelty of the smuggling trade in early July, when a cutter approached a boat loaded with Haitians being ferried from the Dominican Republic to Puerto Rico.
To evade capture, the smugglers threw two people, including a 12-year-old boy, overboard into the treacherous waters of the Mona Passage. Neither victim was wearing a life preserver.
"They pushed people out of the boat because they knew the Coast Guard would go after the people in the water," said Capt. Mark Fedor, chief of response for the Miami-based Seventh Coast Guard District. "Then they turned around and tried to make it back to the Dominican Republic to escape."
While U.S. officials rescued the pair, Dominican officials stopped the smuggling boat and found it filled with Haitians who had hoped to reach the western coastline of Puerto Rico, a U.S. commonwealth.
Federal officials fear deaths at sea
Federal officials have grown more concerned by the rising numbers of Haitians and Cubans taking to the sea in an attempt to enter the United States. Their fear is that, along with those who are apprehended, many others are dying while attempting the dangerous trip.
In the first 10 months of the fiscal year that began Oct. 1, 4,314 Haitians have either been stopped at sea or are known to have made landfall in either Puerto Rico or on the U.S. mainland.
That is just shy of the 4,358 Haitians intercepted in all of last year and 73 percent higher than the 2,501 apprehended in fiscal 2012.
The number of Cubans known to have set sail illegally so far this year stands at 2,985, which is nearly 900 more than the total for fiscal 2013.
Coast Guard officials said the numbers are the highest they have seen in the last five years.
"We don't see any reason why it's going to stop, so we are prepared to deal with it at this level," said Fedor.
Dominican smugglers recruit Haitians
Authorities said that in the last two years, the smuggling of Haitians to Puerto Rico has skyrocketed, because human traffickers in the Dominican Republic are aggressively recruiting Haitian passengers. Coast Guard officials say recruiters will sign up passengers in Haiti, transport them to the east coast of neighboring Dominican Republic and then put them in small motorboats called yolas.
The yolas set sail across the very dangerous waters of the Mona Passage toward Puerto Rico, which is 80 miles away.
Often the passengers are dropped off on rugged Mona Island, a Puerto Rican atoll that is nearly midway between the Dominican Republic and Puerto Rico. Once there, they must hope they will eventually be picked up by passing boats.
Follow NBC News Investigations on Twitter and Facebook.
"They are ruthless smugglers. They'll get close to that island and if they can't get up to the beach, they'll literally push people in the water," said Fedor.
There are also several other routes taken by Haitian sailboats into the Bahamas, where passengers often try to hire smugglers with speedboats to take them to South Florida. Haitian community activists in Miami said many of the smuggling trips are financed by families in South Florida hoping to reunite with relatives.
Cubans taking a new route
During the last week of July, six Cuban migrants were rescued about five miles south of Key Biscayne, Florida, near Miami, where four men were found clinging to inner tubes and two more were in the water. A rustic homemade boat was floating nearby.
Fedor said the men are believed to have floated all the way from Cuba.
Because they were caught at sea, officials said, all six will likely be repatriated to Cuba under the so-called "wet foot, dry foot policy," where only Cubans who actually set foot on U.S. soil are allowed to stay in the country under a special status that dates back to the Cold War. (Haitians have no such status.)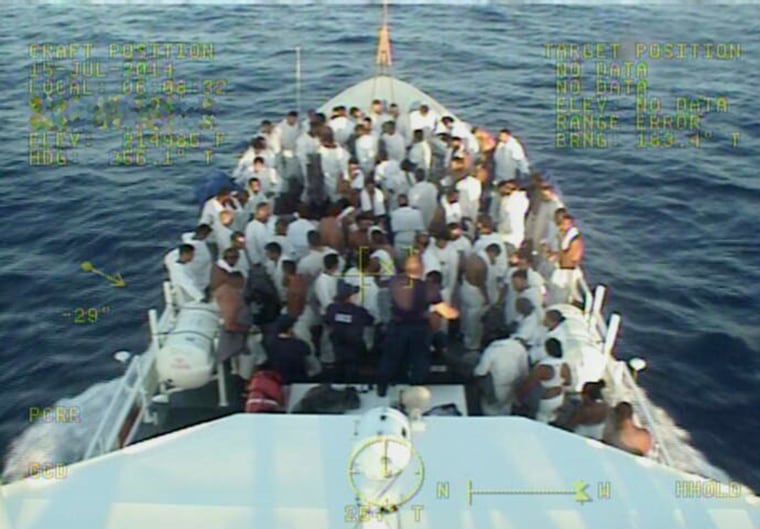 For decades, desperate Cubans have sailed on the Gulf Stream from the island to Florida, using rickety boats and rafts.
A surge nearly 10 years ago in the number of speedboats from Florida bringing Cubans to the U.S. slowed dramatically after U.S. authorities stepped up patrols at sea and imposed long prison sentences on smugglers.
Now, because of a relaxed overseas travel policy by the Cuban government, many Cubans are taking a new circuitous route by plane and boat to the United States.
According to the Coast Guard's Fedor, Cubans are flying from Havana to Panama, then to Trinidad and Tobago, St. Lucia and the British Virgins Islands. From there, they often take an illegal boat trip to the U.S. Virgin Islands, hoping eventually to travel to the U.S. mainland.
'Thousands try, hundreds die'
Last year, in an attempt to reduce the numbers of deaths at sea, the Coast Guard began a public service campaign using the slogan: "Thousands Try, Hundreds Die. Do Not Take To The Sea."
"We're trying to do anything to keep these people from putting their lives in the hands of these smugglers, and just putting their own lives at risk, their kids' lives at risk," said Fedor.
Related
Government Closing Border Children Emergency Shelters
Mexican Children Nabbed Crossing Border Try Again and Again
The increased numbers of Haitian and Cuban migrants this year, though, suggest the campaign has not slowed the illegal boat traffic.
"What we know is how many we've interdicted at sea, and we know how many have landed," said Lt. Commander Gabe Somma, a Coast Guard spokesman. "What we don't know , is how many have … lost their lives at sea."