EL PASO, Texas — The morning before her son's sixth birthday, Iris Eufragio-Mancia crossed the Rio Grande by foot, her heart set on what she believed would be a better life for them in the United States.
But a week later, Mancia's dream has been replaced by a mother's nightmare: She was separated from her son after they arrived in the U.S., and as she awaits deportation to Honduras she has no idea where he is, or when she will see him again.
"Every second I don't know where he is, it's killing me," she said. "It's the hardest thing a mother can go through."
With more than 2,300 children being held away from their parents, Mancia's plight is shared by an unknown number of migrants who illegally entered the U.S. Even after President Donald Trump signed an executive order to end family separation, mothers like her have more questions than answers.
To cross into the U.S., Mancia and two other Honduran women walked about half a mile west of the Paso Del Norte, a bridge that connects Juarez, Mexico, to El Paso, and found where drought had drained the cool waters of the river. The women took their three young children and walked.
When U.S. Border Patrol agents apprehended the group on the other side, Mancia said she was relieved. Back in the coffee fields of Macuelizo, a rural municipality of Honduras about two hours from the violent metropolis of San Pedro Sula, she had heard that if she and her son, Ederson, arrived at the border, they would be allowed to stay.
"I was confident I could get some kind of permit," she said.
They were taken by bus to a processing center, and then another, where they waited with other women and children. But because she had been deported 10 years ago after entering the country illegally, Border Patrol agents told her she would be criminally charged for illegal re-entry and her son would be taken from her.
"In that moment," she said, "it was like they yanked my heart away."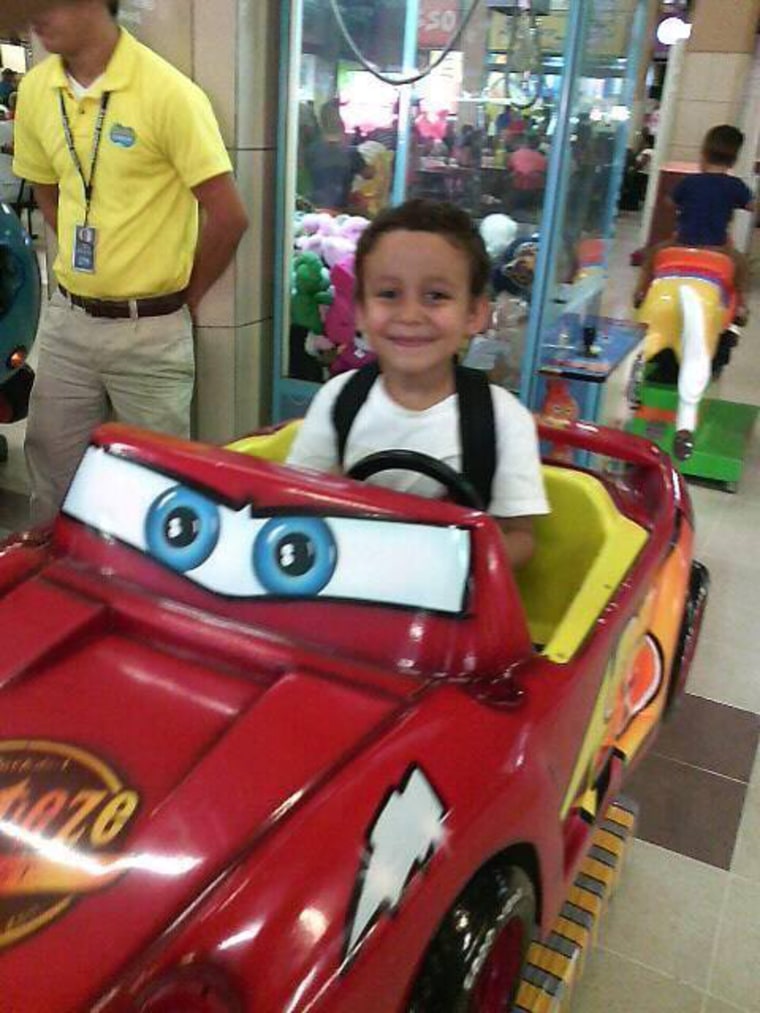 In an interview at the federal courthouse in El Paso on Thursday, Mancia sat in a chair, wearing orange rubber shoes and the periwinkle-blue canvas uniform given to female inmates at the El Paso County Jail. A chain wrapped around her small waist. Heavy handcuffs encircled her wrists. There were dark circles under her eyes.
From behind a mesh screen, Mancia cried as she recounted the last moment she saw Ederson.
"He kept looking at me and crying," she said. "I didn't know what to tell him. He said, 'Mom, I'm going to hug you so they don't take me away.' I didn't know how to console him."
"I hugged him for a while and then I had to let him go," she said. "I told him, 'Everything is going to be fine. Soon, we'll be together.'"
Then the agents took the boy. He turned 6 that day.
Every second I don't know where he is, it's killing me.
Migrant mother Iris Yolany Eufragio-Mancia
For the past week, Mancia has been in the custody of U.S. Marshals at the county jail. The county, which has a contract with U.S. Marshals, is reimbursed about $80 for every detainee it holds for the federal government, and recently completed a $45 million expansion.
According to data compiled by County Commissioner Vince Perez, the number of federal detainees held at the jail for the marshals has risen steadily since January, when it hovered around 750. By May, a month after Attorney General Jeff Sessions directed federal prosecutors to pursue criminal charges in all immigration-related cases, the population swelled to 1,051. Ninety percent were facing immigration-related charges.
Between May 1 and June 11, 1,352 detainees in the jail were facing immigration-related charges, over 60 percent of federal inmates held had been charged with illegal entry and nearly 20 percent, like Mancia, charged with unlawful re-entry.
"Those cells are full of tears," she said.
In jail, the only link she has to her son is a slip of paper with a phone number: the hotline given to all migrant parents who have been separated from their children.
"I memorized the number," she said. "I called and called."
But the only information she has been able to glean is that he recently was able to speak over the phone to his grandmother in Honduras, but did not know where he was.
This Wednesday, a caseworker called a family friend who Mancia had planned to meet in the United States. The friend, who asked not to be identified, said the caseworker did not tell him where Ederson is.
"They just said he was OK, he was calm, he had food and toys and all of that," he said. "They didn't pass the phone to talk to him."
Health and Human Services, the federal agency that ultimately takes custody of migrant children who are separated from their parents, did not respond to requests for information about Ederson. U.S. Border Patrol confirmed that after he was taken from Mancia, he had been transferred to another station where, in this part of West Texas, unaccompanied minors and children separated from their parents are held.
On Thursday, one day after Trump signed the order intended to end family separation at the border, Mancia shuffled into a federal courtroom, shackled at the ankles and hands, only to have her case dismissed.
The U.S. Attorney's Office in the Western District of Texas could not confirm why Mancia's charge had been dropped. It issued a statement saying that that office would dismiss all pending illegal entry and illegal re-entry cases involving a parent, then retracted it and issued another.
"The zero tolerance policy is still in effect but there is a necessary transition that will need to occur now that those charged are no longer being transferred to the custody of U.S. Marshals and are staying together with their children in the custody of our partners at DHS," the new statement said.
"As part of that transition, the office today dismissed certain cases that were pending when the president issued the order."
Mancia seemed unfazed by the news that her public defender whispered into her ear — that she would not face criminal charges. She stared ahead and blinked, slowly. She knew she would remain in custody before being deported. But would her son be with her?
"I keep asking for a miracle," she said.
Ederson was only 5 when his mother told him they were going to the United States. The 20-day journey by foot and by bus would be arduous, and Mancia knew she was taking a risk.
But Ederson was excited, she said, about the prospect of a new life. "I told him, 'I will be able to make a little more money,'" she said. "I'll be able to buy him toys. I told him he has a little cousin. He was very happy."
Photographs on Mancia's Facebook page show her and Ederson in happier times. The rambunctious boy loved to play outside and clamber onto her lap to kiss her. He helped her wash dishes, she said, and slept by her side every night. "We've never been separated before," she said.
Mancia, a single mother, made ends meet by farming an acre-sized plot of coffee. When the coffee harvest ended, she traveled by bus two hours each way to San Pedro Sula to work in a maquiladora, or factory, that manufactured underwear. On average, she said, she took home about $50 a week.
San Pedro Sula has one of the highest murder rates in the world. Hondurans fleeing their country for the United States tell gut-wrenching stories of violence and corruption. Young men say they are targeted because they will not join gangs. Women talk of being raped.
Honduras, like its neighbors El Salvador and Guatemala, is also a poor nation, with over half its population living in poverty. Many migrants from the region say they are escaping an unstable situation but also looking for the opportunity to work.
"My country is getting worse and worse," Mancia said. "The work is scarce, the salaries are low. I can't make ends meet. You leave home to go to work, and you don't know if you're going to return."
"I'm a single mom," she added. "I've never had any financial help in my life."
She had tried to enter the United States once before, before Ederson was born. But she was caught at the border near McAllen, Texas, and deported. When she decided to try again her plan was to meet a family friend in Maryland and look for cleaning jobs or other low-wage employment.
"I just want to work," she said. "I've always just wanted to work. I'm an honest person, a hard-working person. Here they treat you like you're an insect."
In another case in El Salvador, Arnovis Guido faced anguish and uncertainty after his deportation from the U.S. on Thursday, where his daughter Meybeline was left behind; she is 6.
"It's been 26 days since I haven't seen or heard from my daughter," said Guido.
Last month, the father and daughter made the treacherous journey to the United States. Guido, in fear for the lives of his family, felt he was left with no other option. They made it across the Rio Grande river and were captured under a bridge by U.S. border patrol agents.
The agents told them they would need to get in different buses because there wasn't enough room for him and his daughter to ride together. He was taken to a detention facility and says he did not hear from his daughter for nearly a month. Guido spoke to his daughter Thursday night for the first time since they were separated. His daughter cried that she wanted to go home.
Immigration officials in El Salvador say they are aware of Guido's case and are trying to confirm the detention center where his daughter is being held.
As NBC News reported this week, it may take months for parents like these to be reunited with their children.
The Trump administration has offered no concrete blueprint for how the federal government will reunite the migrant children who have been taken from their parents. Infants, toddlers, children and teens have been sent to facilities across the country, from California to West Michigan.
On Friday morning, a senior Department of Homeland Security official confirmed to NBC that about 500 children had been reunited with their parents. It is unclear how many of those children remain in detention with their families.
An HHS spokesperson said that "reunification is always the ultimate goal" — but didn't say that reunification would necessarily be with parents. Instead, the spokesperson said the agency was focused on "reunifying minors with a relative or appropriate sponsor."
"You could easily end up in a situation where the gap between a parent's deportation and a child's deportation is years," former acting Immigration and Customs Enforcement Director John Sandweg said.
Before she was escorted back to jail to await deportation after her case was dismissed, Mancia held up her cuffed wrists.
"I feel humiliated," she said. "Humiliated."
"There are occasions I think I am going to fall over," she added. "There is no crueler punishment."
She said she will continue to pray for a miracle.
"The final judge," she said, "is God."